As a parent, choosing the right digital piano for kids is a crucial decision. It's a journey that requires ample knowledge and can either shape or break your child's piano playing experience. However, this decision becomes difficult, especially if you aren't familiar with digital pianos.
Getting overwhelmed might consume you to the point of taking home a piano not worth the purchase. Hence, it would be best to do your research before purchasing a piano for your child. However, we understand how hectic research might be, and perhaps you already have a lot on your hands.
At Digital Piano Planet, we love this musical instrument, and most of all, we love taking piano enthusiasts on a discovery journey with different models. Here, we'll look at 10 best digital pianos for kids that you should consider buying. It's a comprehensive and well-detailed list aimed at helping you make an informed decision concerning your purchase.
Whether you know something or nothing about digital pianos, this guide will help you achieve what you are looking for.
Casio LK-S250 61-Key Premium Lighted Keyboard Pack with Stand, Headphones & Power Supply (CAS LKS250 PPK)
Yamaha Mini-key Portable Keyboard PSS-A50
YAMAHA YPT260 61-Key Portable Keyboard with Power Adapter (Amazon-Exclusive)
Casio LK-S250 61-Key Premium Lighted Keyboard Pack with Stand, Headphones & Power Supply (CAS LKS250 PPK)
Yamaha Mini-key Portable Keyboard PSS-A50
YAMAHA YPT260 61-Key Portable Keyboard with Power Adapter (Amazon-Exclusive)
Top 10 Best Digital Pianos for Kids
The first best digital piano for kids on our list is the Casio LK-265 digital piano. It is a useful instrument for your child's piano learning process.
It comes with impressive features that are optimally aimed at helping your kid learn how to play the piano accordingly. Most importantly, the Casio LK-265 has modern features to enhance playability and all at a good value.
The LK-265 is a 61-key keyboard and isn't too small compared to a full-size digital piano. It's compact and lightweight, making it an easy-to-handle instrument for the kids. Your kid can play anywhere with the Casio LK-265, thanks to its inclusion of battery power operation. It also boasts an impressive sound projection system and tons of electronic features.
The LK-265's sound library is quite comprehensive and features 400 tones to choose from. Also, this piano has 150 rhythms to enhance the playing experience. The LK-625 comes with a feature called the Dance Music Mode, which allows you to add effects, beats, and baselines, among other sound enhancements.
Casio implemented the Dance Music Mode to add fun in the kids' playability and to produce and sequence music on the piano. The LK-265 also features 60 in-built songs found in the piano's Light-Up Mode. Your child can learn these songs following the lit keys, making it easy for them to grasp the basics.
Pros
Touch-responsive keys
Chordana app compatible
Intuitive learning modes
Cons
Has several low-quality voices
This is also a fantastic digital piano for kids. It features 37 mini-keys capable of accommodating small hands. The Yamaha PSS-A50 is mostly regarded as a toy piano due to its small size and build. However, this instrument is capable of accomplishing profound playability with the kids. It offers standard sound quality and is portable enough to be played on the road.
The A-50 features a velocity-sensitive keyboard from Yamaha's Reface series, which comprises of classic synthesizers. The results in play are pretty good, and your kid will have a good time with this piano's user-friendly interface. It features 42 built-in sounds, each of high-quality and 21 rhythms geared to enhancing the sounds available.
Your kid can use the Yamaha PSS-A50's USB connectivity option to transfer or download files from the computer. Other connectivity features include the Aux Input, Headphones jack, and Power input. Additionally, your kid won't necessarily need a power source when traveling with the A-50 because it is battery operated as well. It has a 4 x AA battery compartment that can support several hours of play.
Also, Yamaha featured the A-50 with an Arpeggiator bearing 138 patterns meant to keep your child's playing experience an enticing practice.
Pros
Lightweight and portable
Battery operated
Multiple connectivity options
Impressive sound quality
Arpeggiator with 138 patterns
Cons

The third best digital piano for kids on our list is the Yamaha YPT-260 digital piano. It is an excellent beginner keyboard. Your kid will enjoy this instrument as it helps them to shape their way into the piano world.
It comes with 61 velocity-sensitive keys that simulate the action in acoustic pianos keyboards. Additionally, this piano features a maximum of 32 polyphony notes, which is more than your kid can ask for at this stage.
With a whooping 384voices, the Yamaha YPT-260 boasts an excellent sound library capable of delivering rich sounds. Also, to enhance the voices, this digital piano has 100+ rhythms. Such sound capabilities make the YPT-260 a worthwhile instrument to consider purchasing for your kid. Moreover, Yamaha featured this piano with some interactive touches with tutorials and lessons, which can be found in their App.
The Yamaha YPT-260 also features the Split Mode that allows two people to play side by side together. This feature is useful for both your child and their instructor during the learning sessions. The piano also hosts a USB connectivity option to connect it with compatible devices and enhance your child's playing experience.
Your child will have an easy time when operating the Yamaha YPT-260, thanks to its user-friendly interface. Overall, Yamaha did a great job on this piano, and your kid can benefit a lot from using it.
Pros
Affordable
High-quality sounds
A comprehensive sound library
Ample learning features
USB connection
Versatile and portable
Cons
ALSO READ: Yamaha P-35 Digital Piano Review
Though a bit pricey, the Korg EK-50 has a lot of value to offer for its worth. It might appear ordinary, like other options, but this instrument impresses in many ways. The EK-50 has features that will set the right foundation for your kid and keep up to your child's potential as they progress in their learning journey.
Amazingly, the Korg EK-50 has a rich sound library that comprises of over 700 high-quality built-in voices. It also offers concert-like play with a feature that Korg calls Styles, which has over 280 styles of accompaniment. With such enhancements, your kid will enjoy a responsive keyboard with a concert play experience.
Overall, this digital piano can accommodate your kid's level of piano understanding and advanced players. It's an all-around digital piano that doesn't discriminate on anyone's potential, making it a reasonable consideration.
Pros
Input jack for external connections
Has the Style feature
700+ built-in voices
User-friendly interface
Cons
Expensive
Lacks USB connection
The Roland GO:KEYS is a useful option for your child's piano learning process. It has comprehensive features that can help set the right foundation for your kid's playability. On its keyboard, this digital piano has 61 touch-sensitive keys with Ivory simulated keytops. As for sound, Roland went all out with the GO:KEYS and featured it with 500 built-in voices.
The sound library is ample enough for beginners, and the sounds available are all high-quality. Another modern feature incorporated in the Roland GO:KEYS is the Bluetooth connectivity, which allows the piano to connect with compatible devices and stream music. Also, your kid can benefit from Roland's interactive online tutorials and jam to their favorite songs.
To a more exciting feature, the Roland GO: KEYS comes with Loop Mix Function, which is a fantastic starting point for the novice piano players. The feature immensely helps beginners in learning how to structure their songs.
As much as it's beneficial for beginners in the learning process, the Roland GO: KEYS will be significant if your kid gains ambitions in music production and songwriting. The piano packs a modern build with intuitive features that your kid can use every day.
Pros
500 built-in voices
Ivory-feel keys
Loop Mix Function
Lightweight and portable
Comprehensive lesson features
Bluetooth connectivity
Cons
The Casio SA-46 digital piano is a kid-friendly instrument capable of accommodating and improving your child's piano playing experience.
It features 32 small keys, which don't require a substantial amount of pressure to play. This shows Casio made this piano with the youngsters in mind. The keyboard has an intuitive and straightforward interface with a single button to switch between organ and piano.
The SA-46 has a rich sound library with 50 rhythms, 100 timbers, and 5 drum pads to enhance the sounds further.
The user-friendly interface hosts a simple LCD to help your kid understand their current setting selection. Moreover, this piano has decent enough built-in speakers that make up for a reliable sound projection system.
The only downside we found with the Casio SA-46 is its maximum polyphony count of only 8 notes. Such a number will limit your child's playability if they decide to play more complex pieces. Generally, your kid can outgrow this digital piano very quickly.
Pros
Straightforward interface
Intuitive LCD
Mini-keys for small hands
50 built-in songs
Headphone jack
Cons
The seventh best digital piano for kids is the Yamaha NP-12. It features 61 keys and is a model of Yamaha's P-Series digital pianos with lightweight keyboards featuring impressive sounds sampled from the brand's concert grand piano.
The NP-12 is compact and impressively portable, making it an excellent choice for your kid's piano playability. Furthermore, this piano features a velocity-sensitive keyboard and 10 good quality built-in sounds.
The Yamaha NP-12 can be a good introduction for your child's piano playing journey. It has an intuitive and user-friendly interface featuring a one-finger chord accompaniment. Yamaha also featured this keyboard with animal sound effects to make your child's learning process an interesting venture.
Also, the NP-12 comes with an onboard recorder for recording and playing back your child's performances. Such a feature is significant in evaluating your kid's progress on this instrument.
Pros
61 full-size keys
Touch-sensitive keys
10 good-quality sounds
Multiple connectivity options
Lightweight and portable
Cons
Lacks rhythms
Sounds could be more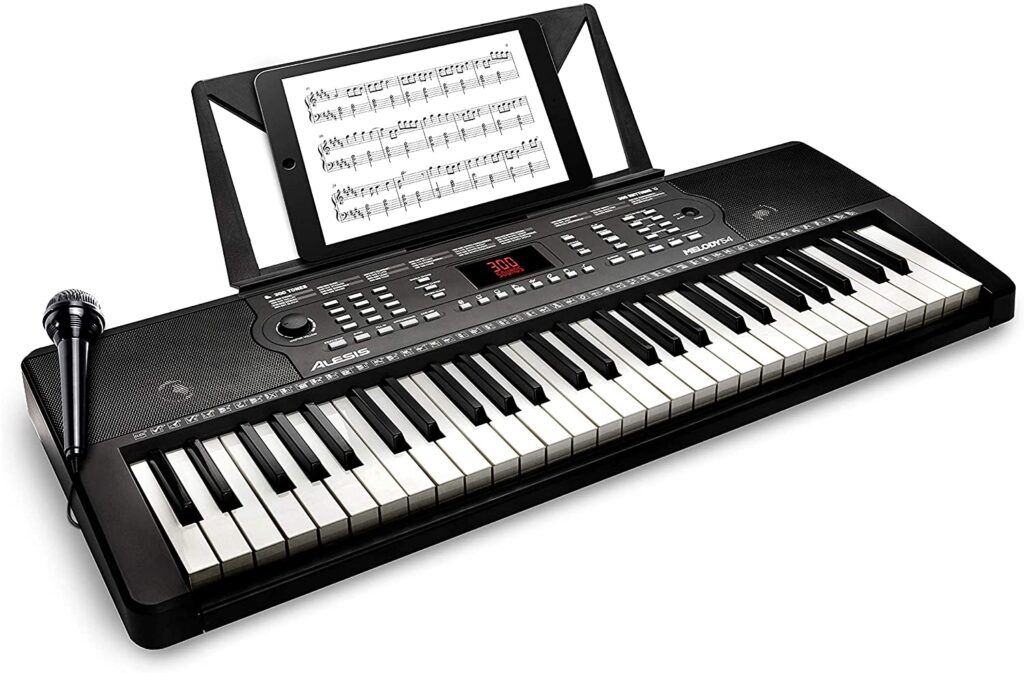 With 54 keys on the keyboard, the Alesis Melody digital piano can set the needed foundation in piano-play for your child.
The piano isn't too big or small for standard learning, and it can be split into two halves to accommodate both the student and piano instructor. The piano also features in-built speakers that offer excellent sound projection considering this piano's price tag.
The Alesis Melody boasts 300 high-quality sounds, including piano sounds, synthesizers, percussion, guitars, and strings. These sounds can be layered against each other using the piano's Split Mode.
One thing to love about this piano is the design, which bears the beginners in mind. The Alesis Melody comes with the Education Suite feature with 40 songs that your child can practice with. Similarly, this feature also allows your kid to record their songs within the piano.
For further lesson functions, Alesis offers a 3-month free subscription to Skoove Premium – a platform for online music lessons.
Pros
Battery operated
Split and Layering Modes
3-month free Skoove Subscription
Education Suite with 40 songs
300 high-quality sounds
Microphone included as an accessory
Cons
Unreliable touch-sensitivity
Speakers can be better
This RockJam RJ 61-key digital piano is also the best digital piano for kids. Like the other options in the list, RockJam also had your child's needs in mind. The brand has an App called Simply Piano that offers lessons for multiple popular songs.
The RockJam 61-key digital piano also has several connectivity options, including USB and MIDI, to connect with compatible devices and enhance your child's playing experience.
You also get 200 tones to choose from, with an additional 30 built-in songs found in the lesson function. Moreover, this piano also hosts the record and playback feature that works best in monitoring your kid's learning process.
Pros
Simply Piano App
Impressive learning features
200 built-in tones
USB and MIDI connectivity
Cons
Key action could be better
Low-quality speakers

Winding up on the list of the best digital pianos for kids is Casio CT-S300 digital piano with a 61-key velocity-sensitive keyboard. It comes with a whopping 400+ built-in sounds and 77 rhythms aimed at improving the playing experience.
The CT-S300 only weighs around 3.3kgs, making it one of the most portable keyboards on the market. Additionally, this piano features built-in reverb and a Dance Music Mode, which will work best to entice your kid's practice sessions.
Moreover, the CT-S300 also has the Aux Input and is compatible with the Chordana App, making it perfect for beginners. Other connectivity options include a Sustain Pedal Jack, Power input, and USB compatibility. The piano has quite impressive built-in speakers, and battery-operated, meaning your kid can play anywhere with the Casio CT-S300 digital piano.
Pros
Touch-sensitive keys
A comprehensive sound library
Multiple connectivity options
Chordana lesson App with a 60-songs songbook
Cons
Regarding the price, this model doesn't have much to find fault on since Casio did a great job in balancing the value for the money
Things to Consider Before Buying Your Child a Digital Piano
As you may know, digital pianos are great stepping stones to acoustic pianos. But unlike the latter, digital pianos take up less space in your home and are immensely affordable. Before buying your child a digital piano, there are several factors that you should first look into.
Although several considerations are also applied when buying a piano for the adults, some are specifically meant to address your child's playability. The following are some of the things you need to know before buying a digital piano for your child.
Pay Attention to the Basics
When buying a digital piano for your kid, don't go for instruments with the most advanced features. Remember, your child is just starting, and such features could easily be underutilized.
Instead, you should pay attention to the basics, including the sound, pedals, key spacing, and the piano size. This is because digital pianos with advanced features can easily overwhelm your child's understanding and daunt their piano playing experience.
Conduct Thorough Research
This is of much importance because your knowledge of this instrument can help you purchase the best digital piano for your kid. You can now find your child's best piano without taking your feet off the house, thanks to the internet.
Read reviews, understand what your child needs, and if they have an instructor, you should also seek some advice. Either way, modern-day research has made it easy to comprehend how to choose the best digital piano for your kid.
Understand Essential Features
Digital pianos, regardless of the model, come with multiple features. These features play a significant role in shaping your child's playability with the instrument. An excellent digital piano for your kid simulates the realistic feel of an acoustic piano by using a weighted action keyboard.
Such an instrument would be beneficial for your kid's finger strength and technique development. Additionally, it would also be best to bring home a full-size 88-key digital piano because it can play a significant role in shaping your child's piano playing experience.
Also, the number of sounds should be an essential factor when buying a digital piano for your child. Because their primary motive is learning how to play the piano, you don't necessarily need a digital piano with hundreds of sounds. However, it's good to ensure that the keyboard selected has a variety of sounds capable of entertaining your kid even beyond practice sessions.
Conclusion
As you can see, there are different digital pianos from various brands, all aimed at kids. Your toddler might not find it amusing to play on adult pianos. This might even eliminate their interest in this instrument.
Hence, you should focus on introducing them with kid-friendly digital pianos. Top brands such as Yamaha, Casio, and Korg, among others, are competing widely to ensure their customers get the best digital piano for kids. Therefore, take advantage of such possibilities and ensure you apply the relevant consideration before choosing your best pick of the above detailed 10 best digital pianos for kids.