Are Williams digital pianos any good? I've encountered this and many other questions about Williams Pianos from fellow pianists and musicians alike. And it's quite understandable because the last thing that anyone wants is to buy a piano from a brand and then end up regretting it.
Fortunately, Williams Pianos are not designed to frustrate buyers and deliver low-quality performance. This is a brand that delivers on its word of producing high-quality and reliable digital pianos.
About Williams Pianos
Williams is a notable brand that manufactures and distributes musical instruments and accessories. They produce digital pianos, piano stands, piano benches, song tutor books, and even a piano app.
They have been in the industry for many years now and have managed to capture the attention of musicians through the production of high-quality digital pianos.
Some of their famous digital pianos include:
Williams Allegro III
Williams Legato II
Symphony Grand
Williams Overture 2
Williams Rhapsody
They've also produced manuals and firmware for their clients to make it easier to use their products and improve their playing skills. Some of their digital pianos come with their own accessories such as stands and benches.
The Williams Piano App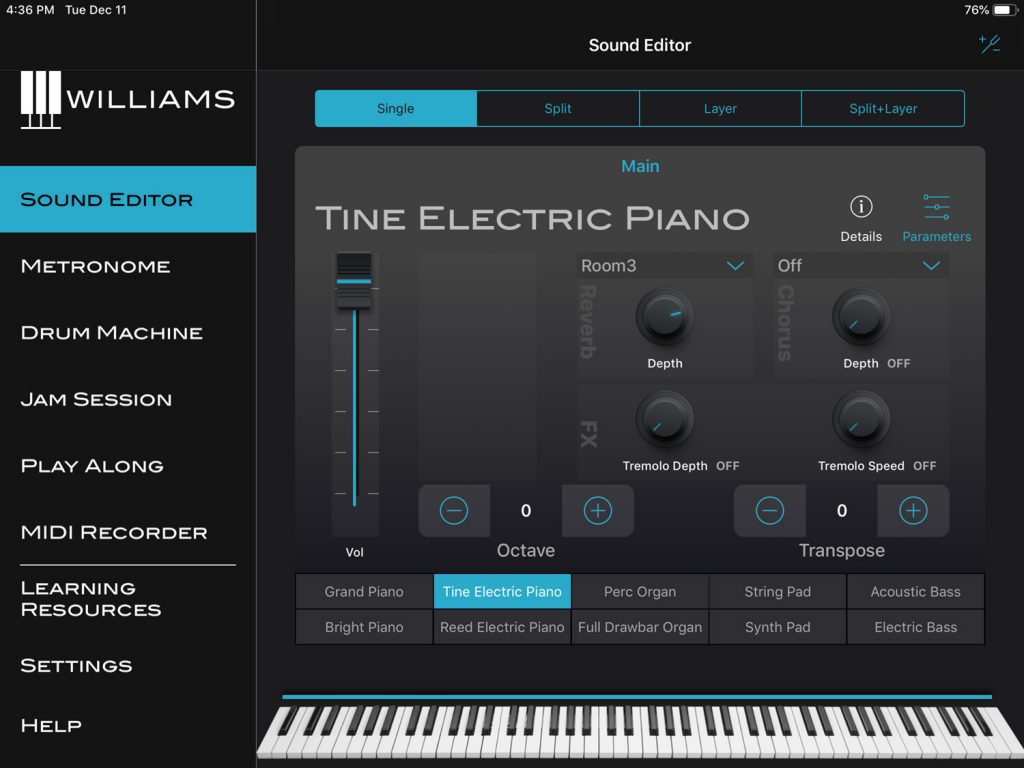 The company also has a piano app that offers the best convenience to players. If you buy any of their digital pianos, you can download their mobile app and connect it with the instrument to start using. The Williams app is for iOS devices and it adds control and play-along features to both the Williams Legato III and Williams Allegro III. You can also connect it via Bluetooth wireless MIDI and select, layer or edit sounds on the piano.
Another ideal feature is that the app also enables you to add a collection of internal effects to the built-in sounds of the Legato III. These may include effects such as Reverb, Chorus, Delay, Tremolo, and Flanger.
With the app, you can also practice with a metronome or drum machine, among others. The play-along feature included in the app also allows you to play any songs from the iTunes library and you won't have to change the pitch. This enables you to learn and improve your playing skill.
ALSO READ: The Number of Keys You Need to Learn Piano
Why Buy Williams Pianos?
Williams Pianos incorporate a wide range of unique features suitable for the modern keyboard and pianist. Some of their pianos such as the Legato III feature 88 Touch-sensitive keys, built-in speakers, an iOS app, and Bluetooth MIDI capabilities. They also have specific accessories specially designed for their pianos such as benches and stands.
Additionally, the design of their digital pianos also stands out and offers an appealing look. Sound quality is also another aspect that makes their digital pianos ideal to buy.
Is Williams Legato a Good Brand?
Williams Legato is definitely a good piano brand to consider buying because it comes from a list of famous Williams Pianos. The piano has a lot of high-quality features to offer such as excellent design, high-quality sound production, and a wide range of connectivity options. Therefore, if you're looking for an ideal piano to buy, it's a great option to consider.
Final Thoughts
So, are Williams digital pianos any good? Absolutely! Williams is a good brand that sells high-quality digital pianos and accessories. Therefore, you can rest assured that their products will offer you the best experience. Also, they have excellent customer support and have an FAQs section on their website that gives answers to most of the general questions from buyers.