The Casio CDP-S100 digital piano is the perfect entry-level model in Casio's CDP-S digital piano series. This modern digital piano provides some of the best features such as an authentic keyboard, top-notch speaker system, and ideal sound generation for the best playing experience. It comes in a black color finish and has an appealing keyboard that will make you want to cherish the piano always.
Aside from its excellent features, the CDP-S100 also has a portable and lightweight design. Its portability makes it easy to carry anywhere you're going, such as an event or to the studio. It's also suitable to use at home to enhance your playing skills and become a pro.
Features of the Casio CDP-S100 Digital Piano
Released in 2019, the Casio CDP-S100 digital piano is a great choice for the modern pianist because it incorporates unique and efficient features. The fact that it's a good entry-level model doesn't mean it's only ideal for beginners. Regardless of your skill level, this piano has features that can easily meet your demands. Check out some of its features.
Specifications
Keyboard:
88-key Scaled Hammer Action Keyboard II
Touch response: 3 sensitivity levels
64 maximum notes on polyphony
Tones: 10, layer
Effects:
Reverb: 4 types
Chorus: 4 types
Metronome:
Beat bell: 0 (off), 1 to 9 (beats)
Tempo range: 20 to 255
Demo songs: 2
Pedals: Damper
Tones:
Built-in tones: 10
Piano tones: 3
Accessories:
Pedal (SP-3)
Music stand
AC adaptor (AD-A12150LW)
Dimensions: 52-1/16" W x 9-1/8" D x 3-7/8" H
Total weight: 23.1 pounds (10.5 kg)
Casio CDP-S100 Digital Piano Design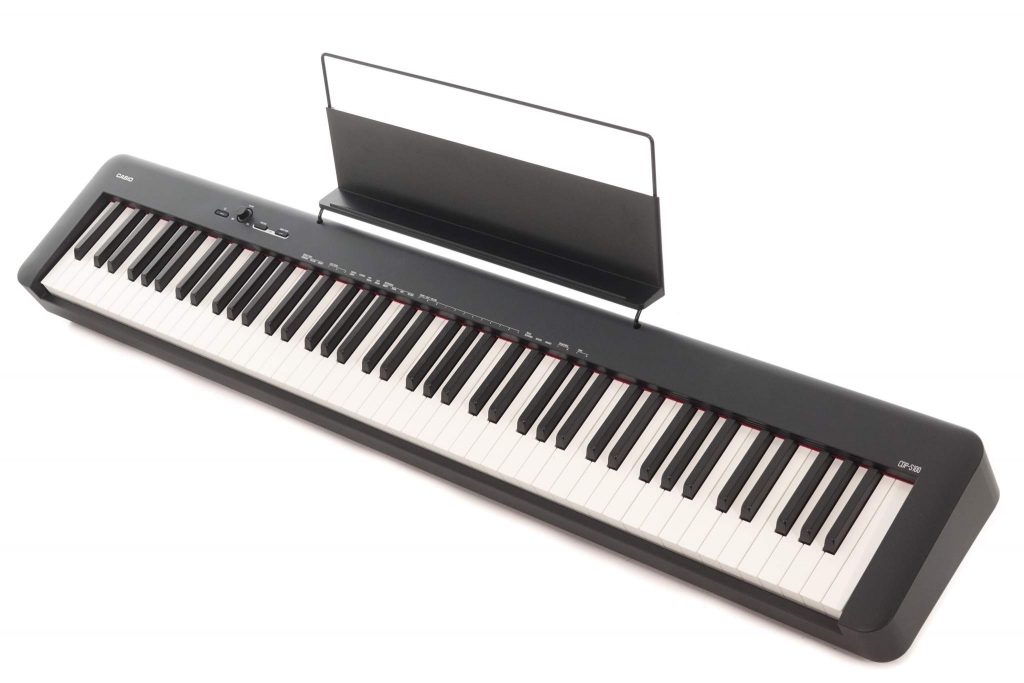 The Casio CDP-S100 digital piano measures approximately 52-1/16" W x 9-1/8" D x 3-7/8" H. This shows that the piano doesn't occupy much storage space and is ideal to use in small apartments or studios. Using it on stage is also easy because of its lightweight nature, as the piano only weighs approximately 23.1 pounds (10.5 kg).
Therefore, the piano makes your life easier when it comes to moving around with it. Casio has also applied its compact construction technologies on this piano to achieve a slim body with only 232 mm in depth. This makes the CDP-S100 smaller than the previous CDP series digital pianos. Not only can you play the piano anywhere, but you can also apply your own style and have fun.
Keyboard
The Casio CDP-S100 comes with an 88-key Scaled Hammer Action Keyboard II, and 64 maximum notes on polyphony. The keyboard also features 3 sensitivity levels and has a black color finish that can easily complement any décor. In the new CDP-S series, Casio has focused on reducing the action mechanism size, which stimulates the weight of the hammers in a grand piano.
This makes it possible to have a keyboard with a responsive touch in a unique, slim body. There are also a variety of control settings you'll find in the keyboard, which make the piano user-friendly – easy for beginners to use and grow their skills.
ALSO READ: Casio Privia PX-S3000 Review
Sound Quality
With 10 built-in, high-quality sounds, which include a grand piano, the CDP-S100 offers the best sound experience for users. It makes it easier for you to express subtle differences in tone since you can effortlessly adjust the force with which you strike the keys. Simply put, this digital piano mainly focuses on sound and feel.
There are 2 demo songs, Reverb, and Chorus effects. The included 10 built-in tones help you explore and discover new ways to play. What's more, the Casio CDP-S100 digital piano also comes with speakers that help to amplify the sound for a better experience for you and your listening audience.
Connectivity
With the CDP-S100, you can easily connect with other devices to have a fun playing experience. It comes with a MIDI connectivity option with 16-channel multi-timbre receive. The MIDI enables you to playback your favorite MID songs. The Inputs included in the piano are PHONES/OUTPUT jack: Stereo mini jack (3.5 mm)/Output Voltage: 1.2V (RMS) MAX. Power: 12V DC.
There's also an AUDIO IN jack: Stereo mini jack (3.5 mm)/input impedance, and the input voltage: 200mV. Another connectivity option is the USB port type B, which allows you to plug in a flash drive and transfer or record data.
Extra Features of the Casio CDP-S100 Digital Piano
There are also a few additional features included in the Casio CDP-S100 digital piano to offer more benefits to users. One of these extra features is the Piano Remote Controller. This feature enables you to use your favorite device to adjust the CDP-S100 settings and select the tones you want, among many other things.
Another extra feature is the PDF Score Viewer. This feature helps to display music scores saved as PDF files, with page-turning pedal activation. The Audio Player is also an additional worth feature worth noting because it allows you to playback audio on your device with musical tools like key shift and tempo change, looping, and melody cancel.
You can also use the Chordana Play for Piano app to have a smart and user-friendly operation. This mobile app supports several Casio digital piano models, and it's fully compatible with the Casio CDP-S100. You can use it on both iOS and Android smartphones and tablets.
Who Is the Casio CDP-S100 Digital Piano For?
Casio CDP-S100 digital piano is a musical instrument perfect for everyone. Since the main focus of the piano is sound and feel, it offers every player a good experience. If you're a beginner, this digital piano will immerse you into the world of portable keyboards and help to enhance your skills.
On the other hand, if you're an intermediate or advanced player, the piano will come in handy when you want to execute a performance that requires quality sound production and expressive playability.
Pros
88-key Scaled Hammer Action Keyboard II
Portable, lightweight, and user-friendly. This makes it ideal for all pianists.
It comes with simulated ebony and ivory keys with 3 sensitivity levels.
10 built-in tones and digital effects such as Reverb and Chorus.
Various connectivity options make it easier to use the piano with external devices.
Cons
The piano doesn't include Bluetooth connectivity.
Lack of LCD display on the keyboard
There isn't any half-damper pedal effect or half-pedal position
Conclusion
The Casio CDP-S100 digital piano is a good Casio piano. It stands out among the previous CD-S series models and offers new technologies, as well as a unique design and lightweight feature. In terms of usability, you won't find it difficult trying to master some of the effects included in the piano, which is beneficial for a beginner.
I would say it's an average digital piano that Casio has strived to offer players looking for an affordable instrument with authentic sound quality.