In the world of digital pianos, Kawai is a brand that has been trusted for many years. This is because they are committed to making instruments that offer high quality and excellent value.
The Kawai CA49 digital piano is no exception to this rule. Boasting an impressive soundboard made from spruce wood, this digital piano will be sure to please musicians who want a rich and vibrant tone with every note they play!
Features of the Kawai CA49 Digital Piano
The Kawai CA49 digital piano boasts of unique and excellent modern features required by piano players today. In this section, I'll go over some of the most important feature details you should know about this piano.
Specifications
88 wooden keys
Grade weighted hammers
Let-off simulation
Triple sensor detection
Soft and sostenuto damper pedal
String and damper resonance
Touch curve voicing
19 voices
Brilliance
Speakers: 13 cm x 2 (woofers)  and 5 cm x 2 (tweeters)
Display: 128 x 128 pixel OLED
Sliding key cover
Dimensions: 53.5"W x 18.25'D x 42.75"H
Sound demo: 19 songs
Concert magic: 40 songs
MIDI IN, MIDI OUT, Bluetooth MIDI
USB to host
Power consumption: 12W
ALSO READ: Kawai CA48 Digital Piano Review
Kawai CA49 Digital Piano Design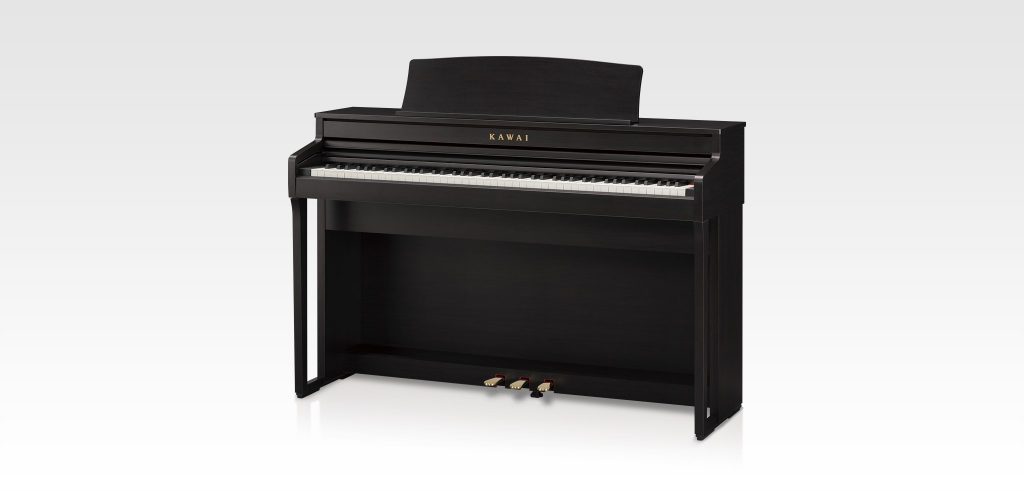 The CA49 is a great piano. It has cool features, like a tall upper board and a flat fascia. The buttons are on the front of the keyboard, so they are easy to reach. The height is perfect for apartments and other small spaces.
The piano's broad music rest is special because you can easily adjust it when you want to. You can change the angle depending on where you're sitting.
There is also a place to put your music and paper so you can write your musical ideas. The Kawai CA49 digital piano also comes in three colors, which are; rosewood, black, and white. The color you choose depends on what you want your piano to look like.
Sound Quality
The CA49 captures the magnificent tone of the Shigeru Kawai SK-EX concert grand piano. It is hand built by Master Piano Artisans at the Shigeru Kawai Piano Research Laboratory in Ryuyo, Japan. Therefore, the digital piano is widely regarded as one of the finest instruments in its class.
Additionally, the Kawai CA49 also has the Kawai EX concert grand piano. It is highly acclaimed and was used in many competitions, such as the Chopin, Tchaikovsky, and Rubinstein ones.
Both the SK-EX and EX are reproduced with full 88-key sampling. Harmonic Imaging and advanced sound technology to reproduce both pianos faithfully.
The CA49 has the same sound of the SK-EX and EX. The sound comes from eighty-eight keys. These keys were recorded and made into digital waveforms so that they are very accurate.
Recording each key individually means that every sound is different. If you only use one tone for all of the keys, then the sound is not accurate.
Keyboard
The keyboard has hammers that are weighted by the grade level. The hammers are also heavy and closer to the bass keys. A touch of the keyboard can be light or heavy. Weights make the touch lighter when playing pianissimo. The feel will be different if you use a lot of force.
The Grand Feel Compact keyboard is good for playing piano. It has sensors that detect how you hit the key. And it can get more sounds than a normal two sensor action. The Kawai CA49 digital piano has special technology that makes the sound of each key different.
This is known action technology. You can lift the keys quickly or slowly. When they are fast, it makes a staccato sound, and when they are slow, the sound will come out more smoothly and legato-like.
The keyboard of the CA49 also features Kawai's special Ivory Touch key surfaces. These surfaces help you control the keys better because they are smooth but not slippery. It also absorbs your sweat to make it more comfortable to play.
Furthermore, the moisture is absorbed without dirt or grease penetrating the surface. The keytops are also easy to clean with a wet cloth.
Connectivity
The CA49 has more ports. It also has Bluetooth technology, which connects to your phone wirelessly. You can connect the instrument to a phone or tablet. It also features the PianoRemote and PiaBookPlayer apps, which allow you to easily control the instrument with your phone or tablet.
You can also get other apps that will make this instrument do more things like education or improve performance.
Extra Features of the Kawai CA49 Digital Piano
The newest CA49 is compatible with the new PianoRemote control app by Kawai. The app can work wirelessly and connect with the piano and let you change sounds or settings.
The CA49's Spatial Headphone Sound (SHS) technology is good for listening to music. You can choose one of three different acoustic presets that help you adjust the position of the sound. It also helps with hearing something when you listen through your headphones or earphones for a long time.
What's more, the Kawai CA49 digital piano also lets you choose between different types of headphones.
Open, Semi-open, Closed, In-Ear and Canal are all options. The CA Series has the best pedals in its class. The feel of the pedals replicates those on a concert grand piano. This helps you get more realistic piano sounds.
Benefits
There are plenty of benefits to playing on this type of instrument instead of an acoustic grand or upright.
One benefit is that the CA49's keys give you more control over how they respond to your touch and pressure when compared with other types of pianos. You can also customize the effects using different pedals and settings until you find the perfect sound for you!
The Kawai CA49 Digital Piano also offers professional and excellent, performance. I would recommend it to any serious musician who wants something affordable but high quality.
Why Should You Buy the Kawai CA49 Digital Piano?
The Kawai CA49 digital piano is a great instrument for musicians of all levels. It provides excellent benefits that make it worth purchasing, and you can find the right piano sound to suit your style with ease! The CA49 has a piano-focused authenticity.
The Grand Feel Compact keyboard action is excellent. It isas designed to be small like the Grand Feel keyboard actions that everyone likes.
Who Is the Kawai CA49 Digital Piano For?
The Kawai CA49 digital piano is perfect for anyone who is looking to play piano well and professionally.
It comes with a Kawai Education Suite, which includes Kawai Lesson Software that features lessons in music theory, technique, composition and performance from renowned teachers.
It also has a wide range of options available to meet the needs of any musician – whether you want an acoustic sounding instrument or something more electric-based!
Pros
Grand Feel Compact wooden-key keyboard action
Audio technologies developed in collaboration with Onkyo
Attractive, modern cabinet with cheekblock control panel
Built-in classical etudes and Alfred lesson books
Cons
The piano lacks the piano music internal song
The CA49 doesn't include the drum rhythms
It lacks the USB audio recorder
Conclusion
In conclusion, the Kawai CA49 digital piano piano is a great option for anyone looking to buy a unique and modern keyboard.
Kawai has designed this piano with all the skills and needs of any musician in mind, making sure that there are options available to suit everyone's preferences.