Searching for the best headphones for digital piano? Then you are definitely in the right place!
Digital pianos are musical instruments that require a lot of practice to play flawlessly. It is not just something you wake up one day and find yourself knowing its potential and being able to explore it fully. You need good quality time with it.
It also requires the right accessories. Among the notable accessories are headphones for a digital piano. To use them in your piano, you should plug them in using the headphone jack.
Headphones help you create a personal relationship with your piano. Thanks to headphones, you can record and listen to your playing skill later on, and evaluate yourself privately. Here, in this article, we'll review some of the best headphones for digital pianos.
1. The Tascam TH-02 Headphones
The Tascam TH-02 closed Back Studio headphones have a flexible design which allows them to fold making it easier to use and even transit with them.
These are the best budget digital piano headphones, and they also have a headband that is tightly stitched and comfortably padded to offer the users top-notch experience.
The Tascam TH-02 headphones are pretty affordable and produce the best quality sound. They are susceptible types of headphones with a frequency response that is responsible for producing a smooth sound.
They come with plush cushion ear-cups and the headband is well padded. The Tascam TH-02 headphones feature an excellent design to keep you comfortable after long hours of playing, excluding discomfort. They provide detailed sound when performing or recording music.
2. The Yamaha Pro 500 Headphones
If you are a performer or indulge in recording music, then the Yamaha Pro 500 headphones are the best cheap digital piano headphones to consider. Their sound output is top-level and they have an eye-catching design with the headband that is structured from steel.
For comfort, the Yamaha Pro 500 Headphones come with spacious and soft earpads. Thanks to their comfort you are well able to concentrate on your music without any issues.
The Yamaha Pro 500 headphones also have a compelling bass system that provides detailed and precise output. This makes them capable of reproducing any style of music played.
The ear cups help to provide quality sound, thanks to the reliable drivers you'll find in the non-rigid aluminum alloy found on the headphones. The design and shape of these headphones also provide reliable noise isolation.
3. The Sony MDR-7506 Headphones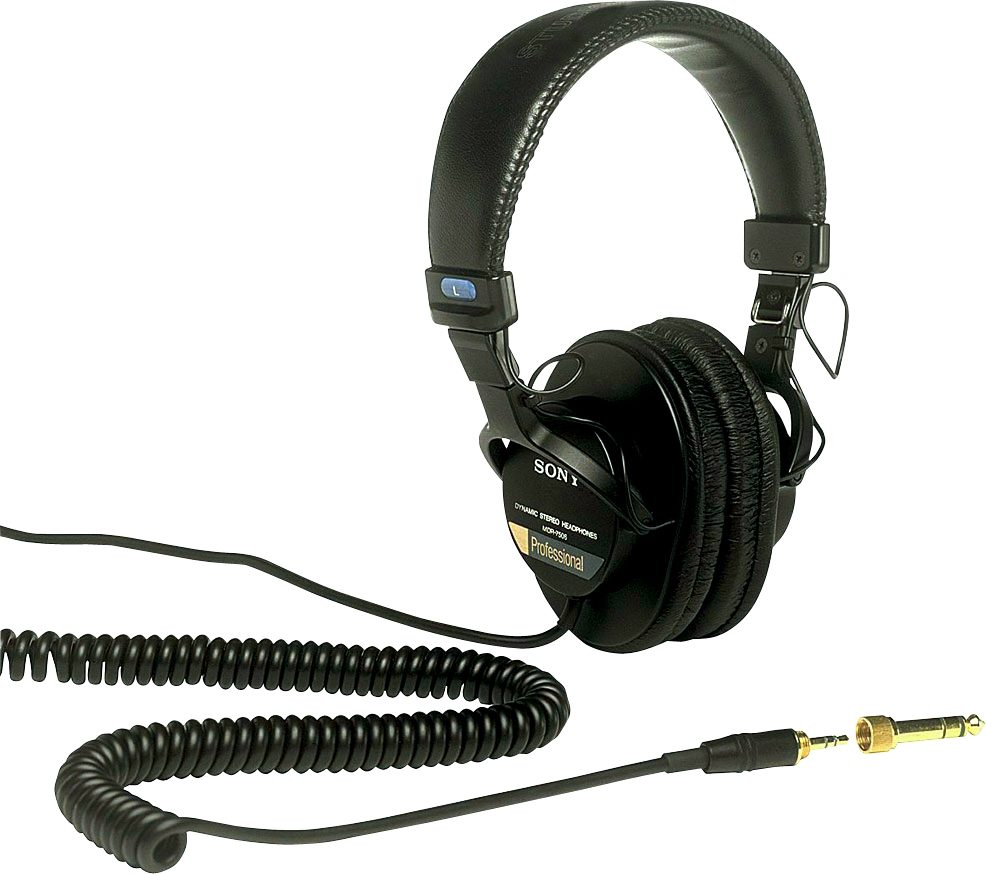 Looking for a top of the line audio output for your digital piano? Sony MDR-7506 headphones are the right option to consider.
They are the most popular among digital piano owners. These headphones can satisfy the needs of both beginners and pro pianists. Some of the specifications of the Sony MDR-7506 headphones include:
The construction is both secure and rugged at the same time.
It is a flexible headphone and the design is very adaptive to adjusting and folding.
Because of their adjustable design, it makes the headphones portable and easy to use. Adding to their advantage is that the sound received from these headphones is very accurate.
So, the Sony MDR-7506 headphones are suitable for sound monitoring in activities such as studio recording sessions, film productions, and even radio stations.
They have a spacious Diaphragm which comes with an oxygen copper cord (OFC), reliable drivers unit, as well as gold connectors. These features make the Sony MDR-7506 professional headphones.
4. The Audio-Technica ATH M40x Headphones
The pros of the Audio Technica M40x headphones include:
Solid construction, both outdoor and indoor.
These are also top-level digital piano headphones that have great potential to produce the best quality sound you need. They have high-quality audio monitoring ability with high sound frequency ranges.
The Technica ATH M40x headphones provide clear sound with complete noise isolation.
Thanks to their durability and robust design, they can be said to be the most ideal professional headphones to consider buying. Their frequency range is admirable, and they are also capable of playing different sounds.
5. AKG K240 MKII Headphones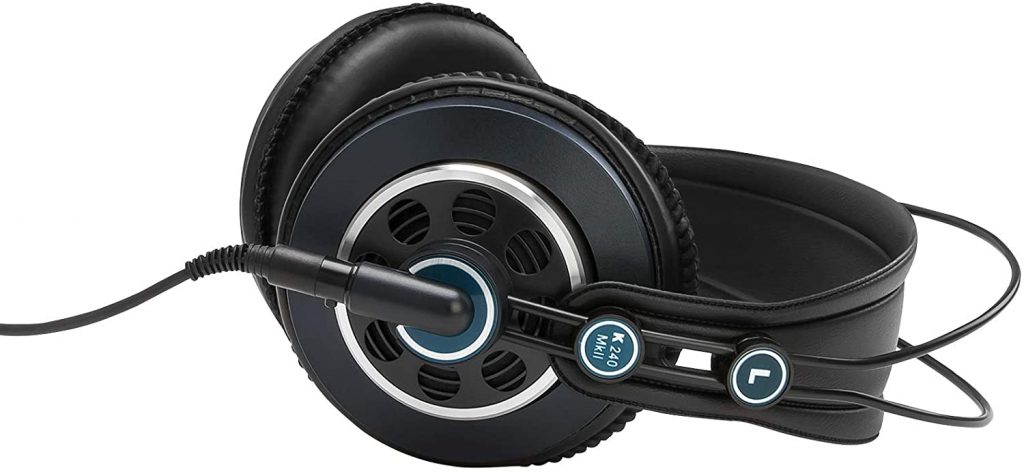 Designed with semi-open ear style, the AKG 240 MKII headphones are armed with unparalleled performance The AKG MKII headphones have the stereotype feature with a variation transducer. This feature delivers clear highs, accurate mids, and vivid low ends.
The AKG K240 MKII headphones have been the most favorite headphones among pianists for over 25 years. The AKG K240 MKII headphones have an inviting headband design with self-adjusting capability, to fit into different head sizes.
The headphones are designed with an over-ear style which is responsible for offering comfort and promotes concentration while playing the piano. Other notable features of the AKG K240 MKII headphones are the detachable cord, incredible sound output, as well as quality music reproduction.
6. The Beyerdynamic DT 880 Headphones
Beyerdynamic is a brand that has been in existence for quite some time now. They gained their market reception from manufacturing high-grade audio accessories which have received amazing feedback over the years.
Beyerdynamic designed their headphones accurately enough to reproduce music with excellent sound quality.
The Beyerdynamic DT 880 headphones are a semi-open type of headphones. What this actually means is that they have good sound isolation and only leak a minimum amount of sound, only if played too loud.
They come in three different Ohm versions – the 32, 250 and 600 Ohm versions. For digital pianos though, we highly recommend the 32 Ohm version as it is designed to operate right with such grade types of equipment.
The headband is made of sturdy, flexible metal which is covered in soft leather for comfort purposes. Sound quality is just as you would expect from Beyerdynamic accessories – very clear, accurate, and can accommodate different genres of music.
ALSO READ: 7 Benefits of Learning How to Play the Piano
7. The Edifier H840 Audiophile Headphones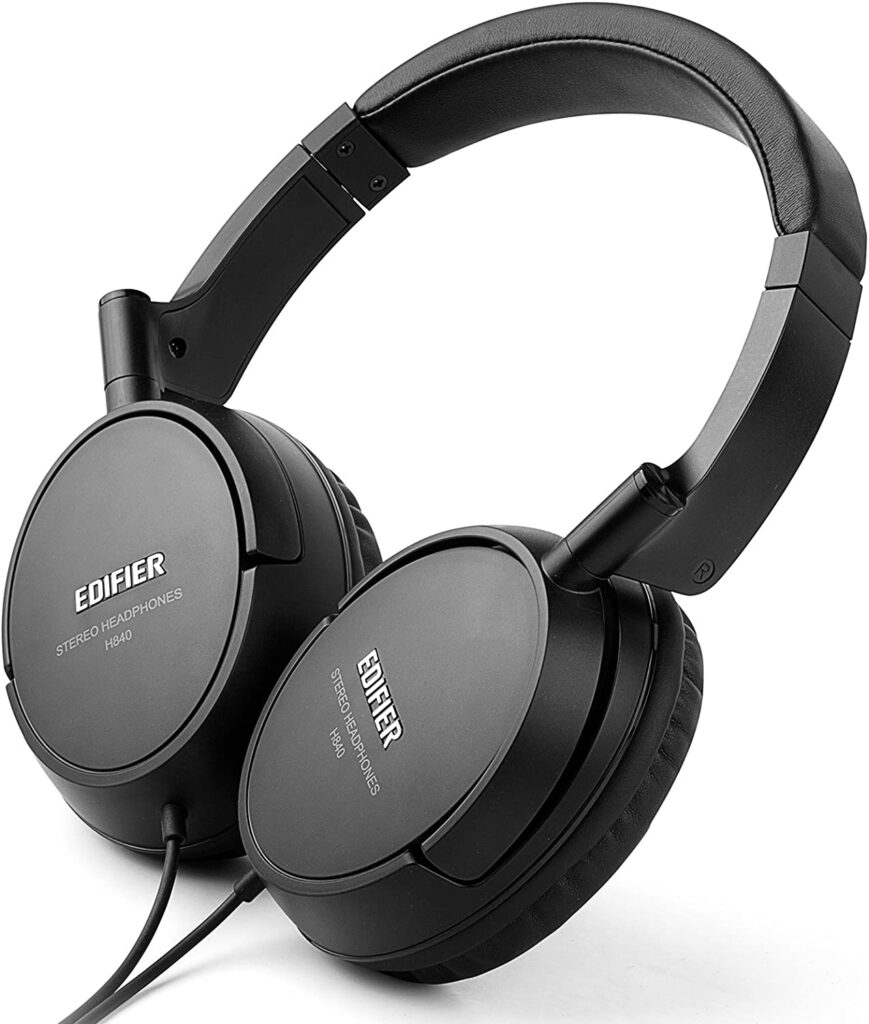 For professional use or practice purposes, the Edifier H840 Audiophile headphones will definitely come in handy. The good thing about these headphones is that they have a sturdy, long-lasting design, and come with a 12-month warranty.
Their convenient design has made them quite popular in the market. The headphones houses high-quality features capable of fulfilling professional usage.
They have a driver unit that ensures excellent sound and reproduction. The Edifier H840 Audiophile headphones are built from leather. Their headband is reinforced with steel which makes it quite durable and flexible.
Also, the material used to create the headphones is lightweight. If you are looking for headphones that don't compromise on sound quality, durability, and flexibility, then consider buying the Edifier H840 Audiophile headphones.
8. The Sennheiser HD280 Pro Headphones
Are you in the market looking for excellent linear, accurate, and precise sound production? The Sennheiser HD280 Pro headphones are the way to go. These are closed, stereo headphones that are built to exclude external noise and give you clear sound for maximum concentration.
Endowed with optimum impedance, these digital headphones can be used both at home and in the studio. They are also very convenient since you can easily replace the audio cord, ear pads, and headband padding with much ease.
They reproduce natural sound which exceeds the potential of some built-in piano speakers. For comfortable usage, the ear cups are padded, and the headphones are very lightweight which makes them essentially portable. They have exceptional functionality and come with a 2-year warranty.
9. The Audio Technica ATH-M50x Headphones
These are popular among professional sound mixers due to their quality sound reproduction. The Audio Technica ATH-M50x headphones house a 45mm driver unit, 90 degrees swirling ear cups, a frequency response of up to 2800Hz, and an impedance of 38Ohms. They are over-ear design type of headphones with a maximum power input of up to 1600mW.
The headphones are firmly-built and provide comfort from their well-designed headband and ear pads. They have a 90 degrees swirl on the ear cups which makes it possible for one-ear sound monitoring in the studio or during practice sessions.
The Audio Technica ATH-M50x headphones entirely cancel out external noise to give you precise sound reproduction. This makes it enjoyable to listen to the piano note down areas that you may need to improve. The Audio Technica ATH-M50x headphones also fold easily which makes them very easy to carry around.
10. The Shure SRH1540 Premium Headphones
The Shure SRH1540 premium headphones are a lightweight construction with a straight and detachable coiled cable. They house a 40mm driver for good sound quality and have an adjustable padded headband consisting of a steel driver frame.
The Shure SRH1540 premium headphones also have good sound isolation enabled by Alcantara ear pads. The headphones include amazing soundstage features that allow excellent warm and smooth extended bass release.
They bring along head pads and an additional dual exit cable. The extra cable that ensures you are able to utilize the Shure SHR1540 headphones for an increased amount of time.
The Shure SRH1540 premium headphones provide accurate highs and rich lows sounds. They are perfect to consider if you require headphones for audio monitoring and mastering as well. The Shure SRH1540 premium headphones are also suitable for both beginner and professional players.
Bottom Line
Acquiring a pair of the best headphones for digital piano is not that big of a task. Provided you know the kind of headphones you need and the purpose you want them to achieve.
It is imperative to gather enough knowledge before purchasing any piano headphones. For skill mastering, you need a pair of headphones that will accurately cancel external noise for you to concentrate and hit the exact notes.
With the above information on some of the best headphones in the market, ensure that you choose a pair of headphones that will precisely fulfill your needs.