So, you are looking for the best ukuleles for beginners on the market? Look no further! This is a helpful guide to help you purchase the right ukulele.
Here, we'll review 10 best beginner-friendly ukuleles to help simplify your search and save you time as well..
What To Consider Before Buying a Ukulele
Budget
Most ukuleles cost nothing more than $100, which is the amount that most beginners would invest when buying a new ukulele. As a result, we decided to review ukuleles that ranged from $150 going down. Surprisingly, there were more than enough at this price point and most of them were promising in playability.
Size
After budget, we decided to consider the standard size of a ukulele for beginners. Because you'll be learning a lot, it would be best to consider a flexible instrument. This is so that you can easily travel with the ukulele and maximize the learning process by playing it anywhere.
And as you may know, ukuleles are available in four different sizes. These include:
Concert
Soprano
Baritone
and Tenor
The concert, soprano, and tenor ukuleles are mostly the same but feature different sizes. That's because the three types are all tuned the same.
On the other hand, the baritone ukuleles are tuned similar to the four highest-pitch strings on a guitar.  When considering the best ukulele size for beginners, we found out that the bigger, the better.
We know it mind sound off, considering portability and all. However, ukuleles are mostly lightweight and bigger doesn't necessarily mean heavier here. It just means that a bigger ukulele gives you more space to easily fit your fingers between the frets.
You also get louder and fuller sounds from bigger ukuleles than the small ones can deliver. From our research, it was clear that concert and soprano ukuleles were the best deals for beginners.
They are lightweight, portable, and even better affordable. There is also the inclusion of them being more trebly sounding, which makes their functionality more intuitive.
The Design
The build quality of a ukulele is another significant consideration when choosing one for learning. And like experienced players, most students prefer wood-made ukuleles over the plastic ones.
That's because the former offers richer sounds compared to plastic-made ukuleles. But due to the demand for ukuleles made of solid wood, most of them can be expensive for most beginners. So, we decided to keep our search based on affordability over cheap ukuleles.
When considering ukuleles made of wood, ensure that you look for the ones with laminated tops. The lamination doesn't only prevent the instrument from cracking, but it also enhances its sound.
Accessories
Ukulele accessories are more of bonus inclusions rather than needs. It's easy to find a low-quality ukulele packed with multiple accessories and vice versa.
Moreover, it's better to find a high-quality instrument with few or no accessories. We say this because ukulele accessories are mostly inexpensive inclusions.
Considering the above detailed aspects when looking for the best ukuleles for beginners helped us find our picks efficiently and effectively. That said, below is our comprehensive list of the 10 best ukuleles for beginners.
1. Kala Soprano Ukulele Starter Kit
Needless to say, Kala is an industry-leading name in producing musical instruments. And when it comes to ukuleles, the brand doesn't disappoint as well. In fact, Kala is among the top recognized ukulele production brands in the world.
Their ukuleles are high quality and come at reasonable prices, making them more preferable for any level of player. Here, we have the Kala Soprano Ukulele Starter Kit, which is one of three in Kala's Learn to Play series.
It is specifically designed to cater for the needs of beginners as they enter into ukulele world. The Kala Soprano Starter Kit features free learning apps that come included when purchasing the ukulele.
Additionally, you also get a learning booklet to quick-start your learning journey. As for the design, this ukulele features a satin durable finish. And because it's a soprano, you can easily travel with the Kala Soprano Ukulele Starter Kit and play it from anywhere.
2. Ranch Concert Ukulele Kit
Second on the list is the Ranch Concert Ukulele kit, which is a professional wooden ukulele kit. This one also comes with plenty of accessories, including:
a gig bag
an additional set of Aquila strings
an extra strap
and a polishing cloth
The good news is that with all the additional accessories, this ukulele is reasonably priced to make it affordable for any level of players. It features a sapele wood design that makes it look a bit darker and more professional than other models.
The sound of this ukulele is also note perfect and won't sound like any beginner level instrument. That's because the Aquila strings and the sapele wood finish combine to give your warm and rich tones.
Like the name, the Ranch Concert Ukulele Kit sounds real and professional. And after spending some time with it, we actually thought that it deserves more than it's going for. To make it even better for beginners, the Ranch Concert Ukulele Kit also comes with 12 free lessons that can be found on the brand's official website.
If you don't feel satisfied with this ukulele after using it for a while, the brand offers you a 30 day money back guarantee to return the instrument and get refunded.
3. Kmise Baritone Ukulele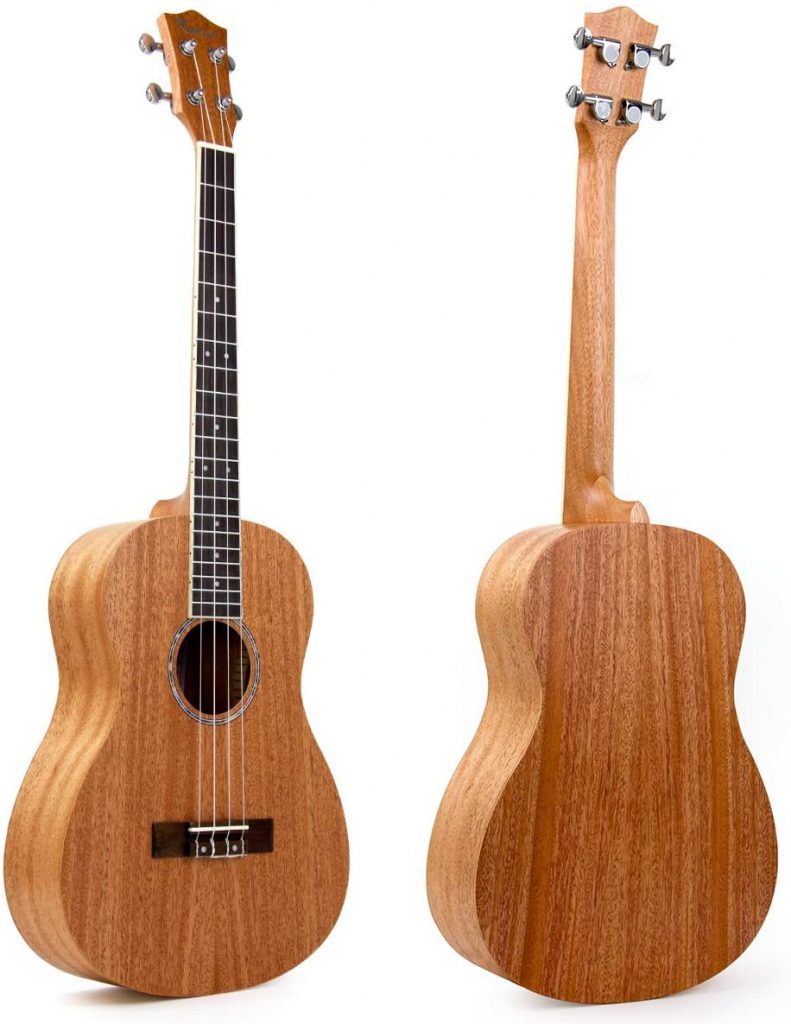 As earlier explained, Baritone ukuleles are tuned similar to the four high-pitch strings on a guitar. Therefore, this is a great beginner ukulele if you already play the guitar or plan to in the future.
The Kmise Baritone Ukulele is a large instrument that features a mahogany finish, which is almost similar to sapele wood. However, the mahogany finish has more powerful bass tones than the sapele wood ukuleles.
That combined with Kmise's carbon strings makes this ukulele sound loud and bright. With this instrument, you get the following accessories:
Allen wrench – to adjust the gap between the strings and fret-board
Carrying case
5 plastic picks
and a strap
But unlike the first two options, the Kmise Baritone Ukulele doesn't come with an extra set of strings, free lessons, or a tuner. However, you can find plenty of beginner lessons for baritone ukuleles on YouTube.
This is a fine instrument and has all the features that you will need to kick start your journey into music.
4. Alvarez Regent Series RU22C

We had one of the best experiences when reviewing the Alvarez Regent Series ukulele. It features a full and satisfying sound, and its size is suitable for both adults and kids.
The RU22C is a top favorite for many ukulele players and it comes with a fingerboard width that makes it easy to play the instrument. However, you won't get as much accessories with this ukulele compared to others in the same price range.
Regardless of that, the RU22C sounds better and enhances easier playability, making it a good option for the beginners. And as explained earlier, you'll be needed to spend a few extra bucks for additional accessories. But according to us and most people using this ukulele, it's totally worth it.
The RU22C doesn't only sound like a premium ukulele, but it feels like one too. It features a solid mahogany build and fully enclosed tuners that feel more precise and smoother.
Additionally, this ukulele also has a slotted bridge that makes it easy to change the strings. And to assist the beginners further, the RU22C features position markers along the sides of its fingerboard.
This allows you to see exactly where you need to place your fingers when playing the instrument. Better yet, the Alvarez Regent Series ukulele comes in three different sizes, including soprano, baritone, and tenor – all at similar prices.
5. Donner DUC-1 Ukulele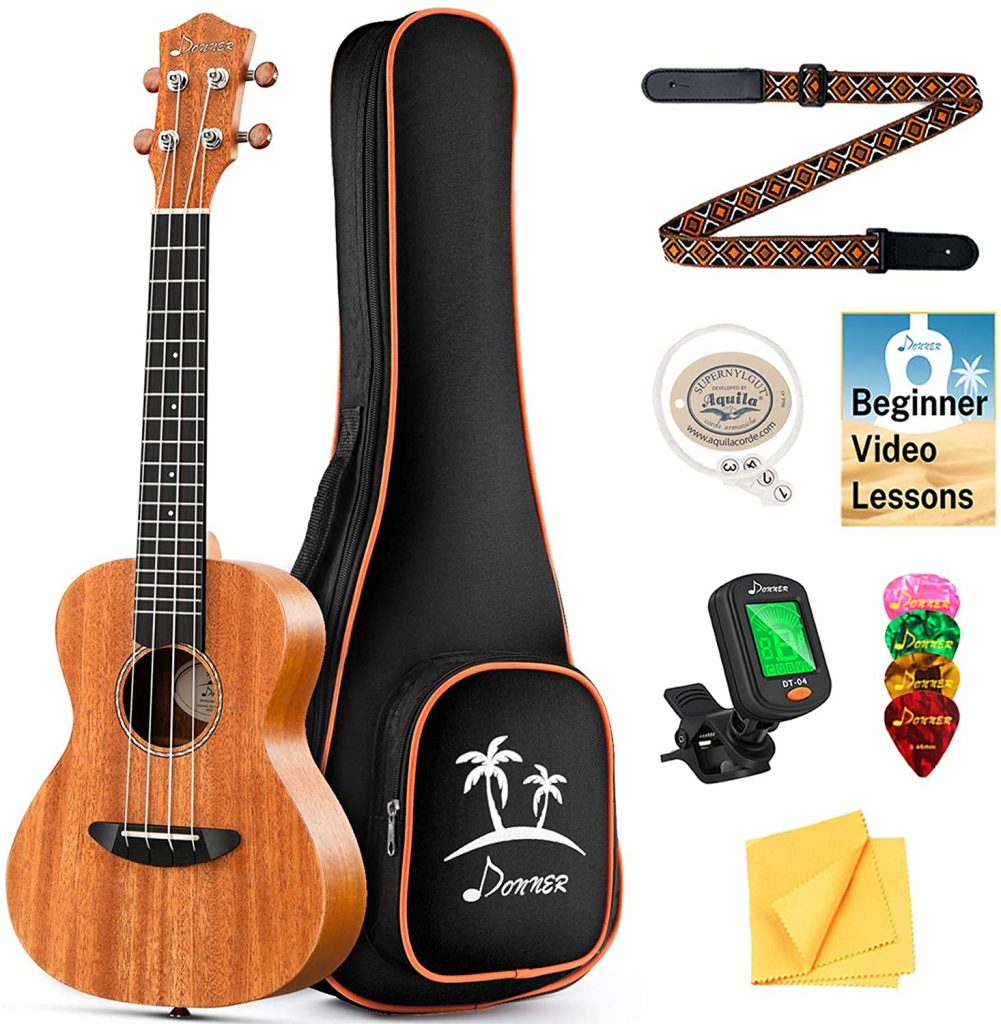 Beginners can certainly have a good learning experience when using the Donner DUC-1 ukulele. It's affordable, sounds good, and can provide easier playability for players at this level.
What makes this ukulele an even better deal for the beginners is that it comes with the needed accessories. They include:
Tuner
Strap
Extra set of strings
and Case
Unlike the other models, this ukulele features a slightly larger fingerboard. Such a feature enhances easier playability if you have large hands but not the same if you have smaller ones.
That aside, the Donner DUC-1 ukulele also features position markers on the sides of its fingerboard, a slotted bridge, and fully enclosed tuners as well.
Because both the neck and the body of this ukulele join at the 14th fret, it's easier to play high or complex notes on this instrument. We also liked the fullness and clarity of this ukulele's sound, something that most people using it have raved about on many platforms.
You can get this ukulele in either a soprano or a tenor version, but the all deliver the same playability. This isn't a premium-look ukulele if you are looking for one – because the Donner DUC-1 ukulele has a cheap look.
That said, the Donner DUC-1ukulele can still fully deliver to the beginners' learning needs if used accordingly.
ALSO Read:10 Best Online Ukulele Songs
6. Lanikai LU-21 Soprano Ukulele

This is a soprano type ukulele from Lanikai, which is a brand also known for producing high-quality ukuleles. The LU-21 soprano ukulele is perfect for beginners who don't want a plastic form of this instrument.
It features a laminated wood design that makes look like the real thing. Better yet, this ukulele comes in both a concert and tenor version. This makes it a preferable instrument for both professionals and beginners as well.
When playing it, we realized that the Lanikai LU-21 soprano ukulele requires some tuning after an intense playing session. Also, the intonation isn't satisfying when you go higher this ukulele's fretboard.
It might not be an issue for the beginners but a professional would certainly find it less impressive. Besides that, the Lanikai LU-21 ukulele has received some positive reviews from its users and we can also attest to its adequate functionality.
So, if you are looking for the best ukulele to jumpstart your lessons then purchasing this one wouldn't be a miss.
7. Kala Makala Dolphin Soprano Ukulele
This has to be one of the cheapest ukuleles in our list as it goes for nothing more than $50. So, this is a go-to budget-friendly ukulele for beginners. The Makala Dolphin Soprano ukulele features a plastic design. Although that might seem like a deal-breaker, it actually isn't.
Despite the plastic build of this ukulele, it features great tone capabilities and easier playability as well. The sound is also pretty decent for the money, but you can always change the strings into something more natural.
Overall, we think that the Makala Dolphin Soprano ukulele is a top-choice if you have a really squeezed budget. That's because it gives you the chance to start your learning journey and without a mediocre or toy-like ukulele.
8. Cordoba Concert Ukulele

Cordoba is primarily known for their strengths in guitar production, and most notably the nylon-stringed guitars. Besides that, this manufacturer is also a landmark name in producing ukuleles, especially the beginner's kind.
Here, the Cordoba 15cm concert ukulele is another impressive addition into our list of 10 best ukuleles for beginners. Looking at it, we found that it offered an easier playability like most ukuleles on the list.
It features easy-to-play frets and a beautiful mahogany design from top to back, and a natural satin finish. To make it more natural, this ukulele's nuts, bridge, saddle, and fingerboard are all made of composite wood.
It's only 15cm long and lightweight as well, making the Cordoba concert ukulele a perfect option if you travel a lot. The only thing that might be intimidating to beginners when approaching this instrument would be its price. It's a bit expensive than other models but the Cordoba concert ukulele is definitely worth the investment.
9. Kala Exotic Mahogany Concert – Blue Satin

Another Kala ukulele found its way on our 10 best ukuleles for beginners list. The exotic mahogany concert ukulele from Kala is a great starting point for beginners.
It's a bit advanced than the starter and would be best to progress on your learning process. When reviewing its capabilities, we saw that it would be best to use it after a complete course with Kala's starter kit ukulele.
That's because this exotic mahogany concert ukulele is larger in size and features wider fret spacing, which is usually a norm for advanced players. Like the name, this ukulele has a mahogany build that adds to its durability, natural look, and rich sounds.
The ukulele comes in a blue finish and the look on this ukulele is eye-catching. The mahogany concert ukulele from Kala also comes with premium Aquila Nylgut strings, and doesn't require often tuning. This is definitely a beginner friendly ukulele that can further help you to elevate your playability.
10. Luna Tattoo Concert Ukulele

Last but not least in our list best ukuleles for beginners is the Luna Tattoo concert ukulele. Luna is well known for producing attractive and unique ukuleles that feature laser-etched tattoos.
The tattoos are symbolic of the Hawaiian culture, and also a celebration of this instrument's origin. Aside from good looks, the Luna Tattoo concert ukulele features bright and rich tones and a spruce top.
It's easier to play and manages to adequately hold the tune, which is mostly a problem among most ukuleles. We liked that it's reasonably priced, considering its capabilities to perform like a premium ukulele.
The Luna Tattoo concert ukulele combines rich tones, easy playability, and affordability to make it one of the best ukuleles for beginners. Considering this instrument for your learning process or even for your kid wouldn't be a bad choice.
Last Words
The search for the best ukulele for beginners can be difficult. Luckily, our list has made it easier for you to make your choice among the ukes we've discussed in this post. All you have to do is ensure that the ukulele you choose aligns with your needs.
Be sure to reach out to us if you have any questions or feedback regarding this post.