This is another exceptional addition to the Kawai digital piano quality. The Kawai KDP110 digital piano features a responsive keyboard action, beautiful design, high-quality sounds, and ample connectivity features.
It's a noteworthy instrument that amazes in almost every end. The device has received a significant amount of praise from Amazon customer reviews.
Thus, this Kawai KDP110 review will focus on this piano's overall capabilities to show you if it's worth your money. We'll talk about the features, pros, and cons and give you an in-depth experience of what it feels like to play on the KDP110.
Kawai KDP110 Digital Piano Overview
Some of the KDP110 highlights include a new 3-sensor Responsive Hammer Compact II keyboard action. The action further features full 88-key sampling with the Shigeru Kawai SK-EX grand piano sounds.
Its design is eye-catching with a compact cabinet design, which is available in a premium Rosewood finish. You also get Bluetooth MIDI and USB MIDI connectivity, among other connectivity features.
And for optimal sound projection, the Kawai KDP110 digital piano features a powerful 40W stereo amplifier and speaker system. That's not all; this instrument also comes with the Virtual Technician function that includes the Smart Mode feature.
Finally, you get an enhanced SHS headphone sound with a headphone-type setting, and built-in Alfred lesson songs, Beyer etudes, Czerny, and Burgmuller.
Kawai KDP110 Features
Specifications
88 fully-weighted keys with RHC II action
Matte key finish
Tri-sensor hammer detection
Pedal – Soft, Sostenuto, Damper (supports half-pedaling)
Harmonic Imaging Sound Engine
SK-EX recording
88-key stereo sampling
Max Polyphony – 192 notes
Damper Resonance
Virtual Technician with 13 parameters (accessible from the app)
Virtual Technician Smart Mode
15 Built-in Voices
Sound Effects – 6 Reverb types, Brilliance
Functions – Transpose, Dual, Four Hands, Tuning
15 Demo Songs
Built-in Metronome
3 Song Recorder
Dimensions – (W x D x H): 53.5" x 16" x 33.5"
Weight – 39kg/86lbs
Connectivity – Headphone, MIDI IN and Out, Bluetooth MIDI, USB To Host
ALSO READ: Should I Buy a Used Digital Piano?
Kawai KDP110 Digital Piano Design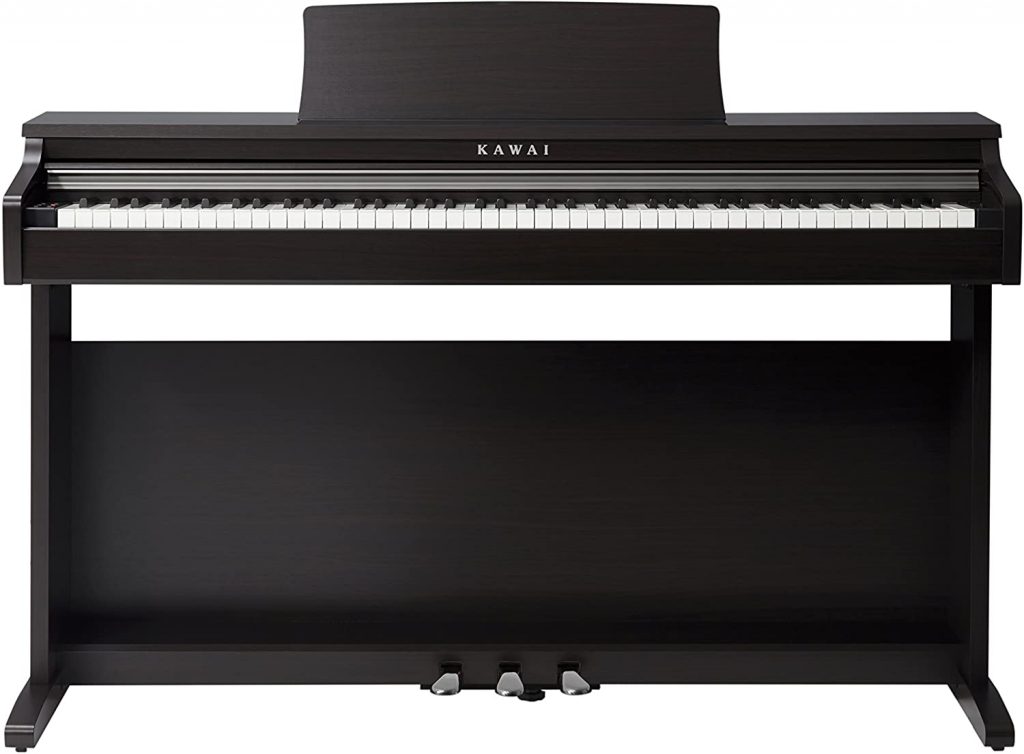 Due to its weight, the KDP110 is primarily designed to be staged around the house. It features a simple and elegant build that will add to the aesthetics of your home. Although it comes in black and white finishes, the KDP110 is also available in a premium Rosewood finish if you prefer a traditional acoustic piano look.
Note that the black and white versions aren't available in the US but specific countries. Either way, this instrument is perfect for home or studio use. It features manageable dimensions that won't take up too much of your space.
Kawai featured the KDP110 with what they call the Grand Feel Pedal System. The feature recreates the position and weight of the pedals found on the brand's SK-EX concert grand. This delivers an authentic pedaling experience on the KDP110.
Moreover, this piano comes with three-pedal functionality as it's a norm with furniture style digital pianos. Better yet, the Kawai KDP110 digital piano supports the half-pedal functionality like in acoustic pianos.
That is impressive, considering that the KDP110 is a budget-friendly digital piano. Additionally, you also get a sliding keyboard cover with this instrument that prevents your keys from getting dusty when not in use.
Like most instruments within this price range, the KDP110 doesn't have a screen for display. However, the control panel is simple and easy to use with only a few buttons and nothing more.
Keyboard
This is where the KDP110 mostly thrives as it features realistic touch and motion keyboard. The action incorporated on this instrument is Kawai's new Responsive Hammer Compact II keyboard action.
Kawai designed the RHC II keyboard action to replicate the touch of an acoustic piano distinctively. This keyboard action features a spring-less technology with sturdy construction to give you consistent downward and upward motion.
As a result, you get natural, smooth, and highly realistic piano playability like nothing you've experienced before. Another feature that impressed us on the Kawai KDP110 digital piano's keyboard is the acoustic piano key weighting.
The RHC II keyboard action utilizes different hammer weights like acoustic pianos to deliver an appropriately graded playing range. With such capabilities, this instrument can satisfy even the demands of the most advanced pianist.
Finally, on the keyboard, the KDP110 further features the Triple sensor key detection functionality. This feature enhances playing realism and improves responsiveness when you are playing the same note repeatedly.
Sound Quality
In addition to the authentic keyboard action on this instrument, you also get the sound of a grand piano. The Kawai KDP110 digital piano features the Shigeru Kawai SK-EX grand piano samples that deliver a high-level of natural sounds.
This sound sampling features a dynamic range with exceptional clarity, and professional pianists mostly prefer it for performances. Additionally, you get the real character in every note available on the KDP110.
That's because all the 88 keys on this instrument are meticulously recorded, analyzed, and faithfully reproduced using Kawai's advanced Harmonic Imaging technology. This makes the piano sound more acoustic with every keystroke regardless of the genre you are playing.
Harmonic Imaging Technology
As you may know, the pressure applied to the keyboard when playing affects both the volume produced and the unique tonal character. Using Harmonic Imaging Technology, Kawai recorded each key individually alongside different volume levels.
The results are impressive, ranging from gentle pianissimo to thunderous fortissimo.
And to further enhance this piano's sound capabilities, you get 6 types of Reverberation effects. Some of the notable effects under this section include the recital room, concert hall, and live stage, among others.
It's one of the most elaborate and rich Reverb effects that we've come across on a digital piano.
Connectivity
The Kawai KDP110 digital piano also features decent integration features that allow you to connect the instrument with other devices with ease. You get the Bluetooth MIDI, and even the MIDI IN and Out features that you can use to connect the KDP110 to a computer and use it as a MIDI controller.
You also get a headphones jack and a USB to Host, and you can use the headphones jack as an alternative line out jack since the piano doesn't come with any.
Additional Features of the Kawai KDP110 Digital Piano
Grand Feel Pedal System
As mentioned earlier, the Kawai KDP110 digital piano features three-pedal functionality. Additionally, it features a new Grand Feel Pedal System that reproduces individual weighting of the Kawai EX concert grand piano pedals.
Virtual Technician
This one allows you to change the piano's sound capabilities using 13 parameters. However, it's only applicable using the Virtual Technician app.
Similarly, the KDP110 also features the Virtual Technician Smart Mode with ten (10) presets.
Lesson Function
The lesson function is especially essential for the aspiring pianists who use a collection of different lesson functions, including the Alfred Piano course books.
Spatial Headphone Sound (SHS)
Another feature of the KDP110 worth noting is the Superior Headphone experience that enhances the realism and depth of the piano's sounds when using headphones.
And for an optimized listening experience, this instrument allows you to select different headphone types, including Semi-open, Open, and Closed, among many other options.
Built-in Recorder
You also get an easy to use 3-Song Recorder that's built-in for composing your ideas or self-evaluation.
Benefits of Owing the KDP110 Digital Piano
Authentic Keyboard Action – The RHC II keyboard action is Kawai's most authentic keyboard action within this price range. It features realistic key samples and the tri-sensor key detection for optimal realism and better playability.
High-Quality Sound – Using the Harmonic Imaging technology and Shigeru Kawai SK-EX grand piano samples, the KDP110 delivers the top quality sounds with rich and dynamic expressions.
Optimal Connectivity – Although it lacks the Line Out jacks, you can still use the headphones jack available on the KDP110 to connect external sound systems. On the other hand, you get Bluetooth MIDI integration MIDI IN and OUT on this instrument.
Energy Conservative – Unlike previous Kawai digital piano models, the KDP110 features components that are energy efficient and reduce electricity consumption by over 60%.
Furthermore, this piano also features an auto-off power feature that automatically shuts it down after a specified period of inactivity.
Why Should You Buy the Kawai KDP110 Digital Piano?
Apart from it being a subjective decision, there are more than enough reasons to purchase the KDP110. For instance, we haven't seen an instrument with such capabilities within the same price range.
You are also getting an instrument that incorporates samples of Kawai's high-end concert grand pianos at a favorable price. This is the ultimate deal, according to us.
You still have a few connectivity features, and portability isn't an option with this instrument. However, it delivers overall realism and expressiveness to ensure that you get the best of what the brand can offer.
Pros
Responsive and Triple-Sensor Keyboard action
Elegant and simple design
High-quality Sound Source
Multiple sound effects for enhancements
Polyphony Max of 192 notes
Powerful Speaker system
Built-in lesson function
Bluetooth integration
Cons
Lacks a Split Mode
Basic controls
Lacks a Multi-track recorder
Split Mode inclusion could have been better.
Final Verdict
Wrapping up, that's our in-depth Kawai KDP110 digital piano review. It's an impressive instrument with authentic playability that any level of pianist would love to get their hands on.
We hope to have given you the needed information on whether or not to purchase this digital piano. But as you've seen, there are more than enough benefits to owning this instrument, especially considering its price.