Making music requires that you have some of the best equipment to aid you in the process. Here, we'll look at some of the best beginner MIDI keyboards on the market that can satisfy your music-making needs.
They aren't similar to piano keyboards though they do look alike. This electronic instrument's main aim is to help you start your journey of making music in an affordable yet effective way.
A MIDI keyboard does this by allowing you to create music using a controller, virtual instruments, and recording software. With such capabilities, MIDI keyboards have made it easy for beginners to indulge in the world's music production.
That said, let's now look at the 5 best beginner MIDI keyboards to consider buying.
1. Akai MPK Mini MKII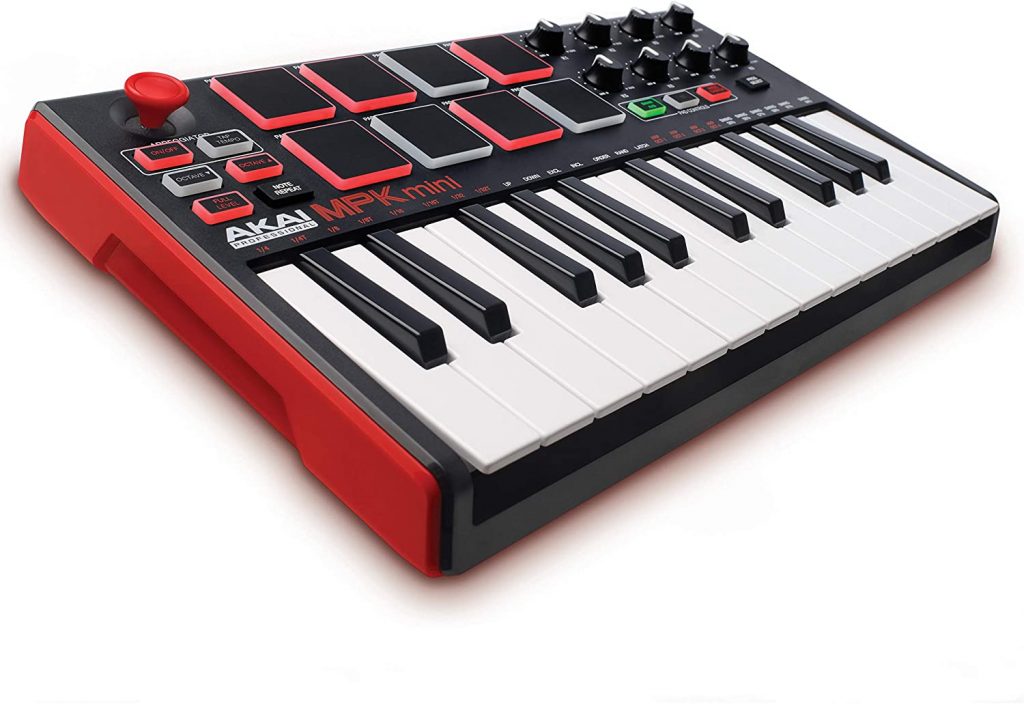 For most beginners and even professionals, the Akai MPK Mini MKII has been and continues to be one of the best beginner MIDI keyboards on the market. It features 25 velocity-sensitive keys, enhancing its ability to deliver some of the best performances on the market.
The Akai Mini MIDI controller comes in a lightweight and compact body, a standard for most MIDI keyboards. It weighs only 1.63 lbs, and the dimensions measure 7.1″ x 12.4″ x 1.8″.
Therefore, the instrument offers a hassle-free traveling and storage experience. And although it doesn't pack more keys like others competing with it, the Akai MINI certainly compensates for this on its performance.
Besides that, it's hard to find an entry-level MIDI keyboard that performs better than it at this price range. The Mini MKII isn't all good looking, and it seems that Akai decided to emphasize more on this keyboard's functionality than its overall appearance. The 25 keys on this music-making machine are well-built and strong enough for durability.
Similarly, the buttons are positioned in a standard manner to avoid cluttering and confusing the keyboard's users. Considering how compact this MIDI keyboard is, we applaud Akai's efforts in ensuring that the interface looks professional enough.
Similarly, the keys also have a standard size for better performance and comfort when playing. And as mentioned earlier, the Akai Mini features velocity-sensitive keys that are also synthesizer styled.
Key Features
8 Drum Pads
8 Knobs
Built-in Arpeggiator
Besides the keys, the eight drum pads on this MIDI keyboard are also velocity-sensitive. Additionally, you can assign the knobs to the drum pads for enhanced customization of how you want the drum pads to sound.
With this MIDI keyboard, you don't require any drivers as it is USB powered. You also get a 4-way thumbstick for modulation MIDI control and dynamic pitch.
Pros
Portable
Features multiple useful software
Budget-friendly and offers good value for money.
The pad quality is impressive.
Cons
Pads could be more
The knobs are a bit too light.
Knobs feature a dissatisfying click.
The Akai MPK MINI MKII MIDI keyboard is one of the best beginner MIDI keyboards on the market and delivers quality in an affordable and portable design. It's user-friendly and features more than enough of what a beginner needs to start making music.
2. Novation Launchkey Mini MKII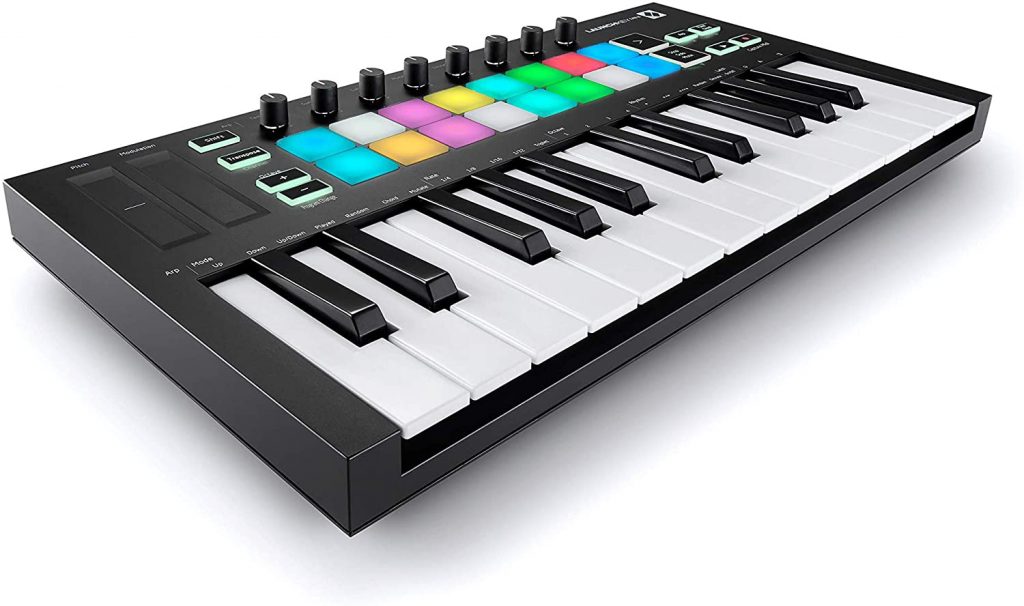 The Launchkey Mini is a smaller version of the main 49-key Launchkey MIDI keyboard. This one features 25 velocity-sensitive synthesizer keys. As a beginner, the Novation Mini MKII offers the best that you could ask for at this stage of making music.
The keyboard features a compact design, but the good news is that it doesn't sacrifice functionality. Its dimensions measure 7.1" x 12.4" x 1.8", and the keyboard only weighs about 1.6 lbs. As you can see, this is yet another portable MIDI keyboard that can serve you both in the studio and on the road as well.
When using it, the key and pad quality feel nothing short of impressive. However, we noted that the synthesizer action has a springy effect, but that's just a drop in the ocean compared to what other similar competitors have to offer.
Unlike the first option, the Novation Launchkey Mini MKII MIDI keyboard's keys are smaller than the standard size. So, you'll need some getting used to before mastering them, which is doable.
The keyboard features a straightforward interface that any novice would find easy to learn and navigate in a short period. And to further enhance your performance, these keyboards feature sample and support packs, as well as apps.
Key Features
16 LED lit Drum Pads
4GB Loopmasters samples
Software for PC and Mac
Another thing to love about the Novation Mini is its capability to offer stable performance. This ability makes it stand out among other top contenders, such as the first option. Overall, the Novation Launchkey Mini MKII MIDI keyboard is an instrument worth investing in as a beginner.
Pros
Compact design and portable
USB enabled
25 Synthesizer styled keys
Features bundled software
High-quality feel
Cons
Less-sensitive drum pads
Doesn't have a thumb joystick
Note that the Novation Launchkey Mini MIDI keyboard was primarily made to function with Ableton Live. And although it can be used with other DAWs, some features end up getting automatically disabled when not using the keyboard with the Ableton Live.
This was one thing we found quite discouraging about this instrument, but it's the best choice if you are an Ableton user.
ALSO READ: Yamaha P121 Digital Piano Review
3. Alesis VI49 USB MIDI Keyboard Controller
Third, on our list of 5 best beginner MIDI keyboards to consider buying is the Alesis VI49 MIDI keyboard. It's a more expensive version than the first two that went ahead of but for valid reasons. As the name suggests, this MIDI keyboard features 49 semi-weighted keys.
Additionally, it features 16 RGB velocity-sensitive drum pads capable of responding to both your touch and playing speed. And unlike the first two models we've reviewed, the Alesis Vi49 USB Midi controller is heavier due to its size.
The keyboard weighs about 11 lbs, and its dimensions measurements are as follows: 12.4" x 37.6" x 4.5".
Key Features
USB powered
12 assignable knobs – For enhanced customization capabilities
Pitch and modulation wheels
36 assignable buttons – These are dedicated to helping you manipulate the instruments and plug-in effects, change the volume level, modulate the filters, and for tweaking the parameters
Aftertouch – This is a rare feature on MIDI keyboards, and it allows you to change the sound or tone of a note by pressing the keys harder. In other words, the Aftertouch feature mimics the feel of an acoustic keyboard
Because it's a USB enabled model, you can easily and quickly plug and play the Alesis Vi49 USB MIDI controller. Therefore, you can use it with your preferred DAW and enjoy an enticing and effective performance with this keyboard.
The 16 drum pads on this MIDI keyboard also feature LED backlight, meaning you can play it even in a semi-dark room and still be able to locate every button you need.
Pros
Beautiful design
Aftertouch feature
Optimal customization features
Cons
Heavier than other models
Buttons need some time to master, especially the beginners.
If you are looking for a sturdily built MIDI controller with multiple music production features, the Alesis VI49 is the way to go. It packs optimal functionality thanks to its USB powered capability and the many customization features that come with this MIDI keyboard.
The Alesis VI49 Midi controller is what you need to enhance your creativity as you enter into the music-making world.
4. Nektar Impact LX25+ MIDI Controller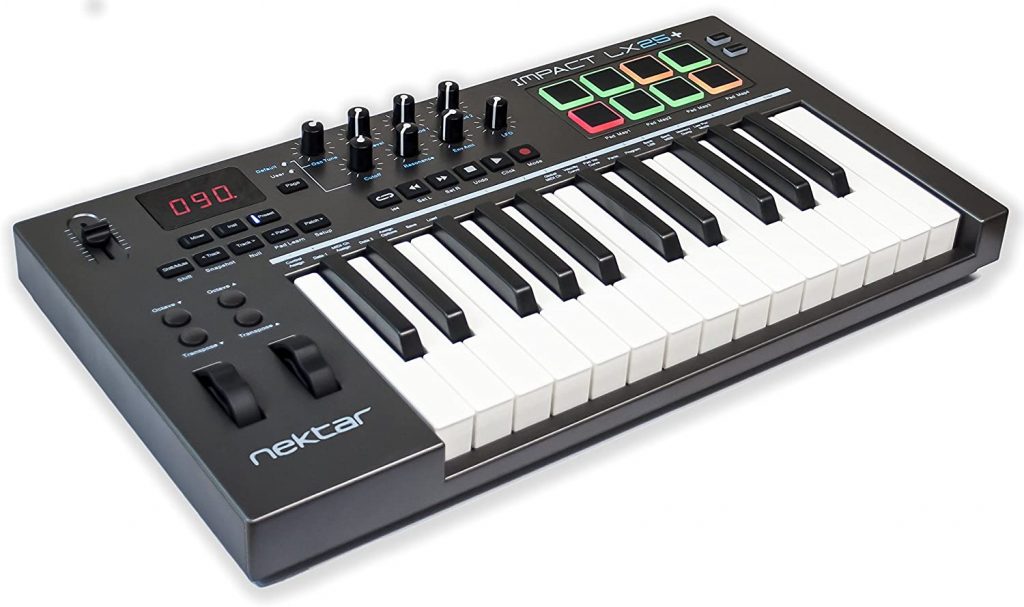 When choosing a MIDI controller for beginners, the Nektar Impact LX25+ cannot miss out on the list. This MIDI keyboard combines useful features that help it deliver significant results to its users. The controller has received many praises from its users, and we can attest to this as well. Simply speaking, the Nektar Impact LX25+ is a good value for your money, especially for beginners.
If unaware, Nektar only released high-end models with price tags that were too hard to bear for casual users and aspiring musicians. But with the coming of this model, Nektar pleased a broad audience.
And although it might be a toned-down version of the original MIDI keyboard, the Nektar Impact LX25+ MIDI controller comes packed with its big brother's capabilities too. With this model, you are also privileged to use any DAWs without limitations from either side.
This keyboard features 25 keys with synthesizer-styled action, and the keys are a bit large and bulky compared to similar models in the price range. It has a medium action, meaning that it doesn't feel as bouncy or smooth as a keyboard with the semi-weighted action.
Key Features
Transpose Function
8 Knobs and Pads
Flexible Pad mapping
Compatible with PC and Mac
USB connectivity
The Nektar Impact LX25+ MIDI controller weighs only 4 lbs, and its dimensions measure 18.34″ x 10.5″ x 2.34″.
Pros
Good value for money
Compatible with almost every DAWs
8 Velocity-sensitive drum pads for tapping drum beats
Cons
A bit heavy
Lacks semi-weighted keys
Like any other MIDI controller, the Nektar Impact LX25+ also has some fair share of negatives. A professional won't find this controller worth investing in, mostly due to the lack of semi-weighted keys.
But if used according to its capabilities, the Nektar Impact LX25+ delivers effectiveness at its highest possible level.
5. MIDI PLUS 32-Key MIDI Keyboard
Winding up the list is the MIDI PLUS AKM32 MIDI keyboard that's best suited for beginner use. It is a straightforward MIDI keyboard and the simplest to use in our list of 5 best beginner MIDI keyboards to consider buying.
From our perspective, the AKM32 is the best starting point for any beginner who is unfamiliar with using a MIDI keyboard. Note that we aren't discouraging using the above options. We are just pointing out that this model is simpler to use and more comfortable to set up.
This keyboard features 32 mini synthesizer-styled keys that have velocity-sensitive action. Additionally, the keyboard also comes with 3 rotary knobs, 11 function buttons that are LED-backlit, and a single endless encoder.
Key Features
Pitch and Modulation wheels
Buttons for Octave, Transpose Function, and a Volume Slider
Sustain Pedal Input
USB connectivity
The MIDI PLUS 32-key MIDI keyboard might not come packing some of the most outstanding features on the market, but it certainly delivers to the best of its capabilities. It is an ideal entry-level MIDI keyboard that promises portability, optimal functionality, and excellent value for your money.
Pros
User-friendly interface
Lightweight and portable
Cons
Lacks faders and drum pads
Final Thoughts
There you have it, our comprehensive list of 5 best beginner MIDI keyboards to consider buying. The five best beginner MIDI keyboards detailed above are certainly offering people the best value for money in terms of functionality and effectiveness in their areas of strength.
We understand that choosing between thousands of models will consume both your time and energy. Hence, this review aims to help you make a well-informed decision when looking for the best beginner MIDI keyboards on the market.