How can you connect a digital piano to your PC, iOS, or Android device? This is an important question that many people ask and we'll answer it here in this post. Connectivity is one of the features that distinguishes digital pianos from regular acoustic pianos.
There are a variety of connectivity options available with digital pianos. This connection in digital pianos allows you to practice and record various styles of music, as well as move them between devices.
In this post, we'll teach you how to link up your digital piano to your personal computer, Android devices, and Apple iOS devices.
How to Connect Digital Piano to a PC
The first step in ensuring that the digital piano is compatible with a personal computer is to ensure that it has either MIDI ports or USB ports.
After this, you must connect the digital piano to the appropriate cable to communicate with the computer.
If there's a USB connectivity port in your digital piano, you'll need a USB A to USB B cable. If the digital piano has MIDI connections, you'll need to use MIDI to USB cables.
It's a good idea to double-check the USB port labels on the back of your digital piano for USB To Host or USB, as well as MIDI Out and MIDI In.
You may also buy connecting cables separately if your piano doesn't have them. The wires normally come with most Roland and Yamaha digital pianos.
Connecting through the USB Port
If your digital piano has a USB connectivity port, you'll need a USB A to USB B cord. This connecting wire is also known as a printer cable because you may also use it to connect personal computers to printers.
You'll see that the end of the wire of the USB B looks more square. Connect it to the Digital Piano's USB ports now. If the port is put incorrectly, it might be damaged.
If multiple USB connections are available on a digital piano, such as USB to device and USB to host, the USB B end of the cable should be connected to the USB host port rather than the USB device port.
You should then connect the USB A end of the cable to the personal computer. You should switch on both the personal computer and digital pianos must be switched on.
To link, we'll need to build the playground. The installation process will now begin. When you click on "Play," a window appears that asks you to choose the model of your digital piano from a dropdown menu. If there is a problem with the name in the menu dropdown, you may pick from the list of cable types instead.
After you've completed this stage, click the next button to finish and link the digital piano with the PC.
Connecting through the MIDI Port
If your digital piano has a MIDI connectivity option, you'll need to connect it to a computer with MIDI USB cables.
You should connect the end of the cable that connects to the digital piano's MIDI IN port to the personal computer's MIDI OUT port. Ensure you connect the digital piano's MIDI OUT port is to the MIDI IN input.
If the MIDI connections in the steps above fail, you can establish a reconnection strategy.
Connect the USB A end of the cable to your computer. It's critical to ensure you turn on both your computer and digital piano.
You should publish the playground to establish a connection. The installation will now begin. When you click the Window menu button in the digital piano configuration software, a dropdown menu appears with several options from which to choose.
If the digital piano model name is missing from the drop-down menu, you may pick a cable type from the drop-down menu.
After this step, please press the next button to finish and link the digital piano with your computer.
If you link the keys correctly with the necessary cables, the playground will easily tell whether the notes were played on a digital piano.
How to Connect Digital Piano to an iOS Device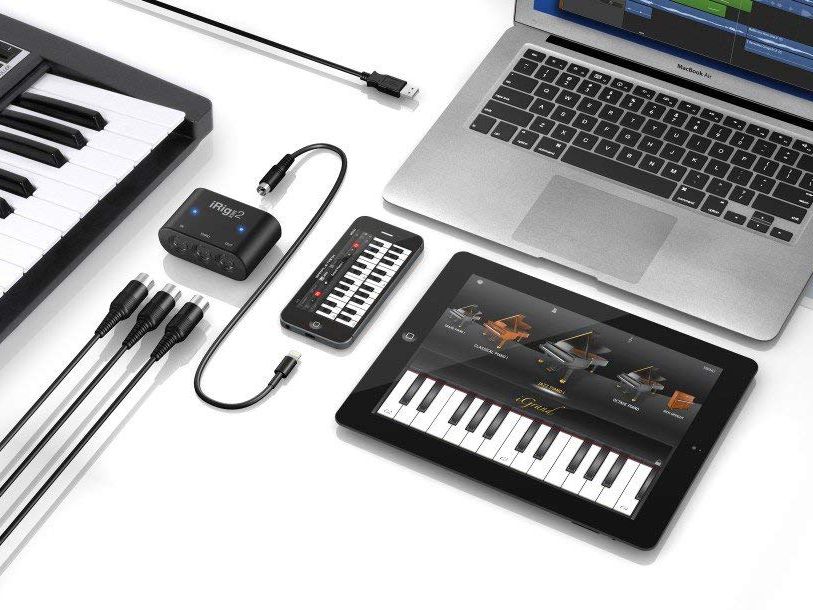 It's simple to link your digital piano with Apple devices like the iPhone, iPod, and other iOS products. You may simply download the Digital Piano Controller app if you have a Yamaha Digital Piano to link it to.
If you have an iOS device that is from the first to third generations, you'll need a 30-pin cable. Connect the 30-pin plug to your iOS device.
Apple provides lightning connections in the fourth-generation iOS devices, such as the iPad.
The USB cables on the lightning connectors can be used to link all of your USB accessories. This makes connecting the digital piano a breeze.
If your piano has only DIN connections, you'll need a MIDI interface. Because all the Apple devices that use all the various connectors require a unique MIDI interface.
The most common type of iOS interface cables are those that include MIDI OUT and MIDI IN connections on one end, as well as a 30-pin connector on the other.
There are also adaptors for sale that have a lightning connector on one end and a thirty-pin jack on the other. This makes it possible to connect any iOS device to the digital piano.
When you're done with these steps, the digital piano will be linked to the iOS device automatically. There is no need to install any additional software to use digital pianos. The digital piano may be connected and used with the iOS device immediately.
How to Connect Digital Piano to Android Devices
Several Android apps let you link your digital piano with your tablet or phone.
The majority of smartphones and tablets have a micro USB or Type C USB port, thus a converter cable is required to link the digital piano to Android devices.
Connecting the piano via either a USB cable or Bluetooth is quite easy. Just follow the steps below:
It's necessary to use a USB type B to USB type A connection to connect the device with the digital piano if it has a USB to host connection.
If the digital piano has a MIDI connection, you'll need an OTG adaptor (MIDI to USB cable).
To the digital piano's USB B-end, connect the USB B end of the cable.
Connect the MIDI splitter's end of the connector to the digital piano.
To sync with your Android device, connect the USB end of the micro USB cord to the OTG Micro USB adapter. Depending on the type of Android phone or tablet, the adaptor may also feature USB type C.
The Android device's micro USB end should be connected to the adapter.
If you're not establishing a connection immediately, use the settings to manually establish the link.
The Android device should now be able to connect to the piano. The good news is that you won't need any extra software to start playing the digital piano.
ALSO READ: How to EQ a Digital Piano – Tips for Quality Audio
Why Do You Need to Connect a Digital Piano to External Devices?
The most frequent use for connecting a piano/keyboard to external devices like a computer, laptop, iPad, or Android device is to record your performance for self-observation or sharing on social media.
However, you may be aware that if you capture your voices or performances on your digital piano, you will not receive correct data or sound.
However, using external devices for recording will provide you with certain additional benefits as well as more sophisticated controls. Once you store the data in SMF while connecting your digital piano to the MIDI or USB port on a Windows, Mac, or even an Android system, you can conduct many advanced settings that you couldn't do when making an audio recording from the digital piano's built-in microphone.
Can You Connect Yamaha Keyboard to Computer?
It is possible to connect Yamaha keyboard devices to a computer. The procedure depends on the specific product and its compatibility with your system. Follow these steps:
Connect the keyboard to your computer using USB cables.
Open the "Start" menu on your device and click "Control Panel."
Select "Hardware and Sound"
Go to "Sound" to access sound options.
You are now able to control volume, or record music from a Yamaha keyboard onto the PC through an existing software program for its use.
For iOS Users
Connect the USB cable to an available port on your PC then connect it to your keyboard.
Open iTunes and go to "File" located in the menu bar at the top of the screen, then click "Devices."
You may now select a Yamaha keyboard from this list under "USB Devices" which will allow you to access sound options through that device.
For Android Users:
Connect your keyboard to your PC then open the Google Play Store on your device.
Search "Yamaha" to access its official page where you will find apps for iOS and Android devices.
Download one of these files onto your phone or tablet, which has an available USB port at the bottom. Through that you can directly connect it to a Yamaha keyboard when necessary.
You can also use Bluetooth connectivity with most Yamaha keyboards if they support this option. All you have to do is tap on the "Bluetooth" button located under MIDI settings within each app version.
Make sure you follow all these steps correctly to connect them successfully with ease!
The Bottom Line
Hopefully, you've learned something from all the information on how to connect digital piano to your PC, iOS, and Android device. It's actually pretty easy and anyone can do it.
All you need to do is ensure that you follow all the tips and instructions in this post. And you'll be good to go.
If you have any questions, feel free to reach out to us through email and we'll be happy to help!