Buying a digital piano can be an overwhelming and intimidating process for beginners. There are so many factors to consider when you're looking to buy a digital piano. Therefore, this can seem like a hard task for anyone who's never bought any musical instrument.
Luckily, it isn't thanks to all the useful info we'll provide in this post. We'll cover 10 tips that will help guide your purchase process to make sure you buy the best digital piano for your needs!
1. Consider Your Budget:
As with any purchase, it is important to know how much money you have available before looking at pianos online or visiting showrooms. Digital pianos range in price from $200-$11000+, so there is something for everyone's budget! You should set a realistic budget beforehand and then stick to it.
But don't be afraid to look at pianos that are outside your budget if the quality is significantly better than other models within your price range. This is always a crucial factor to remember when you're on the market to buy a digital piano.
There's no point buying a $200 piano for gigs and paying more in transportation costs (gas/parking) than you would've paid for the instrument itself!
Reviews of digital keyboards on Youtube or Google Images can also help give an idea of how well certain products sound. Just make sure you know what keyboard features they have before basing any decisions on them!
If possible try out any instruments before making a purchase. It will save time and money because seeing first-hand how easy or difficult something is may sway your opinion one way or another.
Also, keep in mind that digital pianos and keyboards are different so don't assume they have the same features. For example, most keyboards do not have weighted keys whereas almost all of our recommended digital pianos here offer them.
Remember you can always upgrade to new models as your budget allows – there is no point buying a $200 piano for gigs if it will break or become unusable after just a few years!
Also, keep an eye out on websites where people sell their old instruments because you could get fantastic deals.
2. Touch Response and Keyboard Action
The keys of a digital piano are measured in terms of how much weight and sensitivity they have.
Although none of the digital pianos on the market can match how hard acoustic piano keys feel when struck, several excellent alternatives have highly realistic key actions.
The first thing you should look for is a piano with a counterbalanced keyboard or a hammer effect keyboard. A graduated keyboard adds to the realism, and some pianos allow you to customize the sensitivity of the keys, which is an appreciated feature. An 88-key weighted keys keyboard is ideal for beginners.
3. Sampling
The sound reproduction on digital pianos is identical to that of acoustic pianos.
The higher the quality of the keyboard, the more samples it will take for each sound effect. In addition, complex versions use various samples for each note.
This is because the sound's texture varies depending on the hue when you play an acoustic piano. Each manufacturer has its own system. The "Supernatural" from Roland, for example, or the Pure CF from Yamaha are two of the most renowned. Most digital pianos come with a variety of basic piano sounds.
4. Speakers and Sound Library
The piano's internal components, including its speakers, will have an impact on the sound it produces. The volume and quality of the audio output are also affected by the size, number, and power of the speakers. In contrast, when the speaker size grows, so does the overall weight of the keyboard gradually.
Many pianists offer their interpretations online as a freebie. You can effectively utilize those interpretations in your piano model thanks to the digital pianos' connectivity option.
Some piano manufacturers include built-in music libraries, and some of them are free or come at a low cost (they can be prohibitively so).
The music library, however, is independent of the piano model you select. So, if you're primarily concerned with recording your sessions for YouTube or another video platform in post-production, don't sweat it because you have the freedom to modify it there.
ALSO READ: How to Connect Digital Piano to Your PC, iOS, and Android Device
5. Portability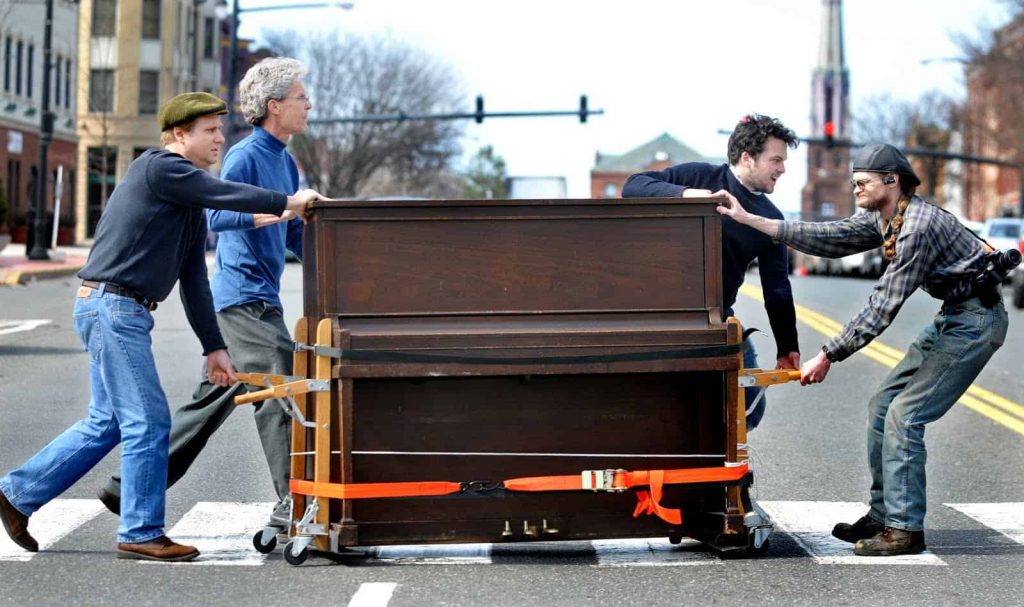 Consider mobility. If you only have limited room in your home, a heavy-weight digital piano would be fine. However, if you must transport the keyboard, go for a lightweight portable version instead.
There are four primary types of digital pianos: vertical, current, portable, and stage. Vertical pianos resemble acoustic pianos in appearance, with the speakers housed in a separate enclosure.
The contemporary design has a more generic appearance than the classic design. Contemporary pianos appear less like a piano and more like a regular keyboard. Portable and stage pianos are lightweight and easy to transport, with enough volume for musicians who want louder music and get the most out of them.
Each of these types has its own set of advantages, but it's important to figure out what type of digital piano you'll need before making a purchase. Because they must project a louder sound and travel with them everywhere they perform, professional performers favor digital stage pianos.
6. Build/Material
When it comes to buying a digital piano, the materials used in its construction are just as important for novices as the soundboard. Plastic keys will be found on the cheaper types, while synthetic ivory keys will be utilized on mid-range and higher models.
The fourth and fifth types of piano keys, which are cream-colored and black, respectively, increase your grip while also giving a realistic execution style to assist you to differentiate between a digital piano and an acoustic piano.
It is also beneficial for novices to acquire a digital piano with touch sensitivity and counterweighted keys. These key types will enhance your expressive playing as well as teach you how to properly play with your fingers while you learn.
7. Polyphony
The amount of notes you can play at the same time is called polyphony. The most basic versions have a polyphony of 32 notes, while the top models may play up to 200 notes.
Why do we require so many notes if we only have ten fingers? The "sustain" pedal is the reason.
Therefore, polyphony is one of the main features you need to check if you want to know how to buy a digital piano that will offer you a quality playing experience.
8. Sound Quality of the Piano
If the piano sounds good to you, then it does.
The sound quality and responsiveness of digital pianos vary greatly from one model to another. The best way for a beginner like yourself is always to try playing it before buying or at least read as many reviews as possible. If that's not an option for you right now, we recommend purchasing a keyboard that comes with trial versions of various instruments so you can experiment with them until finding your favorite add-on features!
Some manufacturers still think about their customers' budgets while making their keyboards. That's because they offer different price ranges depending on your needs and preferences.
Make sure you choose a digital piano that has the features you need and want. Ensure you check the instrument's key action because it will affect your playing experience, not just now but also in the future.
Choose an instrument with enough polyphony so you're able to play complex pieces without running out of notes mid-song or slowing down due to dropped notes.
Finally, try before buying! It sounds simple but you'll never know which model is best for you until trying each one yourself.
9. Learning Tools
Most digital pianos include helpful learning tools, such as lessons that can teach you how to play from scratch. Chord charts and a variety of lighting schemes might be useful.
A built-in metronome can help you improve your rhythmic skills. Some versions allow the keyboard to be divided into sections, allowing a student and a teacher to play on the same keyboard while staying in the same octaves.
10. The Accessories
You should think about acquiring a few add-ons, depending on the instrument you choose. Some of these goods will be included in the bundle you choose, but others may not be. You could require the following accessories:
Amps and cables
Benches
Covers, gig bags, and cases
Stands
Ensure you take your time before making your final purchase to determine what you'll need. This will help you buy everything you need together.
If you're looking for a digital piano for personal use, you'll most certainly want one with an amplifier and built-in speakers.
However, if you're searching for a stage piano and know you'll need extra volume for a big performance or with an ensemble where there isn't access to a PA, you'll want to think about an amplifier and cables. Keyboard amps come with a slew of optional attachments, including a Bluetooth remote control to help you make your music sound as good as possible.
Is it Worth Buying a Digital Piano?
Yes! If you are serious about learning to play the piano, then a digital one is definitely worth buying. Compared with an acoustic piano, it's cheaper and lighter enabling easy transportation. It eliminates the need to break down or disassemble your instrument every time you want to move with it. It also offers sound effects that make practicing more fun for beginners.
Conclusion
Now that you know everything about how to buy a digital piano, it's time to take action. Don't wait until you become an expert before purchasing one because the sooner you buy it the better!
If you have any questions, feel free to reach out to us through email and we'll be happy to help!