Are you a musician and want to know how to fly with a digital piano? You're in the right place! Flying with a digital piano is not as difficult as some people think. There are many tips for musicians who want to fly with their digital pianos that can help ensure it arrives in perfect condition at its destination.
This post will provide you with all the information you need on how to safely and successfully travel by air with your prized possession: your digital piano!
Delta Airlines Piano Travel Requirements
Some airlines such as Delta Airlines allow passengers to bring pianos on a plane. These are taken as checked baggage or in their own seat.
The height, width, and length of your instrument must not exceed 150 inches or 381 centimeters to pass through the X-ray machine. The weight of the case must be 165 pounds (75 kilograms) or less.
Here are some of the requirements you need to follow if you buy a ticket to put the digital piano in its own seat:
It must have a maximum weight of 165 pounds
Should not contain dangerous goods
Mandatory to be next to the owner or in the same cabin
To be able to carry on your piano keyboard, you must be able to comfortably fit it into the top compartments. Smaller musical instruments such as guitars, flutes, clarinets, and saxophones are more common. You might be able to bring along tiny keyboards, but not bigger ones.
Southwest Airlines Piano Travel Requirements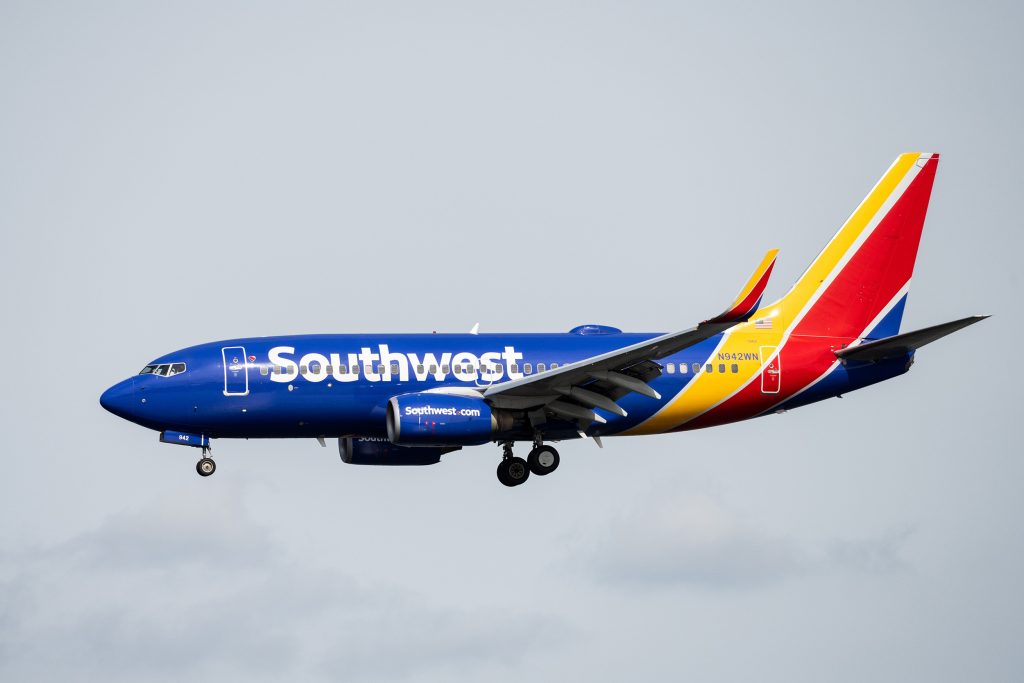 If you're using Southwest Airlines note that if the length, breadth, and height of a piano keyboard or musical instrument exceed 150 inches, it cannot be carried as checked luggage. In addition, the weight of the instrument including the case must be 165 pounds or less.
The maximum size of a carry-on item at Southwest Airlines is 10″x16″x24″. If your keyboard or musical instrument is larger than this, you can carry it aboard. When you board, the instrument must fit in the overhead bin and there must be room for it when you get on board.
Here are some of the requirements for Southwest Airlines:
The instrument must be in the first row
It must be close the window
You must buy a ticket in advance and also reserve a seat for the instrument.
Cannot block seatbelt, smoking, or warning sign
Avoid blocking emergency exits
10 Best Tips on How to Fly with a Digital Piano
When it comes to flying with a digital piano, it's crucial to clearly understand what you need to do. In this section, we'll share 10 essential tips to help you through that process.
1. Check the Hand Luggage Policy of the Airline You Intend to Use
Before you plan on flying, it's a good idea to check the hand luggage policy of the airline that you intend to use. This will help ensure that your digital piano is not going to be rejected as checked baggage later down the road!
2. Choose Your Digital Piano Case Wisely
It may sound like an obvious statement but if you want your instrument case to last for years, then choose wisely. It must have a solid frame and handle with strong wheels so it won't fall apart during travel or cause damage when moving from destination A to B.
3. Padding Is Important Too!
If there isn't enough padding in your case, there can be some serious consequences on both ends: on one side, dents and scratches might appear on your digital piano's body, while on the other side, the case might get damaged. The padding will also help protect against scratches that can come from any items near it or even when being loaded into an aircraft hold.
4. Allow Time for Loading and Unloading
Depending on where you are flying out of, whether it is a nearby airport or not, there could be some delays with loading up instruments onto planes due to space limitations. Factor this possibility into your schedule so you don't miss your flight!
5. Pack Your Own Boxes if Possible When Packing Accessories
If possible pack all accessories inside their own boxes which have been previously sealed by manufacturers i.e never opened before! If they're already packaged then ensure no seals have been broken. This will help save time at the check-in desk too as it can look less suspicious when traveling with a digital piano if all boxes are sealed!
6. Check Your Digital Piano's Weight and Carry On Baggage Allowance
When you're checking in your instrument, ensure that any weight limits for carry-on luggage haven't already been reached by other passengers! If there is no room left then this could be done after you've checked into flights but before boarding starts (more than likely).
ALSO READ: How to Buy a Digital Piano – 10 Best Tips for Beginners
7. Double Check That You Have Seats or Space Reserved For The Instrument Once At Your Destination Airport
If possible take enough photos of seating arrangements to prove its location should an airline claim incorrectly that instruments were not booked before travel. Ensure that the instrument is in a window seat that is close to an exit row.
8. Check-In with Your Digital Piano's Case Well In Advance!
Try and check your digital piano case at least 24 hours before departure if you can this will give it plenty of time for processing without causing problems or delays on either end when trying to board flights. If there are any issues with baggage allowance then staff should be able to flag them up during this stage so they don't cause major headaches later down the road, especially just before boarding starts.
9. Don't Rush Things At Check-In Desk!
Once again try not to rush things when checking into travel. That's because airlines have been known in some cases to lose stuff. Instruments have gone missing from luggage holds due to being placed on the wrong flight. If possible have a travel companion help you to ensure everything is done correctly. That's because there can be some very testy staff members at check-in desks. Additionally, being polite helps too!
While it's important not to pack certain things inside your digital piano case such as food, liquids, or sharp objects (duh!), having your instrument checked in with airlines will mean that it gets placed into optimal conditions for safe traveling. It might also result in an upgrade if available which could be even more beneficial than expected!
10. Consider Buying an Extra Seat
In some cases, your digital piano might not fit into the space provided by an airline without purchasing another seat. This is especially true with budget airlines where there could be limited legroom or it's taken up less than half of the available area for instruments! It can also depend on whether you're traveling to a country that has size limits for pianos.
How to Take Your Digital Piano through the TSA Checkpoint
Airport security personnel may need to inspect your equipment or pass it through an X-ray machine.
If your instrument has delicate parts that need to be handled with care, inform the officer ahead of time. It may also be subjected to an explosive test.
To ensure that your instrument passes through the TSA checkpoint without damage, stay close by while the check is going on.
If you've locked the piano case, be sure to unlock it before approaching the TSA checkpoint so you don't cause delays.
The lock should be TSA-certified, or it will have to be destroyed, which may harm your instrument case.
I recommend protecting your portable keyboard with a hard-shelled case that can withstand all types of usage, including in the luggage compartment of an airliner.
Ensure you have written instructions with your checked-in luggage so that it may be handled properly (for example, a sticker label that reads "fragile").
How to Choose a Case for Your Digital Piano
A good travel case might be rather pricey, but it's also vital if you don't want to damage your keyboard in any way.
If you have a lot of gigs in the same city, it is also a good idea to bring a soft case.
A soft case will make your piano's weight lighter while transporting it on the subway or bus.
A good piano case, such as this Yamaha piano case should:
Have both padded base and sides
Ensure it protects your instrument from water or dust
Be easy to carry
Come with additional pockets to put other accessories you may have.
Keep your instrument safe from any potential damages from accidental impact or pressure.
How to Pack a Digital Piano for Air Travel
You'll need a firm road case for your keyboard piano, to begin with. There will be gaps in the interior of the case once you put your piano in it.
You may fill these with foam or save space by using socks or other clothing to line the interior of your piano case.
To keep the keyboard safe, some individuals advocate wrapping it in bubble wrap.
Remove the batteries from your digital, battery-operated piano and put them in your carry-on if you have one. Most airlines demand that you keep all items including batteries and power banks in your hand luggage.
Before a flight, most instrument cases are typically searched. So make sure you've packed things to search is quick and easy.
Ensure You Photograph Everything
As an added precaution, ensure you photograph everything to have evidence if your instrument gets damaged during the travel.
Following several incidents in which valuable instruments were damaged. Including a 17th-century viola da gamba and a 300-year-old viola. The ISM is now calling on airlines to let small to medium-sized instruments aboard planes.
Conclusion
I hope you've learned something about how to fly with a digital piano in this post. Carrying an instrument onboard can be difficult. Therefore, it's best to plan ahead and check the type of piano you're using. This will help you avoid any unnecessary stress when going through security or boarding the plane.
If you have any questions or feedback regarding our post, feel free to reach out through email. We'll be happy to help!