The Korg C1 Air digital piano is a unique and stylish modern piano designed to complement anywhere you keep it. The piano is available in both black and white colors.
Other color options include brown and white ash selections. It packs a wide range of unique features which are bound to impress any digital piano enthusiast and comes at an affordable price.
When it comes to sound, this digital piano has a lot to offer but we'll get to discuss more on that later. This review will look at what the piano has to offer – the features, sound, design, benefits, and pros & cons. Read on.
Features of the Korg C1 Air Digital Piano
We'll divide the features into different sections so that we can have an in-depth discussion about each of them to help you learn more about the piano.
Specifications
88-key Real Weighted Hammer Action 3 Keyboard
Available colors: black, white, brown, white ash, and wooden black
Touch curve selection: Five types
Pitch: transpose and master tuning
Stereo PCM sound generation
120 voices maximum polyphony
30 sounds
Effects:
Recorder and 50 demo songs
Metronome:
Pedals:
Soft
Damper
Sostenuto
Half-pedaling supported
Dimensions: 52.99"W x 13.66"D x 30.31"H
Included Items:
AC adaptor
Power cord
Stand with speaker
3 pedal unit
Weight: 77.16 pounds (35 kg)
Korg C1 Air Digital Piano Design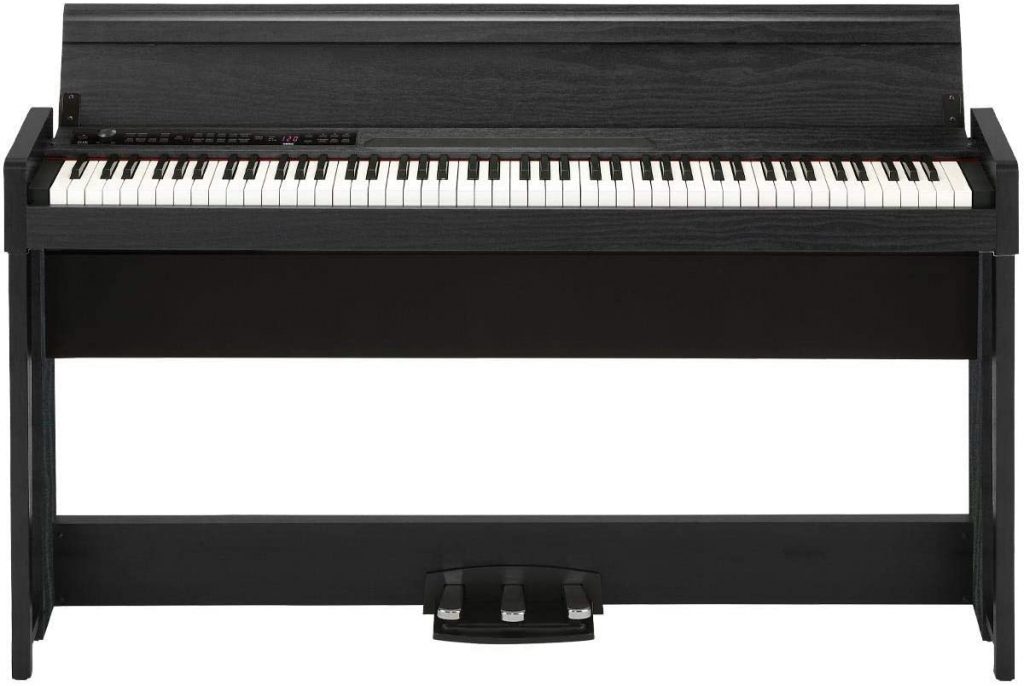 The C1 Air features a simple design that carefully considers small spaces. Therefore, this makes the piano slightly different than the higher-end counterpart – the G1 Air digital piano.
The legs of the Korg C1 Air digital piano are structured in a manner you would only find on upright pianos, although they are a bit thinner. The good thing about these legs is that they project a sense of lightness and emphasized slimness.
Also, the horizontal support connecting the legs is positioned a bit higher, which creates a furniture-like impression that's different than that you'll find on a piano. The included closed lid in the C1 Air is flat and since the instrument is compact, it makes it bring out a look that appropriately harmonizes with your space and does not overpower it.
Additionally, the piano is designed in a variety of colors to choose from. Therefore, you have the option of selecting a color that matches your interior or the light in your room.
Keyboard
The Korg C1 Air digital piano features an 88-key keyboard with Real Weighted Hammer Action 3. This enables the keyboard to sound more like an acoustic piano and deliver an ideal playing experience.
The keyboard also offers a variety of layout options that make playing fun. By simply pressing one button, you can apply a bass sound to the lower register of the keyboard. You can play the piano with your right hand and bass with your left hand, which allows you to enjoy jazz performance styles.
There is also an option of layering two sounds together by simultaneously pressing two of the tone buttons. For instance, you can layer strings and piano to play with a combination of rich piano and orchestra.
The keyboard's Partner Mode allows you to divide it into two identical sections on left and right, each with its own damper pedal. Therefore, the Partner Mode enables a teacher and student to play duets or simply copy and practice during lessons.
ALSO READ: Korg B2 Digital Piano Review
Sound Quality
The Korg C1 Air digital piano provides a superb sound. This makes it a significant alternative to an acoustic piano. The piano comes with 30 instrument sounds with damper resonance and key-off simulations.
The C1 Air incorporates two concert grand pianos that enable it to simulate the experience of playing a German or Japanese Grand piano. Therefore, it offers you a natural and satisfying grand piano performance.
The German Grand piano features brilliant highs and rounded bass to offer a rich and powerful sound. The Japanese Grand, on the other hand, features a dynamic sound normally used for a wide range of music genres such as jazz, classical, and pop.
The piano also provides electric piano sounds, acoustic guitar, vibraphone, strings, clav, and much more. This gives you 30 richly exceptional sounds. Finally, you also get 3 high-quality effects, namely; brilliance, reverb, and chorus.
Connectivity
You can connect the Korg C1 Air digital piano to other devices such as smartphones and tablets via Bluetooth. This enables you to play the piano along with your stored music.
You can also use the piano as a Bluetooth speaker system. Other connectivity options include LINE OUT, MIDI (IN, OUT,) headphones x 2, speakers, DC 24V power supply, and Pedal.
Extra Features of the Korg C1 Air Digital Piano
Some of the extra features of the C1 Air include:
The two-track song recorder enables you to instantly record your performances and analyze them properly. You also have the option of adjusting the playback tempo.
A stereo sound optimizer that offers you an acoustic sound experience when using headphones. This offers comfort, especially when playing for an extended period.
The Korg C1 Air digital piano also features a new speaker system that delivers high output and excellent sound. Therefore, you'll have the chance to listen to other instrument voices in the best detail possible.
Benefits of the Korg C1 Air Digital Piano
The Korg C1 Air offers a wide range of benefits derived from the exceptional features it includes. First and foremost, it's easy to use the piano because of its user-friendly nature and features. Coming from a reputable brand, it's also not a bad idea to consider buying the piano because Korg is popular for producing high-quality digital pianos.
Another benefit of the piano is that it has a compact and superb design that will complement your space without the need to add anything. The elegant look of this digital piano and the variety of colors available on the market make it suitable to consider.
The Korg C1 Air digital piano also offers the best sound experience and sound features suitable for any type of pianist. What's more, it includes 30 super realistic instrument sounds and studio effects.
Who Is the Piano For?
This digital piano is for every pianist – regardless of your playing skill level. Whether you're a beginner, intermediate, or advanced pianist, it's a good digital piano to consider buying.
Pros
It offers a choice of acoustic piano sounds in a digital recreation of true grand piano resonance.
The keyboard features Real Weighted Hammer Action 3 that accurately simulates the touch and response of an acoustic piano.
The depth and clarity of the sound delivered by the C1 Air are astounding for not only the player but also the audience.
Korg C1 Air features a compact design with an elegant look and a variety of color options to choose from.
Cons
The piano may make weird vibrating noises the first time you start using it.
Although the C1 Air has a compact design, it's a bit heavy, since it weighs approximately 64.5 pounds.
Conclusion
Aside from the Korg C1 Air digital piano having a superb, rich, and powerful sound, it also features a unique and compact design. These aspects of the piano make it versatile, user-friendly, and ideal to use. Therefore, although it has a few drawdowns that we've highlighted above, it's still worth a shot and because it offers value for your money.