If you're looking for a top-performing digital piano, you've hit the jackpot. The Roland F-140R digital piano is specifically built for modern life. This modern piano features a contemporary, compact design suitable for small spaces or apartments, and it also includes a wide range of features. The piano comes with exceptional technology from the leader in digital piano innovation.
The first thing you'll experience with this piano is its expressive tone. It offers remarkable sound delivery in a compact and affordable musical instrument. Coming from a reputable and famous brand known for manufacturing high-quality musical instruments, the F-140R doesn't disappoint. In our review, we'll go through all the features that this piano offers to help you know more about it.
Features of the Roland F-140 Digital Piano
Without a doubt, the Roland F-140R digital piano is remarkable in terms of the features, design, and efficiency that it offers. Not only does it include built-in speakers, but it also comes with connectivity options ideal for the modern pianist. Check out more about these features below.
Specifications
Keyboard:
88-key PHA-4 Standard Keyboard with Escapement and Ivory Feel
Touch sensitivity: key touch: 5 types, fixed touch
Keyboard mode: whole, dual, split, twin piano
Pedals:
Sound Generator:
SuperNATURAL piano sound
 MIDI format
128 maximum notes on polyphony
Tones: 11 grand piano tones, other 305 tones incl. 8 drum sets, 1 SFX set
Stretched tuning
Master tuning
Transpose
Effects:
Ambience
Brilliance
Only for piano tones
Damper resonance
String resonance
Key off-resonance
Metronome:
Other:
Internal songs: piano masterpieces: 69 songs
Display
Keyboard lid
Other functions
Accessories:
Owner's manual
Leaflet
Assembly manual
AC adaptor
Power cord for AC adaptor
Headphone hook
Screw set
Stabilizer
Dimensions: 53-5/8" W x 13-5/8" D x 30-11/16" H
Total weight: 76 pounds (34.5 kg)
Roland F-140R Digital Piano Design
The Roland F-140R features a contemporary design idea for small apartments and is packed with useful technology to make your playing experience unique and efficient. Therefore, if you live in an apartment and want to bring a quality piano into your life, then this digital piano is a suitable option to consider.
The piano has an understated-yet-elegant look perfect for modern living. It also comes in white or contemporary black finishes that make it easier for you to match the instrument to your décor. What's more, the Roland F-140R digital piano also functions as a music rest when open, thanks to the included lid design. The lid opens and closes to cover the keyboard, thereby offering you a low-profile appearance when you're not using the piano.
Keyboard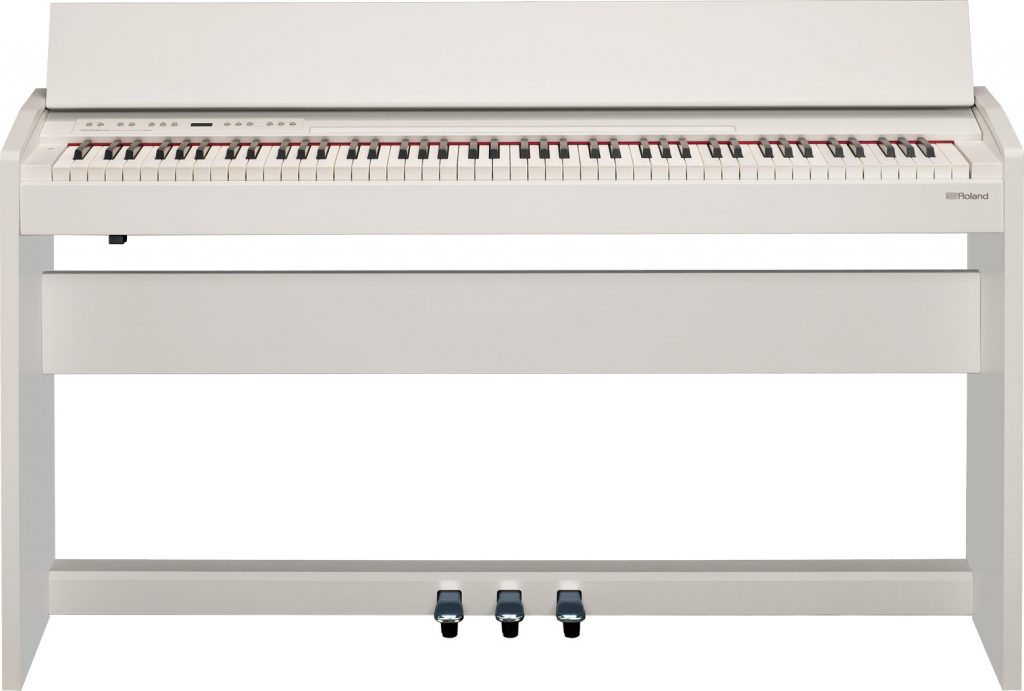 The Roland F-140R digital piano features an 88-key PHA-4 Standard Keyboard with Escapement and Ivory Feel. It also includes 5 Touch-Sensitive keys and keyboard modes such as Whole, Dual, Split, and Twin Piano. The keyboard also incorporates the Progressive Hammer Action that you mostly find in high-end pianos.
Additionally, it includes advanced sensing technology that allows you to take full advantage of the enormous tonal range of the SuperNATURAL Piano. Therefore, this guarantees you an exceptional playing experience. Another thing worth noting is that the keyboard also provides you with enhanced learning and enjoyment through digital technology.
ALSO READ: Roland RP501R Digital Piano Review
Sound Quality
The powerful digital technology you'll find in the Roland F-140R digital piano makes it simple to offer you the joy of playing music. The piano comes with built-in speakers to offer high-quality sound production. It's also easy to adjust the volume while playing the F-140R, which is an essential feature, especially if you're using the piano in your apartment. There's also the option of turning off the speakers completely and connect headphones to play privately. This helps you listen properly to your playing, delivering quality sound without disturbing others.
The Ambience effect in the piano also significantly enriches the playing experience during private sessions. Other features that help to enhance the sound of the F-140R include the built-in metronome, a recorder to capture and share performances, and several connectivity options to use the instrument with external devices.
Connectivity
The advantage of the Roland F-140R digital piano is that it comes with ideal connectivity options. These connectivity options allow you to use the piano with external devices to better your playing skills and have more fun while at it. The piano has a Bluetooth connectivity feature that allows you to connect your smartphone or tablet. You can also use apps to make learning easy.
Other connectivity options include the DC IN jack, Input and Output jack for stereo miniature phone type, and USB Computer port type B.  There's also the USB Memory port type A and phone jacks. The other notable connectivity option is the headphone jack that enables you to plug in your headphones and listen to yourself playing.
Extra Features of the Roland F-140R Digital Piano
The Roland F-140R digital piano comes with additional intelligent accompaniments that put you in command of a full band. It features an onboard rhythm function that gives you the ability to play and practice music along with an excellent backing ensemble. The rhythms are perfect, user-friendly, and offer intelligent backing that follows the chords you're playing automatically.
There are approximately 72 different rhythms styles in the piano, which cover a wide range of musical genres – from rock, jazz, modern music, reggae, and Latin, etc. Aside from the fun of practicing and performing that the piano offers, the rhythms also help you engagingly improve your timing skills than the normal metronome function.
What's more, playing with rhythms provides you with a great opportunity to explore other suitable ways of making music with the wide selection of non-piano sounds included in the Roland F-140R. These non-piano sounds include brass, guitar, organ, and synths, among many others.
Who Is the Roland F-140R Digital Piano For?
The Roland F-140R is basically for anyone searching for a digital piano built for modern living. Regardless of your playing level, this digital piano can offer you plenty of the features you mostly find on high-end models. If you're a beginner, it's even better because you'll get the chance to grow your skill through the help of the piano.
Pros
It incorporates Roland's industry-leading technologies in a stylish, affordable instrument for small spaces.
PHA-4 Standard Keyboard with high-resolution sensing that maximizes the wide tonal potential of the SuperNATURAL Piano sound engine.
You also get to explore enormous instruments beyond the acoustic piano, all thanks to the 305 additional tones such as electric pianos, brass, synthesizers, guitars, etc.
Easy to connect the piano with your smartphone or tablet via Bluetooth technology.
The headphones 3D ambience effect offers you a multi-dimensional sound experience when listening privately as you play.
Cons
Using Roland's Piano Partner app to control the piano through analog buttons is extremely difficult.
Unfortunately, the keyboard can sometimes be difficult to use and the sound production is not always high-quality.
Conclusion
The Roland F-140R digital piano is not a bad option to consider for any pianist. It all depends on your demands. As you've seen from all the features we've discussed in this post, it's pretty a decent digital piano to consider buying. However, the most important thing is to align your needs with the kind of piano that will satisfy them efficiently.