The Roland FP-90 digital piano is Roland's flagship of their famous FP series. This instrument was released immediately after Kawai came up with the ES8 model, which really set some standards on the market.
Therefore, Roland knew that they were going up against some tight competition when releasing the FP-90. And from our experience with this instrument, we have to give Roland some credits. In this Roland FP-90 review, we'll walk you through everything you need to know about this piano.
Roland FP-90 Digital Piano Overview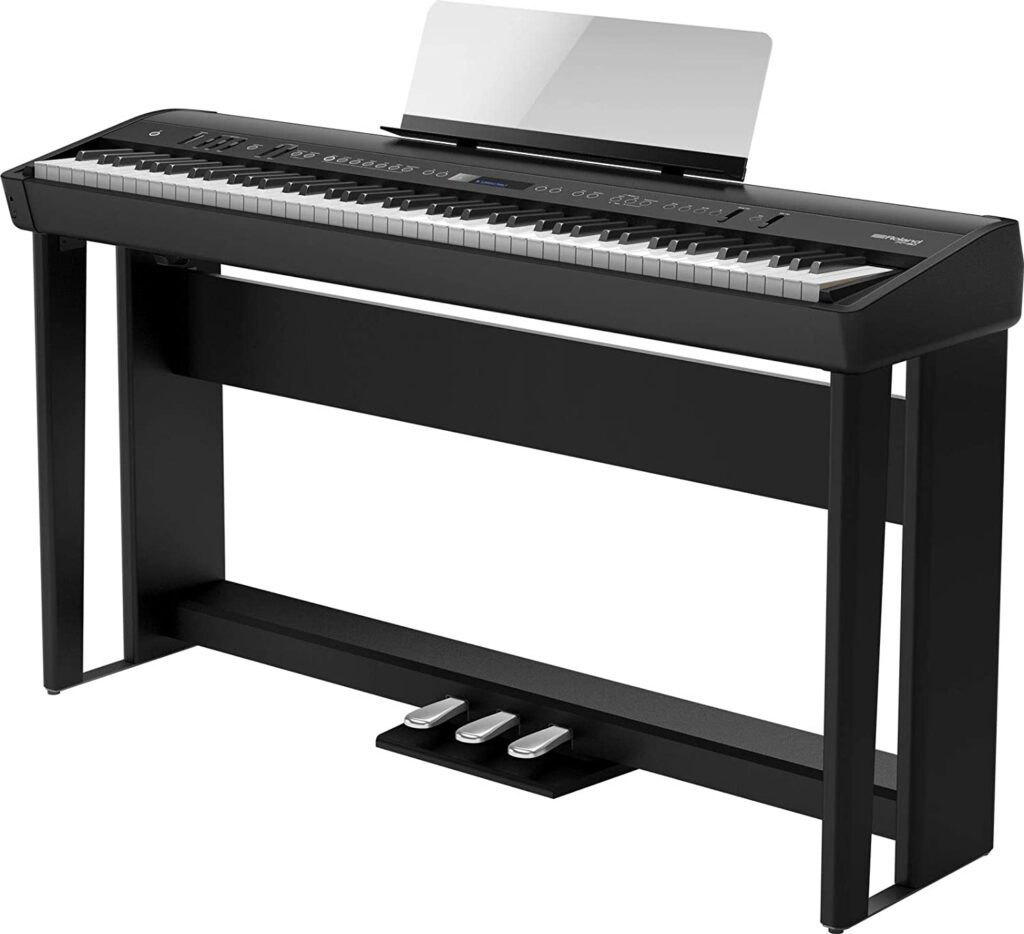 If you play the piano, you understand that inspiration comes from anywhere—where you play, who you play with, and of course, the audience you perform for. The Roland FP-90 digital piano is the instrument to have if you want to take your music to the people.
It packs Roland's flagship SuperNATURAL sound engine and keyboard into a sleek, modern cabinet that also houses a multi-channel speaker system powerful enough for intimate performances.
Additionally, you get a carefully selected range of sounds that include Strings, Electric Pianos, Organs, and Synthesizers are on hand as well, allowing you to use the FP-90 in a wide variety of musical scenarios.
And with Bluetooth® audio/MIDI support, you're able to connect wirelessly with Roland's Piano Partner 2 app and other music apps on a Smartphone or tablet. Available in black or white finishes, the flexible FP-90 is ready to go wherever you want to play.
Roland FP-90 Digital Piano Features
Roland FP-90 Specs
88-key fully weighted keyboard with Ivory & Ebony simulation
PHA-50 hybrid wood/plastic action with Escapement feature
Touch Sensitivity: adjustable within 1-100 range
Graphic LCD 132 x 32 dots
Sound – SuperNATURAL Piano Modeling
384-note polyphony, limitless for piano modeled tones
350 instrument sounds (15 pianos)
Ambience, 3-band equalizer, Rotary Speaker Effect, Modulation Speed
Piano Designer (Lid, Key Off Noise, Hammer Noise, Duplex Scale, String Resonance, Damper Resonance, Key Off Resonance, Cabinet Resonance, Soundboard Type, Damper Noise)
Modes: Split, Dual (adjustable split point, volume sliders)
1-track MIDI recorder, WAV audio recorder
SMF format 0/1, WAV, MP3 playback support
Metronome, Transpose, Fine-tuning
Speakers: 25W + 25W (8 x 12 cm) x 2 ; 5W + 5W tweeters (2.5 cm)
Connectivity – MIDI In/Out, USB to Host, USB to Device, Headphone jacks (2), Line Out (R, L/Mono), Audio In, Mic In, 3 pedal jacks, Bluetooth (MIDI/Audio)
Dimensions – (W x D x H), 134 x 39 x 13.6 cm (52.7" x 15.3" x 5.3")
Weight – 23.6 kg (52 lbs)
ALSO READ: Roland RD-700 Digital Piano Review
Roland FP-90 Digital Piano Design
The FP-90 features a minimalistic modern design that embraces a futuristic look of digital pianos. Its design is unique, and unlike other stage piano this one comes with built-in speakers. You can use this piano either on stage, studio, or at home for your practice sessions.
The Roland FP-90's dimensions measure 52.8" Wide, 15.3" Deep, and 5.3" High, and it weighs 52lbs / 23.6 kg. It's fairly portable, and the weight is reasonable if you plan on using this piano on the road. According to us, Roland did some amazing job on weighing the piano considering its hybrid wooden keys and the onboard hammer mechanism.
And although it might not be the most gig-friendly piano on the market, the Roland FP-90 keyboard can still satisfy that cause immensely. The front panel of the instrument is eye-captivating and will easily have your attention with just a glance. It features an LCD screen that measures 132 x 32 dots, and on both sides of the display you'll find 25 buttons and 8 sliders.
As with any digital piano with a display, the LCD here shows you the current settings being used on the FP-90. The sliders allow you to change between different parameters like the three EQ sliders, which can be used to adjust the Low, Middle, and High frequency ranges of the sounds.
The Roland FP-90 keyboard is available in either a black or white finish, and any color sits perfectly with any décor.
Roland FP-90 Keyboard
Another thingwe loved about the FP-90 is the keyboard, which possesses the company's high-end touch. The Roland FP-90 keyboard features the brand's flagship keyboard action the PHA-50, which is the Progressive Hammer Action keyboard.
The PHA-50 is mostly found on Roland's prime keyboards that cost well over $2000. And for the FP-90, which sells for less than $2000, this is a pretty overwhelming deal.
To make the playing experience more authentic, Roland incorporated this piano's keyboard with wood/plastic structure that feature Ebony / Ivory synthetic keytops. Now, combining such touch and feel with this piano's weighted hammer action takes you closest to playing the real thing.
And if that isn't enough, Roland also implemented their Escapement feature to the FP-90's keyboard, which simulates a similar clicking sensation found when playing on a grand piano.
With such capabilities, playing on the Roland FP-90 keyboard is a pleasure to any pianist.
Sound Quality
The sound of the Roland FP-90 digital piano is an aspect of marvel. As mentioned earlier, the piano features Roland's flagship SuperNATURAL sound engine, which takes sound modeling to new heights. Unlike other digital piano sound samples, the ones on Roland FP-90 are a result of physical modeling of everything that goes on inside a grand acoustic piano.
That is, Roland decided to physically model everything that an acoustic piano does and used the results as the FP-90's sound engine. With the SuperNATURAL modeling technology, even the high-end digital piano sound samples fall short of impressing.
But that's according to our preferences. Sure, we have heard some complaints concerning how unnatural the onboard sounds on this instrument sound. But at the same time, a majority of those privileged to play on the FP-90 have praised this piano's sounds.
And as we always say, choosing an instrument based on its sound quality is a matter of preferences more than the piano's capabilities.
There are a total of 15 piano tones on the Roland FP-90 digital piano, 4 of which are modeled and include the Concert, Ballad, Bright, and Mellow Piano. Additionally, the Roland FP-90 comes with 350 instrument sounds classified as follows:
16 Electric Pianos
15 Organs
15 Pads
11 Strings
Plus 278 more tones
And to accommodate the playability of these sounds, the FP-90 features an amazing polyphony count of 384 notes.
Connectivity
2 Headphone jacks – One is 1/4" jack while the other one is 1/8", meaning you can use these jacks to connect up to two headphones regardless of their jack variation and have private playing/practice sessions on the FP-90.
Bluetooth Connectivity – With Bluetooth wireless support, the FP-90 goes one step further by letting you stream music through the piano's powerful internal speakers and also use the piano as a MIDI controller.
On the rear panel, you'll find two USB ports (type A and B), MIDI In/Out, an Input and Output jacks (L/Mono, R), Mic In jack, and 3 pedal jacks.
Extra Features of the Roland FP-90 Keyboard
Here are additional features of the FP-90 that improve the keyboard's playability in multiple ways.
Piano Designer
This feature facilitates the process of adjusting and customizing the piano's tones to your liking. It does so by offering 13 parameters classified as follows:
1. Lid (0-6)
2. Key Off Noise (Off, 1-10)
3. Hammer Noise (-2…+2)
4. Duplex Scale (Off, 1-10)
5. Full Scale String Resonance (Off, 1-10)
6. Damper Resonance (Off, 1-10)
7. Key Off Resonance (Off, 1-10)
8. Cabinet Resonance (Off, 1-10)
9. Soundboard Type (1-5)
10. Damper Noise (Off, 1-10)
11. Single Note Tuning, Single Note Volume, Single Note Character – These 3 settings allow you to change the method of tuning, volume and tonal character of each note separately.
Dual and Split Modes
Dual/Layering Mode allows you to Layer two instrument sounds together, which produces complex and rich tones. On the other hand, the Split Mode facilitates the playing of different tones on each side of the piano by dividing the Roland FP-90 keyboard in half.
Built-in Speakers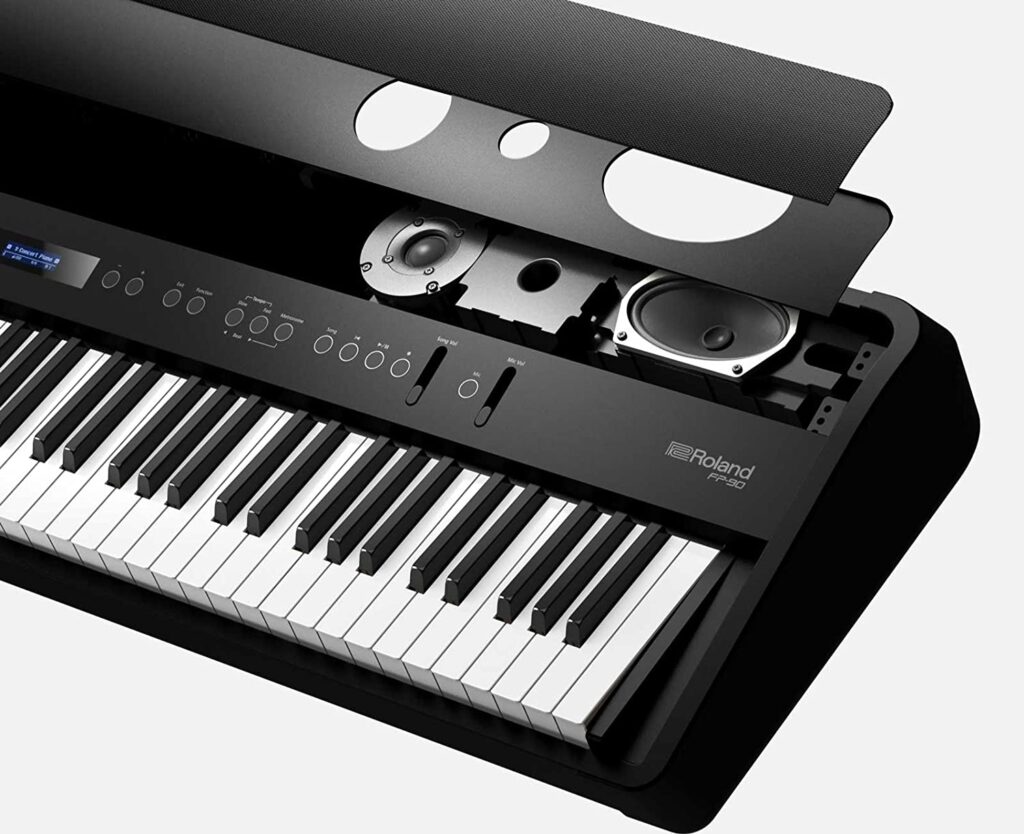 This piano has a sound system that comprises of 4 powerful speakers – 2 x 50W that measure 8 x 12cm each, responsible for mid-range and high frequencies produced by the piano. The other two are tweeter speakers rated 10W and measure 2.5cm each.
Recording and Playback
As an expectation, the FP-90 also accommodates a recording and playback feature that allows you to record up to 10, 1-Trakc songs in MIDI and Audio formats.
Built-in Metronome
The FP-90 also features a built-in Metronome, which is an effective tool for practicing your time keeping skills as well as your playing rhythm.
Another additional feature of the FP-90 includes the Transpose Function, and the piano also allows you up to 30 registrations that you can store on the front panel's buttons. This enhances faster access to the set up functions, which is pretty amazing, especially during on-stage performances.
Benefits of Owning the Roland FP-90 Digital Piano
PHA-50 Keyboard Action – This is as authentic as it gets when playing a digital piano. Roland's Progressive Hammer Action keyboard with Escapement and Ebony/Ivory feel keys offers you the ultimate expressiveness when you play on the FP-90.
SuperNATURAL Modeling Technology – Aside from a high-end keyboard action, the FP-90 continues to amaze by featuring Roland's most sophisticated sound engine. Each voice modeled under this technology is unique and vibrant enough to resonate with whatever you are playing.
384 Polyphony Notes – As an icing on top, the Roland FP-90 digital piano comes with a whopping 384 polyphony voices that can accommodate the most complex of music pieces.
13 Adjustable Parameters – The design feature of this instrument gives you a total of 13 adjustable parameters that you can use to customize and adjust piano tones to suit your preferences.
Powerful Sound System – With 4 built-in speakers, the Roland FP-90 keyboard is equipped enough to deliver ample performance in a large hall.
Why Should You Buy the Roland FP-90 Digital Piano?
If you want your music to travel to the masses, the Roland FP-90 is the instrument to help you get there. It features the brand's flagship piano sound engine, the SuperNATURAL modeling technology, and authentic keyboard action into a sleek, modern cabinet that also hosts a decent sound generation system powerful enough power for performing in intimate venues.
Included Roland FP-90 Digital Piano Accessories
AC Power Adapter
Music Rest
Roland FP-90 Owner's Manual
Roland DP-10 Sustain Pedal
Pros
Modern and sleek design
Excellent keyboard action
Powerful Sound Engine
384 Polyphony Voices
Piano Designer with 13 adjustable parameters
Built-in Metronome and Transpose functions
Powerful Speaker System
Comprehensive connectivity options
Cons
A bit heavier than other FP models
Lacks the Duo Mode
Complaints about synthetic sounds
Only 1-Track MIDI Recorder
Our Verdict
At a glance, the Roland FP-90 digital piano is a captivating instrument. Moreover, we loved that it had the capacity to match up to its fascinating looks. From a sleek design, impressive keyboard action, and the brand's flagship sound engine, there's absolutely everything to love about this piano.