Buying a piano needs some serious considerations first. And one factor that stands out is the purpose of purchasing a new piano. The Korg B1 digital piano is an entry-level instrument, meaning that its capabilities are ideal for beginners and intermediate players.
However, this piano can also deliver if you want to add the joy of owning a piano to your home, need an accurate and reliable instrument, or perhaps if you are looking for a convenient keyboard for serious practice.
In this Korg B1 review, we'll look at all of its key features to give you full information about this instrument. Our goal is to educate you on what to expect before owning this piano.
Korg B1 Overview
When Korg released this model, they gave us two variations – the Korg B1 and the Korg B1SP. The two instruments are completely alike, only that the latter comes with a furniture stand while the former doesn't. Therefore, everything we'll be discussing on this Korg B1 digital piano review also applies to the Korg B1SP.
At a glance, the Korg B1 is a compact instrument built from scratch and not a stripped-down version of existing models. It has a streamlined design that packs an effortless use control panel, an authentic keyboard touch, and quite impressive sounds. The piano is lightweight and measures only 26 lbs, making it a portable enough instrument. Another thing we loved about the Korg B1 digital piano is that it features the Metronome, Transpose, and Fine Tuning Functions.
Such features will be beneficial for beginners because they'll help in setting the right foundation for optimal playability.
Korg B1 Digital Piano Features
Korg B1 Specifications
Keyboard – 88 key (A0–C8), NH (Natural Weighted Hammer) Keyboard
Touch Control – Light, Normal, Heavy
Sound Generation – Stereo PCM
Max. Polyphony – 120 voices
Sounds – 8 (Acoustic x 3, Electric Piano x 2, Harpsichord, Organ x 2)
Sound Effects – Reverb, Chorus
8 Demo Songs
Functions – Metronome, Transpose, Fine Tuning
Pitch Range – 427.5 Hz to 452. Hz (.05 Hz steps)
Amplification – 9Watts x 2
Built-in Speakers – Oval (100 mm x 50 mm/3.94″ x 1.97″) x 2
Connectivity – PHONES (Headphone/Line Out), PEDAL
Dimensions – (W x D x H), 51.65″ x 13.23″ x 4.61″ (including projections, excluding STB1 optional stand and music stand)
Weight – 11.8 kg / 26.01 lbs.(excluding STB1 optional stand and music stand)
Included Accessories – Damper pedal, AC adapter, Music stand
ALSO READ: Roland FP-90 Digital Piano Review
Korg B1 Digital Piano Design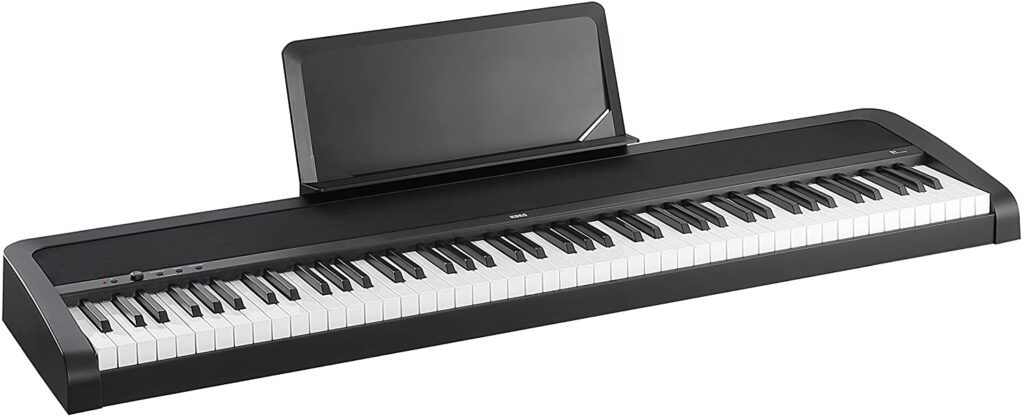 The design of this instrument minimizes distractions as it focuses on the piano's main purpose, which is playing. The Korg B1 keyboard features a sleek and streamlined body that has curves for corners. It's a design not found in many entry level instruments, and gives you a modern yet intuitive look.
The piano itself is compact and houses a speaker system while only weighing 26 lbs (11.8kg). This makes the Korg B1 a very portable digital piano, allowing for easy movement and transport. The Korg B1 dimensions measure 51.65″ in Width, 13.23″ in Depth, and 4.61″ in height, making it a versatile and highly agile instrument in terms of placement.
The control panel features 1 volume dial and 4 buttons, making it easy for beginners to navigate. You also have 1 piano sound button, 1 button for other sounds and 1 last button to turn on Metronome besides the power button.
Additionally, this piano comes with a newly designed music rest with a page retention pocket capable of keeping music pages and folios from turning unexpectedly during performances. The music rest can accommodate printed music up to 10 mm (approx.) in thickness. This is a thoughtful addition that allows you to concentrate on your playing. You can purchase the Korg B1 digital piano in either a Black or White finish, and it can complement any décor.
Keyboard
The B1 comes with Korg's NH (Natural Weighted Hammer) keyboard action, which uses the same mechanism found in traditional pianos. Therefore, you'll feel a heavier touch on the keys in the lower register, while the keys on the higher register feel lighter.
Additionally, you can change the dynamics of the keys using the B1'a Touch Control features that offers you three levels of sensitivity. They include Soft, Normal, and Heavy with the Normal control offering you a more natural feel when playing.
The white keys of the Korg B1 keyboard feature a glossy finish, while the black ones have a matte finish on them.
Sound Quality
The Korg B1 digital piano comes with 8 built-in instrument sounds. They include:
Acoustic x 3
Electric Piano x 2
Harpsichord
Organ x 2
The sounds are decent and sound very nice, thanks to Korg's PCM stereo sampling technology. However, there have been some complaints concerning this instrument's number of sounds.
And according to us, they are viable considering that there are other alternatives in the same price range as the Korg B1 that offer more sounds. But from an entry-level perspective, this instrument delivers adequately when it comes to sound.
And for further customization, the B1 comes with the Reverb and Chorus sound effects. You can only turn these effects on and off and no additional adjustments, but they do enhance the sounds when playing.
The B1 comes with a maximum polyphony count of 120 notes that can facilitate you to adequately play complex music pieces. Korg also featured the B1 with a sympathetic string resonance and damper resonance, which makes the sounds richer and more natural.
Connectivity
If there's one thing we didn't quite fancy about this instrument is the minimal number of hookup options available. The Korg B1 only has two jacks as explained below:
PHONES – There is one Phones jack on the Korg B1 digital piano that measures 1/8" (3.5mm). You can use this jack to either connect Headphones or as a Line Out.
PEDAL – This port can be used to connect the supplied pedal or any other 3-pedal unit.
Extra Features of the Korg B1 Digital Piano
Partner Mode
The Partner Mode allows you to split the keyboard in half with same pitch ranges and play side-by-side with another person.
Built-in Metronome
As you may know, the Metronome offers a steady beat to play along with, which enhances the player's time keeping skills and playing rhythm.
Built-in Speakers
The B1 features two oval-shaped built-in speakers that measure 10 cm x 5 cm, and both of them have a total output of 18 Watts.
Moreover, these speakers have the Motion Feedback Technology (MFB) that enables the speakers to sound more accurately.
Other additional Korg B1 features include the Transpose and Fine Tuning Functions.
Benefits of Owning the Korg B1 Digital Piano
Portable – This piano only weighs about 26 lbs, which is the standard weight for most portable digital pianos. Moreover, the Korg B1 dimensions are favorable enough, which makes it compact enough for tight spaces.
Decent Keyboard – The fully-weighted NH keyboard featured on this instrument offers authentic playability, which is a good thing for players in this level.
Authentic Sounds – Although this instrument doesn't come with hundreds of built-in sounds, the 8 available sound very natural.
Powerful Sound Generation – Not many entry-level keyboards can match up to the B1's speaker system. The speakers offer a total output of 18W, and they feature the Motion Feedback Technology that adds accuracy to the sounds produced.
Why Should You Buy the Korg B1 Digital Piano Keyboard?
If you need a convenient entry-level instrument that will add joy to your practice sessions, the B1 is among the top choices. It is accurate and reliable in the areas it's meant to cover and can be the right choice for your entire entry-level piano needs.
And while others might disqualify it based on the number of built-in sounds, we think that the Korg B1 digital piano serves its purpose quite adequately.
What is the Difference Between Korg B1 and B2?
The Korg B2 uses Korg's Natural Weighted Hammer Action keyboard, which is mostly identical to the keys of the Korg B1. It has graded keys, which makes the keys at the lower registers to be heavier than the ones at higher registers. The Korg B2 also has a velocity-sensitive, which makes the harder keypresses emit louder sounds.
Pros
Portable
NH Keyboard action
Stylish design
Powerful speakers with Motional Feedback Technology
Authentic c built-in sounds
Cons
Minimal connectivity options
Few built-in sounds
No recording/playback feature
Conclusion
Overall, the Korg B1 digital piano is an amazing entry-level instrument packed with the needed basics of setting the right foundation for beginners.
It might not offer many sounds or a wide array of connectivity options, but the ones available are enough for those who want to start playing immediately. The piano is compact and cost-effective, meaning you'll be saving both on space and money.