There are three essential factors to consider when choosing a digital piano, whether it's the Roland RP-102 digital piano or any other piano. These factors include your budget, space, and preferences. Such factors vary between every piano enthusiast, and sometimes it might be hard and time-consuming to find an instrument that delivers precisely on all fronts.
The Roland RP-102, however, stretches the margins and tries a lot to see the three factors mentioned above fully considered. This digital piano is the first and most affordable instrument from Roland. This means that until the end of 2017(when the RP-102 was released), you couldn't find a Roland digital piano below the $1000 mark.
In this Roland RP-102 review, we'll look at this product's features, pros, and cons to give you an in-depth outlook of this piano's potentials.
Roland RP-102 Digital Piano Overview
The Roland RP-102 digital piano has impressive capabilities with an authentic piano performance alongside onboard learning features, all these packed in an affordable and compact digital piano. It comes with Roland's acclaimed weighted-action keyboard to give you impressive playability and evolve with you as you advance your playing skills.
Also, this piano can adequately fit into any décor and add to the aesthetics of the house. It has a streamlined cabinet with three integrated pedals, which offer a traditional upright look. Moreover, you can connect this instrument wirelessly to Roland's free Piano Partner 2 App via its Bluetooth technology. Although it doesn't have an intuitive interface, you can still rock out with the Roland RP-102 digital piano and gain its multiple capabilities.
Features of the Roland RP-102 Digital Piano
Roland RP-102 Specs
PHA-4 Standard 88-key Keyboard
Escapement and Ivory Feel keys
Touch-sensitivity – 5 Types, Fixed Touch
Keyboard Modes – Whole, Dual, and Twin Piano
3 Pedals – Soft, Sostenuto, and Damper (half-pedal functionality)
SuperNATURAL Piano Sound Engine
Polyphony count – 128 voices
15 Tones
Functions – Stretched Tuning, Master Tuning, and Transpose
Sound Effects – Brilliance, Ambience
Piano Tone Effects – Damper Resonance, String Resonance, Key Off Resonance
Metronome
Built-in Songs – 213 in total
Connectivity – Bluetooth 4.0, DC in jack, USB Type B, USB Type A, 2 Stereo Phones jacks, Stereo ¼" phone type
Dimensions (W x D x H) – 54.2″ x 16.2" x 38.4″
Weight: 83lbs / 37.8kgs / 6 oz
Roland RP-102 Digital Piano Design
Owning an acoustic piano is a pretty hectic experience considering its weight, maintenance costs, and the space it consumes. But with a modern approach, the Roland RP-102 digital piano solves such problems and sits seamlessly in a small apartment, studios, or school practice rooms. The piano features a traditional space-saving cabinet, and with its advanced sound engine tuning becomes obsolete.
Having it around your home not only adds to the aesthetics but also gives you a modern look of a real acoustic piano. The Roland RP-102 dimensions measure 54.2″ in Width, 16.2″ in Depth, and 38.4″ in Height. Most digital pianos featuring a modern cabinet style design usually cost more than the RP-102, making it stand out for this very reason.
The Roland RP-102 digital piano offers a smooth and easy operation, thanks to its straightforward interface. You'll find only 4 buttons for Volume controls, Function, and a Power button on the left-hand side of the control panel. Changing through settings and functions can be achieved by pressing the Function button with other piano keys. But because no keys on this piano are labeled, you'll have to use the Roland RP-102 manual to navigate settings and functions.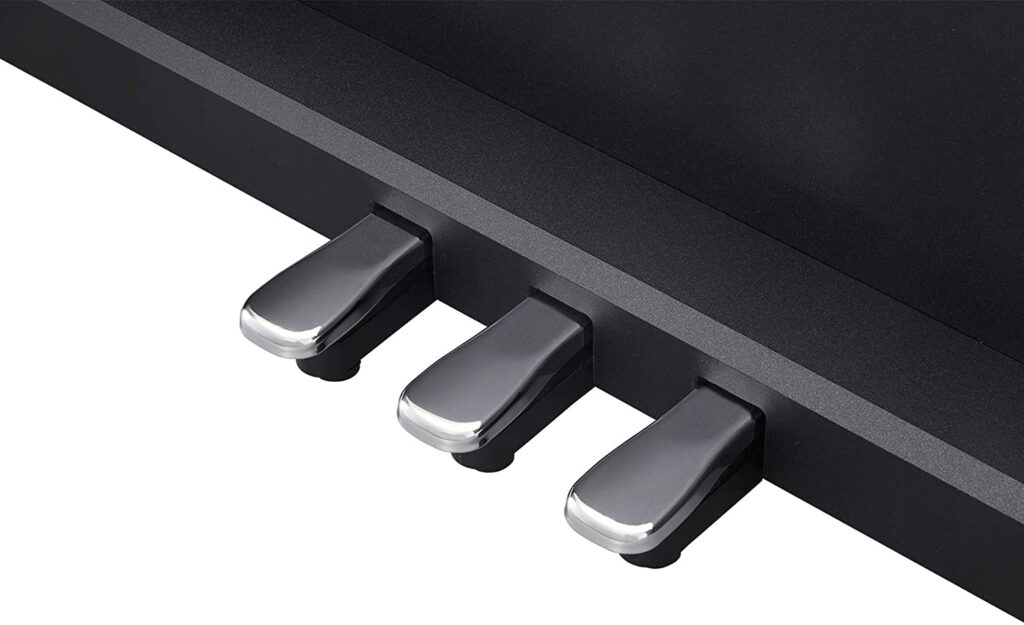 Also included in this piano's bundle are 3 piano-style pedals that excellently replicate the feel of authentic acoustic pianos. The three pedals include Soft, Sostenuto, and Damper/Sustain with the latter pedal supporting half-pedal functionality. The RP-102 is only available in a black finish, a look that has grown to be desired by many pianists.
Keyboard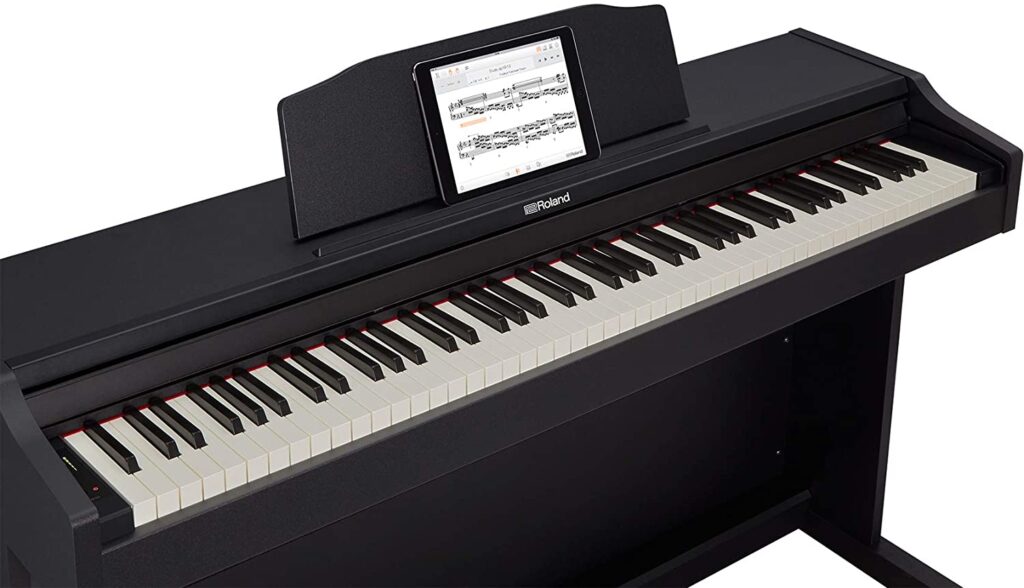 The RP-102 features Roland's PHA-4 Standard Keyboard with 88 fully-weighted keys. The keyboard action inherits the profound progressive hammer action, and Ivory feel keys found in prime pianos. Moreover, the PHA-4 Standard keyboard action has an advanced sensing technology capable of utilizing the SuperNATURAL Sound Engine's potential.
When playing on the RP-102, you can feel the responsive keyboard follow every single nuance of your touch. Such an experience can help you reach more profound levels of expressions once your playing skills improve.
Another feature to love on the RP-102's keyboard is the Escapement mechanism, which actively simulates the subtle clicking sensation like when playing on a grand piano. Therefore, you won't experience any noisy clicks when playing on the Roland RP-102 digital piano. You would also love to play on this piano during hot days or even for prolonged hours, thanks to the Ivory simulated white keys. The Ivory feel enhances playability by offering a good grip and a moisture-free experience whenever you sit down to play.
ALSO READ: 10 Best Digital Pianos for Kids
Roland RP-102 Digital Piano Sound
It's most likely you've heard of Roland SuperNATURAL sound engine. The company invented this sound modeling technology to deliver rich and expressive tones like in grand pianos. Unlike most sound engines that just playback the samples from acoustic pianos – the SuperNATURAL sound technology recreates such sounds from scratch with a system of modeling algorithms.
Additionally, elements such as the Damper Resonance, String Resonance, and Key-Off Simulation also enhance the RP-102 sounds. Because Roland mostly designed it as an alternative to grand pianos, the RP-102 doesn't come with many onboard sounds. It only features 4 piano tones, all sampled from concert grand pianos.
They include:
Concert
Mellow
Bright
Ballad
However, you'll fall in love straight with the main Concert Grand tone as it delivers rich and resonant sounds full of authenticity. Besides the piano tones, other instrument sounds of the RP-102 are:
2-String Sets
2-Organs
2-Electric Pianos
Vibraphone
Soft Pad
Celesta
Jazz Scat
Harpsichord
The piano features 2 x 6W speakers measuring 12cm each, and although not exceptional, the RP-102's sound system is quite impressive.
Connectivity
Headphone jacks – One is 1/8" miniature jack, while the other is ¼" standard jack.
USB Type B Port – You can use this port to connect the RP-102 to a computer and exchange MIDI data.
Bluetooth – The RP-102 can also connect wirelessly to Bluetooth compatible devices. With this feature, you can connect the Roland RP-102 to the brand's Piano Partner 2 App. Once accessible, the Piano Partner 2 App offers multiple digital features, including rhythms, songs, and more playability features.
Roland RP-102 Digital Piano Accessories
Owner's manual
Leaflet "Stand Assembly"
AC Adaptor
Power Cord (for AC Adaptor)
Music rest
Extra Features of the Roland RP-102 Digital Piano
Dual Mode
Also known as the Layering mode, the Dual-mode allows you to combine or layer two different sounds. It's a feature that will enable you to play two of your most preferred sounds harmonically. On a sad note, you won't be able to control the sound levels of the combined sounds.
However, you can adequately do it via Roland's Piano Partner 2 app that lets you customize many digital features.
Split Mode
As an entry-level digital piano, the RP-102 also features the Duet playing mode. This mode allows two players, say an instructor and a student sit side by side and play together. The Split mode is also applicable in the event you want to perform a Duet with the RP-102.
Recording via the Piano Partner 2 App
While you won't be able to record on the RP-102, you can adequately do it on the Roland Piano Partner 2 application. The application allows you to take full advantage of this piano's 213 built-in songs.
Metronome
The Metronome feature on the RP-102 is essential in setting parameters such as the beat, tempo, and volume.
Master Tuning
With this feature, you can set this piano's pitch at an exact wavelength with increments of 0.1 Hz.
Transpose
Lastly, the Transpose feature plays a significant role in changing the pitch of this instrument with increments of a semitone.
Benefits of Owning the Roland RP-102 Digital Piano
Affordable – This has to be the most apparent benefit to enjoy with the RP-102 digital piano. You can purchase it a budget-friendly price, and you can rest assured that it will deliver on all fronts.
Traditional look – Although this doesn't contribute to the piano's playability, the cabinet style design of the RP-102 fits aesthetically with any décor.
Authentic Keyboard – The PHA-4 Standard action keyboard on this piano might not be the best in the market. However, it offers more authentic playability and noise-free clicks compared to other high-end models. And considering its price, this piano adequately meets its worth.
Impressive Piano Tones – Though it doesn't come with multiple piano tones, the 4 available are crafted to detail. They offer realistic grand sounds backed with key off and string resonance sound enhancements.
Bluetooth Connectivity – This feature allows you to connect wirelessly to the Piano Partner 2 App and record MIDI files.
Why You Should Buy the Roland RP-102 Digital Piano
The question of buying this piano depends on several factors. The two main ones include Roland RP-102's price and your preferences. On the former consideration, you can see that this is a very affordable digital piano that manages to meet its expectations.
Also, you won't find an entry-level instrument capable of achieving such great heights from this brand. The reasons for buying this instrument might be more to comprehend. Generally, the RP-102 is the go-to digital piano if you want an instrument that delivers authentic piano performance and can suit your budget, space, and preferences.
Pros
Beautiful design
PHA-4 Standard fully-weighted keyboard
4 authentic piano tones
Bluetooth connectivity
Affordable
SuperNATURAL Sound engine
Cons
Over-reliance on the App for navigation
Speakers could be louder
Few sound customization options
Final Thoughts
Overall, the Roland RP-102 digital piano is an instrument worth considering bearing in mind its price tag. Not many entry-level keyboards can accomplish or even get close to achieving what this piano does.