Price is a significant aspect whenever you want to purchase a product. Statistics show that most purchases are influenced by price. The same goes for musical instruments. When searching for the best digital piano under $3000, it's obvious you want to spend a bit of money to ensure you get a high-quality piano.
Luckily, you've come to the right place. This post will focus on some of the best pianos to consider buying under the $3000 price point. We will review the top 5 options that have stood out for us, and instruments we believe will offer you the best service and portability.
Top 3 Picks
Best Overall
Roland RD-2000 Premium 88-key Digital Stage Piano,Black
Most Durable
Yamaha CP88 88-Key Graded Hammer Action Stage Piano with Sustain Pedal
Most Portable
Korg SV2-SP 88-key Stage Vintage Piano
Best Overall
Roland RD-2000 Premium 88-key Digital Stage Piano,Black
Most Durable
Yamaha CP88 88-Key Graded Hammer Action Stage Piano with Sustain Pedal
Most Portable
Korg SV2-SP 88-key Stage Vintage Piano
Top 5 Best Digital Pianos Under $3000
1. Roland RD-2000 Premium 88-Key Digital Stage Piano
The Roland RD-2000 digital stage piano comes with two independent sound engines, premium action, and advanced controller features. Therefore, the piano delivers exceptional performance both on stage, at home, or in the studio. It ranks top on our list of the best digital piano under $3000 because it blends evolved piano technologies with extensive modern control. Without a doubt, it's a next-generation instrument that has taken the industry-standard stage piano series to a new level.
The RD-2000 allows you to be creative and inspired while playing. The dedicated acoustic piano sound engine included in this digital piano has the latest Roland advancements that deliver an authentic and richly detailed tone with complete polyphony. Another feature you'll find in this piano is Roland's SuperNATURAL sound engine, which has 128-voice polyphony for both electric pianos and additional sounds. Connectivity options include USB type A & B, MIDI connectors, Stereo miniature phone type, and Stereo ¼-inch phone type.
With the Roland RD-2000 Premium 88-Key Digital Stage Piano, you can also easily recreate vintage analog effects such as Roland Dimension D and BOSS CE-1 Chorus, among many others. Additionally, there are 1100 non-piano sounds in this digital piano, which include brass, organs, synths, and strings, etc. Other unique features of the piano include the ability to map sounds to different key ranges or create a combination of sounds with up to 8 layers.
We've written an in-depth review of the Roland RD-2000 digital piano that you can read here.
Pros
The piano features 8 knobs with LED status indicators and 9 sliders for real-time control of sound and effects.
It comes with 8 assignable zones that enable you to combine internal sounds and external sources.
RD-2000 is an ideal instrument and master controller for working with the current software-based instruments on stage.
It features an 88-key PHA-50 keyboard that delivers the best playing experience.
Cons
It doesn't include a speaker output, unlike other current models.
The RD-2000 digital stage piano doesn't include the Bluetooth connectivity option.
2. Nord Electro 3 HP 73-Key Hammer Action Portable Digital Piano
Another best digital piano under $3000 is the Nord Electro 3. This piano comes from a reputable brand that has produced some of the best digital pianos in the industry. The Piano comes with a classic 73-key 3-e range hammer piano keybed and Nord's acclaimed string resonance system. It also has a new organ section, a new piano section, and new effects. Therefore, the digital piano can use any samples from the Nord Sample Library.
The keyboard of the Nord Electro 3 Portable Digital Piano sets a new standard due to its impressive sound quality. The good news is that this piano incorporates all the features of the original Electro 3, but adds a new 73-key hammer action keybed. There are also four dynamic response curves, and portability is an added factor as the piano weighs approximately 11 kg.
The portability and weight of the Nord Electro 3 digital piano make it the most ultra-lightweight professional Hammer Action Keyboard on the market. In terms of connectivity options, you can easily connect this piano to your computer using the included USB port or simply use the MIDI option. If you're a demanding pianist, this Nord keyboard will certainly suit your style, as it has numerous features and functionalities to offer. You have the chance to push this digital piano as far as you can.
Pros
The piano is compatible with the new Nord Piano library. Therefore, you'll be able to take advantage of the multitude of velocity layers, pedal-down samples, and the high-quality samples
Nord Electro 3 is portable, user-friendly, and efficient. That makes it a good modern digital piano to consider using.
The performance keyboard in this digital piano sets a new standard derived from its exceptional sound quality.
Cons
Several keys from the piano's keyboard have a lazy feel with somehow a plastic noise.
There aren't many connectivity options included in the Nord Electro 3 digital piano.
ALSO READ: The Best Digital Piano Under $2000
3. Yamaha CP88 88-Key Graded Hammer Action Stage Piano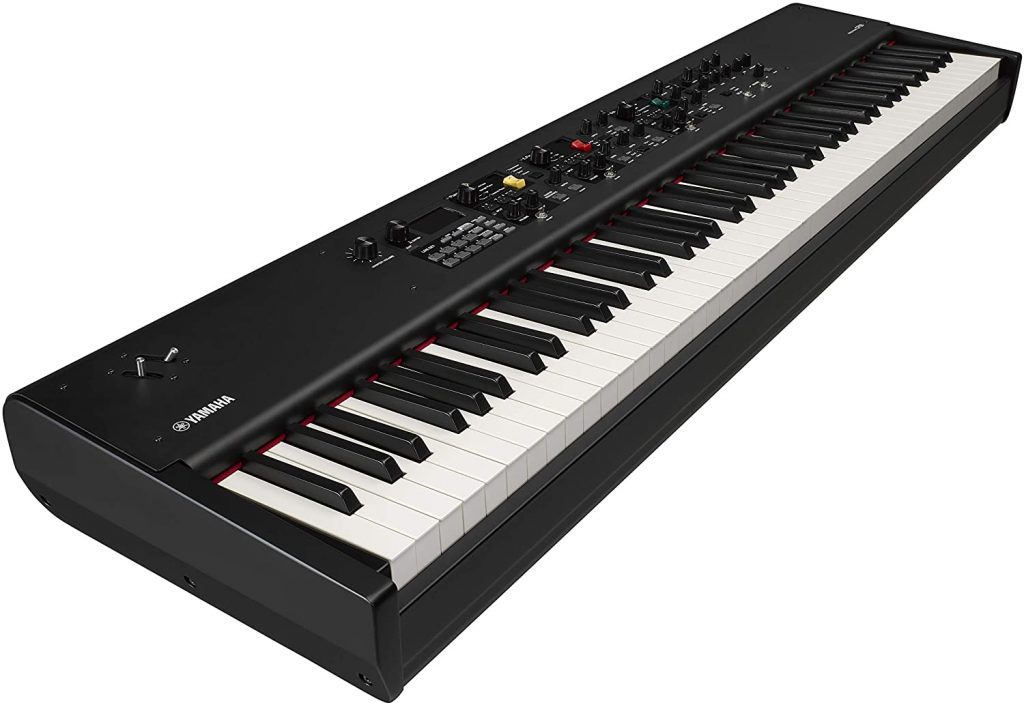 The Yamaha CP88 Stage Piano also ranks as one of the best digital pianos under $3000 because it's powered by more than 100 years experience of in piano craftsmanship. The CP88 offers an authentic acoustic and electric piano sound, realistic piano touch, and an intuitive user experience. The piano incorporates a wide range of musical sounds such as upright piano, grand piano, keyboard sounds, and electric piano, which allow you to play any music genre.
The keyboard features 88 natural wood keys with Synthetic Ebony and Ivory Key Tops, as well as Graded Hammer (GH3) Action. There are 3 premium grand pianos, two upright pianos, and 5 electric pianos. Effects you'll find in the Yamaha CP88 Stage Piano are Reverb, Master Delay, and EQ Effects. All the effects included in the piano have dedicated real-time controls.
Another fascinating feature of the Yamaha CP88 88-Key Graded Hammer Action Stage Piano is the Seamless Sound Switching. You can easily change sounds while holding notes without sound cutoff. What's more, the piano also includes FC3A sustain pedal. The piano is also pretty lightweight, which makes it portable and easy to move from one place to another. Connectivity options in the piano include the onboard USB MIDI and audio connectivity.
Pros
Graded Hammer (GH3) Keyboard Action from Yamaha's 100 years of piano-making experience.
The CP88 features a design able to withstand the rigors of the road and offers an extremely intuitive user experience.
This stage piano features a wide range of upright piano, grand piano, electric piano, and keyboard sounds that enable you to play any music genre.
Excellent mobility, as the piano is one of the most compact and lightweight musical instruments in its class.
Cons
Unfortunately, the keyboard of the CP88 has a cheap feeling action and awful piano samples compared to the ones available in the CP4.
The included knobs and switches give the piano an old-fashioned feel. Also, the piano has fewer sounds compared to other modern digital pianos.
4. Korg SV-2S Stage Vintage 88-Key Piano
The Korg SV-2S is an 88-key Stage Vintage piano with RH3 Hammer Action. It's the best digital piano under $3000 to consider buying because it has a lot of beneficial features ideal for both beginners and professional pianists. The piano contains more than 10x the sample data available in the previous SV models. Therefore, it provides you with enough memory for many all-new piano and keyboard sounds. The SV-2S contains 72 compelling sounds and also offers 64 memory locations to store edited Favorites for instant access.
When it comes to sound production, the piano represents the pinnacle of audio sampling techniques. Every sound included in this piano has been precisely captured to ensure delivery is done in the best way possible. You'll also be in command of the sound through the front panel since the Korg SV-2S doesn't have an LCD. LED indicators help to show the active effects, transposition, and much more.
The Korg SV-2S Stage Vintage 88-Key Piano is also a host to all the audio jacks, data connections, and pedal ports, which are highly essential for modern digital pianos. There are Left and Right ¼" audio outputs, Left and Right XLR outputs to connect directly to a studio console without the need for direct boxes. There's also the headphone output that allows for onstage monitoring or rehearsing privately. Other connectivity options include the MIDI IN & MIDI OUT, USB port, and the 3 pedal connections.
Pros
88-key keyboard with numerous sounds that allow you to play any music genre.
Sound control feature, which is instantly inviting and familiar to make it easier for you to rotate, tweak, or experiment while playing.
The SV-2S features an RH3 Graded Hammer Action keyboard that offers a suitable playing experience.
A wide range of connectivity options essential for the modern stage piano.
Plenty of effects to spice up your playing and live stage performances.
Cons
The piano is a bit heavy, as it weighs approximately 64.9 pounds. This makes the piano difficult to move around too often.
The lack of an LCD display is a huge inconvenience to users.
5. Roland DP-603 88-Key Digital Piano
The Roland DP-603 is a slim and stylish digital piano perfectly designed for modern living spaces. If you're looking for a piano that won't mess up the elegant look in your home décor, then this Roland model is an ideal option to consider. The Roland keyboard features the latest SuperNATURAL Piano sound engine that delivers a rich and authentic sound. The PHA-50 keyboard of the Roland DP-603 digital piano also feels expressive to play.
When it comes to practicing, the piano has an onboard selection of practice-friendly features backed by wireless connectivity options such as smartphones, tablets, audio playback, and connectivity with the latest apps. Bluetooth connectivity is another option included in the piano, which enables you to connect to smartphones and tablets. You also get a choice of three finishes to complement your home. The finishes include Classic Polished Ebony, Contemporary Black, and Elegant Polished White.
Roland's Piano Partner 2 app also encourages daily piano learning and makes it fun to practice. The linear cabinet design of the piano keeps curves and embellishments to a minimum, and the integrated keyboard lid can open to provide an elegant music rest. The DP-603 88-Key digital piano also offers the same acclaimed durability you'll find in the DP Series that has been famous since 2003. It also includes internal speakers and over 300 songs onboard that you can play or experiment on.
Pros
Includes the latest SuperNatural Piano Modeling technology that offers a richer and more detailed grand piano sound.
The PHA-50 Progressive Hammer Action Keyboard offers an authentic grand piano touch with Escapement.
A wide range of connectivity options including Bluetooth and more than 300 songs to play and experiment on while practicing.
The Roland DP-603 Digital piano has a slim and stylish design suitable for modern living spaces.
Cons
The piano weighs approximately 125 pounds, which makes it heavy and difficult to carry.
It has a plastic cap that is difficult to remove when you want to connect the soundbox to the main unit.
Conclusion
Your personal preferences, level of playing, and your set budget are the main factors to consider whenever you want to buy a digital piano. This review of the best digital piano under $3000 is ideal for someone who wants a high-quality instrument that has modern features and other unique factors to bring to the table.
We hope our post has shed some light on some of the ideal digital pianos you should consider buying at this price point.
If you have any questions or feedback, feel free to reach out to us through email and we'll be happy to help.