The search for the best digital piano under $2000 can be a long and daunting one. That's because there are so many popular brands out there that manufacture some of the best keyboards in the industry. Therefore, choosing one may prove to be such a difficult task, but luckily, we're here to make the process simple.
When searching for a digital piano regardless of the price tag it is or depending on your budget, quality, user-friendly, and portability are always essential factors to consider. Although there are plenty of digital pianos that you can find under 2000 dollars, not many of them have managed to stand out.
Here, we'll look at the best 5 options we highly recommend you consider before buying a digital piano under this price tag.
Top 5 Best Digital Pianos Under $2000
1. The ONE Smart Piano Weighted 88-Key Digital Piano
As one of the best digital pianos under $2000, the ONE Smart Piano Weighted 88-Key Digital Piano packs a lot of features ideal for most pianists. The good thing about this digital piano is that allows you to make your music easily. That's because it has the feel of an original piano, thanks to the 88 full-size velocity-sensitive keys with adjustable touch response, three pedals, and a free app. The three pedals include sustain, soft, and sostenuto.
The connected free app enables you to play your music the way you want. Other features included in this digital piano are built-in 30-watt speakers and 128-note max polyphony for a realistic sound. Therefore, you'll get to have an involving playing experience with this ONE Smart digital piano.
If you're a beginner musician, this digital piano can significantly help you learn to play faster. This is because it features LED lights that guide you while playing and integrated video lessons. Additionally, when you connect to the free app, you can begin with a crash course and learn to play a song in minutes. You also have the option of selecting from the included library with thousands of free music sheets.
The connectivity options include:
MIDI output and recording
MIDI-based apps
Mobile phones, both Android and iOS.
Pros
It comes with a hammer-action keyboard that offers outstanding acoustical performance.
The LED lights in the piano keys work with the app and light up to guide you on which keys to press.
The digital piano is blended with technical controls via the app and other classic features such as volume control and metronome.
It comes with three foot pedals at the base, which give you a full range of control of the sound.
Cons
The keyboard lacks hardware buttons for most standard functions such as recording or changing instruments.
Some buyers have reported the piano spoiling within a short period.
The included connectivity port is not the same size as a USB, so you have to buy cables from the company's website.
2. Korg LP380 88-Key Piano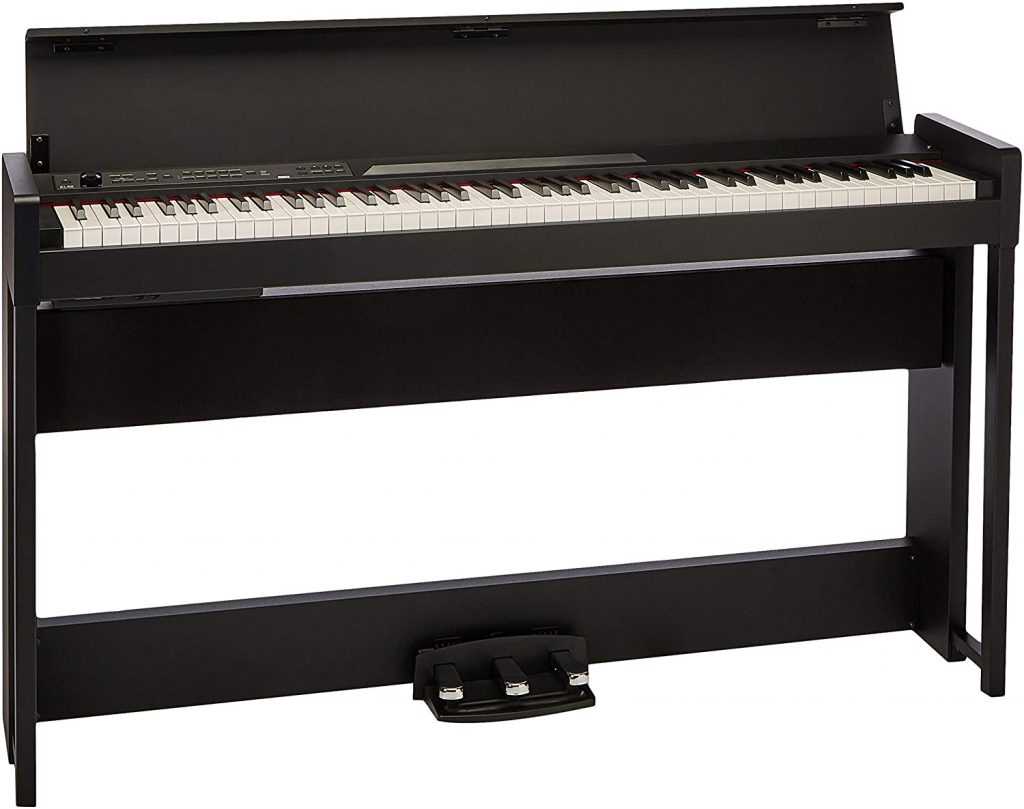 If you're looking for a slim and stylish digital piano, then this Korg model will definitely suit your style. The Korg LP380 88-Key Digital Piano is among the top modern keyboards ever developed by the company. It has managed to stand the test of time due to the high-quality features that it offers, as well as its efficiency. This digital piano comes with rich, dynamic acoustic sounds that will make it enjoyable for you to play. You'll find 30 expressive and high-quality sounds which include electric pianos, strings, Kronos-derived piano, among many others.
There is a Layer Mode that allows you to play two sounds together. The Partner Mode, on the other hand, divides the keyboard into two parts to allow two people to play the same range of octaves at the same time. Therefore, that makes the Korg LP380 88-Key Digital Piano ideal for fun duets or teaching sessions.
Two headphone jacks are also included in the piano to make it convenient for two people to enjoy playing together. When it comes to connectivity, this digital piano features MIDI capability, headphone jacks, and can easily connect with your phone, tablet, or computer. We've written a full review of this digital piano that you can check out here.
Pros
It features a slim and stylish design that can match your décor. It's also slim enough to fit anywhere.
The piano has premium pedal performance, which you would mostly find on concert grand pianos. It also includes realistic half-pedaling support on both damper and soft pedals.
It has MIDI capability that enables you to transfer your performance data from the instrument to other devices such as mobile phones, tablets, and computers.
Korg LP 380 includes a Real Weighted Hammer Action 3 (RH3) keyboard that delivers the same playing experience found on a grand piano.
Cons
Unfortunately, it doesn't come with headphones or a piano bench. That means you'll have to buy them separately.
Lack of dynamic response is also another drawback of the Korg LP 380
ALSO READ: The Best Digital Piano Under $3000
3. Roland F-140R Compact 88 Console Digital Piano
Another best digital piano under $2000 is the Roland F-140R. This digital piano comes with Roland's SuperNATURAL feature that delivers a rich and authentic tone that you'll only find in acoustic grand pianos. We can simply say it's a digital piano designed for modern life. The piano has a contemporary and compact design suitable for smaller rooms/apartments. Therefore, its size eliminates the need for a large storage space.
The built-in stereo speakers produce rich, full sound, while the headphones have a 3D ambiance effect that fully immerses you in your performance while playing or during your practice sessions. The onboard rhythm accompaniments make it easier and fun to play the piano. If you're a beginner pianist, the Roland F-140R can also help to improve your playing skill. This is all thanks to the onboard recording, Bluetooth connectivity to use with music score apps, and a USB port to connect to a computer.
The Roland F-140R Compact 88 Console Digital Piano is basically a premium piano that offers the best performance experience for compact living spaces. It includes Roland's industry-leading technologies in a stylish, efficient, and user-friendly instrument. You can also explore a world of instruments beyond the acoustic piano with 305 additional tones. These tones include organs, strings, synthesizers, brass, and guitars, etc.
Pros
The Roland F-140R offers premium piano performance in a compact design ideal for small living spaces.
It comes with intelligent accompaniments that put you in control and enable you to play however you want.
You can easily connect the piano with your smartphone or tablet via Bluetooth. Alternatively, you can use apps to make learning easy.
SuperNATURAL Piano sound engine that delivers the rich, complex sound of an acoustic grand, thereby offering you an incredible playing experience.
Cons
Controlling Roland's Piano Partner App using analog buttons is too complicated. The app is too difficult to use to the point of being nearly as frustrating as just not using it at all.
The piano sounds are not all that authentic and high-quality. Some sounds are unreliable and don't offer an ideal playing experience.
4. Yamaha YDP142R Arius Series Traditional Console Digital Piano
Yamaha is one of the most popular musical instruments manufacturers globally due to the high-quality products that they produce. Another one on the list of the best digital piano under $2000 is this YDP142R Arius Series Traditional Console Digital Piano. It comes with a Graded Hammer Standard (GHS) keyboard with matte black keytops, as well as a Pure CF Sound Engine. The acclaimed CF Sound Engine delivers the best sounds and playing experience excellent for both beginners and advanced pianists.
You also get continuous or half-damper pedal control allows you to continuously increase amounts of note sustain, from just slight to full, as you depress the sustain pedal. There is an Acoustic Optimizer that physically adjusts the acoustical flow, thereby controlling the resonances and enriching the overall sound. Another feature included in the Yamaha YDP142R is the built-in 2-track song recorder to practice one hand at a time or capture your favorite hit single.
The piano keyboard has a weighted action with heavier touch in the low end and lighter touch in the high end similar to hammers inside an acoustic piano. The GHS action will help you build a proper finger technique that will come in handy when you want to perform on an acoustic piano. You also have the option of selecting touch sensitivity from 3 types, which are hard, medium, or soft. The touch sensitivity type you choose will depend on your finger strength or playing style.
Pros
It features a Graded Hammer Standard (GHS) keyboard that offers the best playing experience.
The Pure CF Sound Engine, sampled from Yamaha's acclaimed CFIIIS concert grand, provides the tone of a 9' concert grand piano.
There is a 2-track song recorder that enables you to practice one hand at a time or capture your favorite hit single.
Cons
Unfortunately, the YDP142R doesn't feel similar to an acoustic piano since it has that dreaded click.
The pedal plug may encounter issues after using it for a while.
5. Korg C1 Air with RH3 Action
The Korg C1 Air Digital Piano is also among the best digital pianos under $2000 since it has a lot to offers users. This digital piano offers a choice of acoustic piano sounds, which seem like a recreation of true grand piano resonance. The included RH3 keyboard accurately simulates acoustic piano touch and response. There are about 30 high-quality voices you'll find on the piano, and a newly developed amplification and speaker system.
The Korg C1 Air Digital Piano also features a contemporary design cabinet available in 3 options. What's more, there is a Bluetooth connectivity option and audio playback included in the piano. The depth and clarity of sound offered by the Korg C1 is astounding and delivers the best experience for both the player and audience. The keyboard is precisely engineered to deliver a feel and response designed to help students develop a sound playing technique.
The keyboard also responds well to the demands of a professional pianist. It's safe to say the Korg C1 is a superb piano because it can be a great alternative to an acoustic piano or in instances where it's impossible to play an acoustic piano. The added features of this piano also make it easier for users to get creative and enhance their skills. You can connect it with smartphones and tablets via Bluetooth, or use a USB cable to connect with your computer.
Pros
A wide range of acoustic piano sounds, which recreate the true grand piano resonance.
It has an RH3 keyboard that accurately simulates acoustic piano touch and response.
You'll find 30 high-quality voices at your disposal to use for your practice sessions or live performances.
The Korg C1 offers depth and clarity of sound astounding for both the player and the audience.
Essential connectivity options such as Bluetooth and MIDI
Elegant and compact design that will significantly complement your décor and alleviate the worry of having to find a large storage space.
Cons
Some buyers have reported the piano making weird sounds the first few times of using it.
The piano is a bit heavy, as it weighs approximately 64.5 pounds. Therefore, although it's compact and features a good design, it may difficult to move around often.
Conclusion
Although the search for the best digital piano under $2000 is not easy, we hope our review has helped you learn a few great pianos to consider. There are still many options that you can find out there, which we've not been able to review here.
However, during your search, ensure you choose a digital piano that completely aligns with your needs and budget. The best way is to consider the size, weight, design, cost, and features that a digital piano offers. When you check those factors, it will be easier to settle on an instrument designed specifically for what you need.
If you have any questions or feedback regarding this post, feel free to reach out to us through email and we'll be happy to assist.