Looking for information about the best digital piano pedal to consider buying? For years, musicians and piano enthusiasts have strived to increase the quality of sound of this musical instrument. It is from this need that additional accessories, such as a piano pedal help to offer convenience to users.
One type of accessory that is quite popular and useful among musicians is the piano pedal. The work of the sustain pedal is to hold your notes. Piano pedals greatly help you to broaden your musical horizon, especially during performances.
If you own a digital piano, then a piano pedal is an essential accessory you should consider having. Acquiring sustain pedals requires the right advice. Here are a few pointers to help you buy the best product.
This post includes 10 of the best sustain pedals that you can consider buying if you are on the market searching for a good pedal.
1. Casio SP20 Digital PianoPedal
Before you purchase such an accessory, know that brand matters. Casio has been in the game for quite some time now and have a good market reputation.
Their existence has seen them produce high-quality musical instruments at very reasonable prices. The Casio SP20 pedal has an olden touch. This pedal comes with a convenient long chord that allows you to place it anywhere. Both professional piano users and students prefer its use.
Its functionality to sustain notes works in the same way the damper pedal from acoustic pianos does. The Casio SP20 digital piano pedal is easy to use and has a very comfortable feel to it. For usage, it is able to connect with any keyboard that has a 1/4″ input jack and comes in a black finish.
This piano pedal provides real playing experience and is ideal if you wish to have both a dramatic and fun playing experience.
2. Moog EP-3 Expression Pedal
The Moog EP-3 is an exception piano pedal. Moog is also a popular brand that creates good quality instruments which deliver as per their promises. The EP-3 pedal is a sturdy well-built pedal that adds to their list of quality. It comes with great balance, weight and has features to satisfy the needs of every player. Being a Moog product, many would rule out its compatibility with different piano brands. But for that purpose, this pedal has a polarity switch which makes it a universal model. It is therefore compatible with any keyboard in the market.
Built with an innovative cam system, this pedal will deliver a smooth performance. With the EP-3 pedal, you won't have to worry about durability as its sturdy construction assures you of that. The pedal features a 1/4″ output jack that allows usage of the 6.5 feet long cable that you are supplied with. It also features a scalable output knob that makes it possible for specifying the music range.
It also features a scalable output knob that makes it possible for specifying the music range.
ALSO READ: 15 Best Digital Piano Benches to Consider Buying
3. The On-Stage KSP 100 Piano Pedal
On-Stage products are well-known and accepted around the globe. Their instruments are highly ranked by professional musicians in studios and on the stage as well during performances.
The KSP 100 Sustain pedal is a full-sized piano pedal with full control to provide a more responsive effect. Similar to the EP-3 Expressional pedal, the KSP 100 pedal also has a polarity switch.
Therefore, you won't have to worry about using a different piano brand, since it works just fine. You can find the polarity switch on the underside of the pedal.
The KSP 100 piano pedal is also pretty durable and reliable. It comes with sturdy springs that improve the pedal's ease in control when using it.
With its compatibility advantage, you may connect this On-Stage pedal with any electronic keyboard that has a 1/4″ input jack and reap its standard utility. The pedal also comes with a built-in 6-foot long cord and a scratch-proof cover.
4. Nektar NP-2 Universal Piano Pedal
Both learners and pro musicians admire the potential of the Nektar brand. This particular pedal does not host a lot of additives on its design.
The Nektar NP-2 is a simple, affordable and stable sustain pedal. Its base is made of metal and rubberized cover.
For grip purposes, it has an additional rubber footplate. The pedal has a 6ft long cord with a 1/4″ input jack and replicates the design of a traditional acoustic piano pedal.
It also has a polarity switch to enable you to use it with any keyboard and other musical instruments that require sustain pedals. Nektar NP-2 pedal offers adequate pedal services, especially on stage with its stability factor.
5. Donner DK-1 Digital Piano Foot Pedal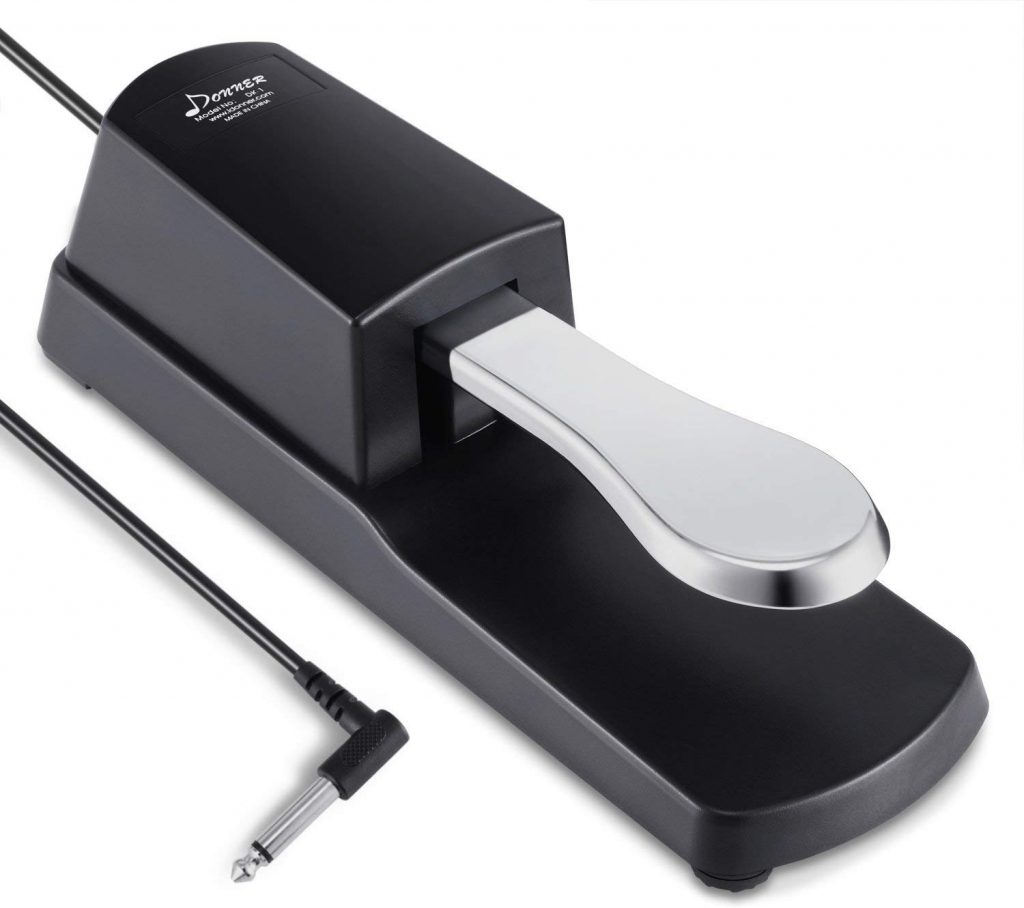 The DK-1 digital piano foot pedal is a great deal if you are especially on a budget and looking for a flawless pedal to suit your piano's sustain needs. Donnerdeal is actually a store that operates online and is popular for providing essentially good musical instruments, all these at a very affordable price.
The design to this pedal gives you a user-friendly experience. It has a very classic style and will therefore connect with both digital pianos and all keyboards. Talk about compatibility. Furthermore, its an easy to step on pedal that improves your control over the sustain.
Positioning has been made easy by its 63″ long cord and it is featured with a 1/4″ input jack for connectivity. Its bottom is specially designed with rubber to enhance its grip, which should be of great value to mostly performers.
6. Casio SP-3 Piano Pedal
The Casio SP-3 sustain pedal is well-built to operate with all the Casio keyboards and other digital pianos in mind. It is equipped with pedal jacks and provides you with a smooth playing experience.
You can use it with any digital piano as long as the keyboard features a 1/4″ input jack. The grip on the floor from the SP-3 pedal is perfect as it prevents any skidding during performances.
7. M-Audio SP-Dual Electronic Keyboard Pedal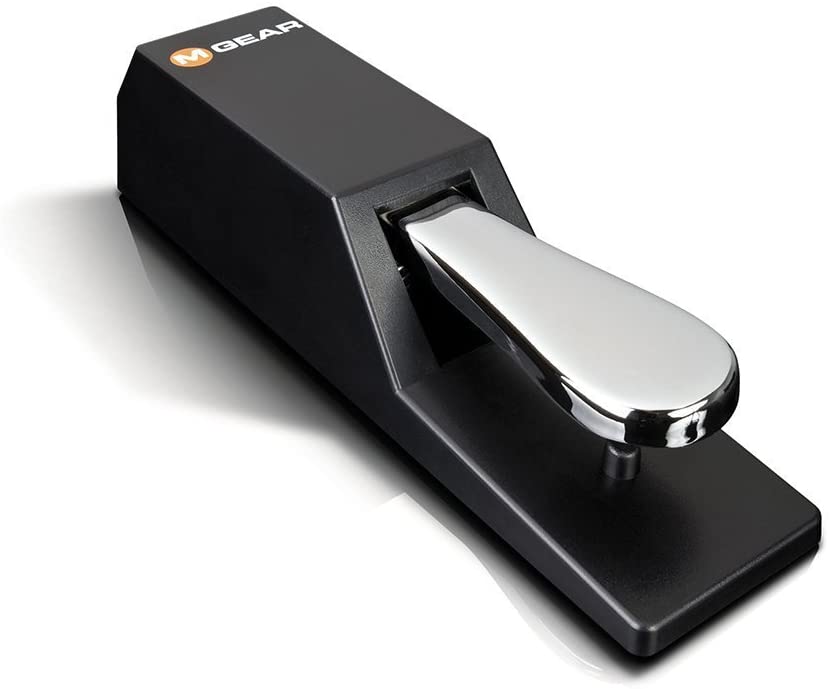 The SP-Dual electronic keyboard pedal is designed to function with dual dedicated inputs as the name suggests. Almost any MIDI keyboard with multiple pedal inputs may be able to function with this pedal.
It features a 6-foot long cable, and since it's dual, it hosts two 1/4″ connectors. To prevent the pedal from slipping when using it, its bottom is designed with rubber.
The M-Audio SP-Dual Electronic Keyboard pedal is meant to work with any compatible keyboard. But, its functionality can be vividly felt when you use the pedal with electronic consoles. For the sustain and soft pedal functions, this will do just right.
8. The Auray FP-P1L Pedal
Auray is a manufacturer of mostly professional musical instruments and accessories. It creates quality and ideal designs for stage life. For this Auray FP-P1L pedal, they opted for a simpler but exquisite style on its design with rugged construction.
This is to enhance the longevity of the pedal. With the FP-P1L pedal, you won't have to stress over positioning – mainly because the pedal comes with a long 72-inch cable.
The advantage of this is pedal is that you can also use it with electronic keyboards which feature a 1/4″ input jack for the footswitch. The design is also well-thought-out as the pedal features the rubber feet at the bottom to prevent slipping.
Without a doubt, this pedal is precisely meant to bring forth a more realistic piano feel.  In addition, you get a limited warranty for one year from the Auray Company.
9. Imelod Ione Pedal
The 10. Roland DP-10 Sustain Pedal
The Roland DP-10 is a high-quality sustain pedal that is popular among professional players. It features a firm structure and the base is made of rubber to prevent any skidding. The rubber at the bottom helps to add stability to the pedal.
You can fully realize its potential when using with keyboards that support the half-damper pedal. The DP-10 is also capable of serving as a standard sustain pedal.
The cable that comes with this pedal is conveniently long to suit the stacked keyboard setup. It is a well-structured pedal that enhances the sustain control.
Is There a Difference in Sustain Pedals?
There are two types of sustain pedals that you can choose from. You have the traditional pedal and then there is a switch or button on your keyboard that will allow for this function.
The differences in these kinds of pedals lie within how they work with regard to improving sound quality, as well as the price point.
There are pros and cons associated with both options.
The pros include:
There are no cords needed to use these pedals
It's easier for beginners or those with smaller hands to play the keyboard and keep their foot on the pedal at all times.
The cons include:
Price points can vary drastically between brands and models of sustain pedals. So, be sure you know what kind of quality you're paying for before making the purchase.
If you want something that works well but is also affordable then go with a traditional pedal. They tend to be cheaper than built-in options which can range from $20 – $100+ depending upon the model and brand name. One thing to consider though when using this type of pedal is whether or not it will work with your keyboard.
It's best to check before making the purchase or you may find yourself returning it and wasting valuable time (not to mention money) in the process.
For those who want a built-in option, this is definitely something that can be ideal, but not to everyone.
How Do I Choose a Sustain Pedal?
There are several factors to consider when shopping for the best pedal. Many inexpensive pedals are not durable and don't provide good enough quality sound. But you should also watch out for expensive models that may be too complicated or pricey for your needs.
Ideal Factors to Check for in a Digital Piano Pedal
Is the pedal made with good quality materials? – Does it provide a great range of volume and note lengths? – What is its compatibility like with your piano or keyboard?
A high-quality pedal that lasts for years will help you to focus on playing music well, rather than having to worry about replacing cheap equipment. As such, taking some time to consider your options can be beneficial. It will ensure you make a smart purchase decision.
You also need to check whether the pedal provides the best range of volume and note lengths. A pedal that offers great volume is essential to ensure you can play at different levels, whether playing softly or loudly. A low-quality pedal will not provide enough variation in sound and may be frustrating for musicians who want a lot of variety when they are practicing.
You also need to make sure the product is compatible with your piano or keyboard before buying it. You should double-check the specifications carefully so as not to buy something which cannot fit on either instrument properly without interfering with other pieces of equipment attached nearby. This information should always be present online alongside each model's description. But if there are any doubts then customers can contact customer services directly for clarification.
The ideal scenario would be choosing a sustain pedal that provides good quality materials, has a great range of volume and note lengths, is compatible with your piano or keyboard.
Conclusion
The best digital piano pedal comes in different designs and functionality. The key to choosing a suitable pedal is to first realize what your keyboard or digital piano needs.
The second thing is to check the compatibility of the pedal with your piano. The best thing is to always buy a universal pedal that you can use with any type of piano.
Durability is also another crucial factor. You don't want to buy a piano pedal that doesn't guarantee you long service. It is also good to assure that the base material offers a good grip on the floor.
The final thing to do is to always conduct thorough research before you purchase any sustain pedal to avoid disappointments.
It is our hope that this post has helped you learn about the pedals, and you've now gained a bit of knowledge to help you buy the right product.