Very few people are concerned about their sitting position when using the piano. Accessories such as the best digital piano bench, pedals, stands, and headphones are very crucial to consider. Little or no attention at all is directed towards the piano bench.
Before you can master the art of skillful playing on your piano, you need a lot of practice. Therefore, the time spent on this musical instrument while practicing or in performances should be conducive.
When using your digital piano your posture matters a lot. You need to keep your muscles and shoulders properly. The amount of time you spend regularly on your piano determines the right type of bench that you need.
In this post, we will sample 15 of the best digital piano benches that are built to keep you comfortable when playing.
1. Yamaha PKBB1 Adjustable Padded Keyboard Bench
The PKBB1 adjustable keyboard bench from Yamaha is arguably one of their best digital piano benches ever produced. It is in fact their bestselling piano bench. The bench here offers unique features and comfortable functionality. Most piano benches are sturdy but not comfortable enough. But, the Yamaha PKBB1 bench is a different kind of bench.
It combines both comfort and stability to give you the best experience when playing the piano. It has a very appealing design and is also capable of supporting a significant amount of weight. Designed with ultra-thick padding, the PKBB1 bench absorbs pressure from your body and distributes the weight evenly.
The size and width of the bench are also top contributors to its comfortable nature. Although the PKBB1 is just a single seat bench, it is extensive enough for you to move and get the posture you prefer.
The reason this Yamaha bench is so convenient is because of its adjustable nature. It features an adjustable knob that allows you to not only adjust the bench height but also secure your sitting position.
Due to this ability, this bench is capable of hosting both children and grown-ups. Therefore, the Yamaha PKBB1 adjustable bench is capable of multiple functions.
2.  On-stage KT7800 Plus Padded Keyboard Bench
What most makes piano owners shy away from such high-end digital piano benches is their price. Price is a huge reason why pianists opt to settle for less when choosing a piano bench. Well, this is not the case with the On-stage KT-7800 plus keyboard bench.
Luckily, the keyboard bench is pretty cheap and affordable. It is the type of bench suitable for home, stage or studio use.
Some of its pros include:
Comfortable
Highly customizable
Falls flat which makes it quite portable
Built with a 3-inch cushion, it keeps you cozy and enables you to play your piano for hours. In terms of durability, this bench is strongly built which means you'll enjoy years of service from it.
With its sturdy nature, the KT7800 plus bench is able to hold up to 360 pounds of weight. The manufacturers of the bench paid close attention to its customization since you can easily adjust this it up to four different height preferences in proportion to the keyboard stand.
The varying heights are between 19″ to 25″. If you are a musician who is always on the road, the KT7800 bench is quite suitable for you because it's lightweight and collapsible.
It is easy to move with and it and doesn't take up much storage space. The On-stage KT7800 plus padded bench gives you the best service at an affordable price.
3. Ebony Duet Size Genuine Leather Artist Piano Bench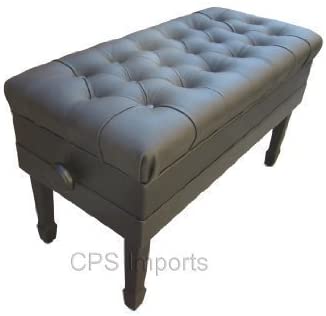 Another multi-purpose piano bench to look in to is the Ebony Duet Size Genuine Leather Artist Piano Bench. If you are in search of a stylish and executive piano bench, then this is the right bench for you.
It is a top-notch piano bench that comes with amazing specs ready to offer you the best experience while playing the piano. It features high-quality design leather along with thirteen buttons included. The feel and look of the bench are also quite exquisite.
The included thick cushioning also offers you exceptional comfort.. The leather and duet size nature of this amazing bench enables you to enjoy hours of playing the piano with much comfort. Made of solid hardwood, the bench promises durability as well as easier usage.
The good thing about the bench is that it has wooden stands that you can easily remove and attach them back once you're done. It is also built with a compartment in between the stands and leather top which you can use to store musical books or equipment.
The bench has an ebony color and a very beautiful gloss finishing. The duet size genuine leather piano bench looks good on any setting, be it at your house or on stage.
4. Griffin Ebony Black Leather Piano Bench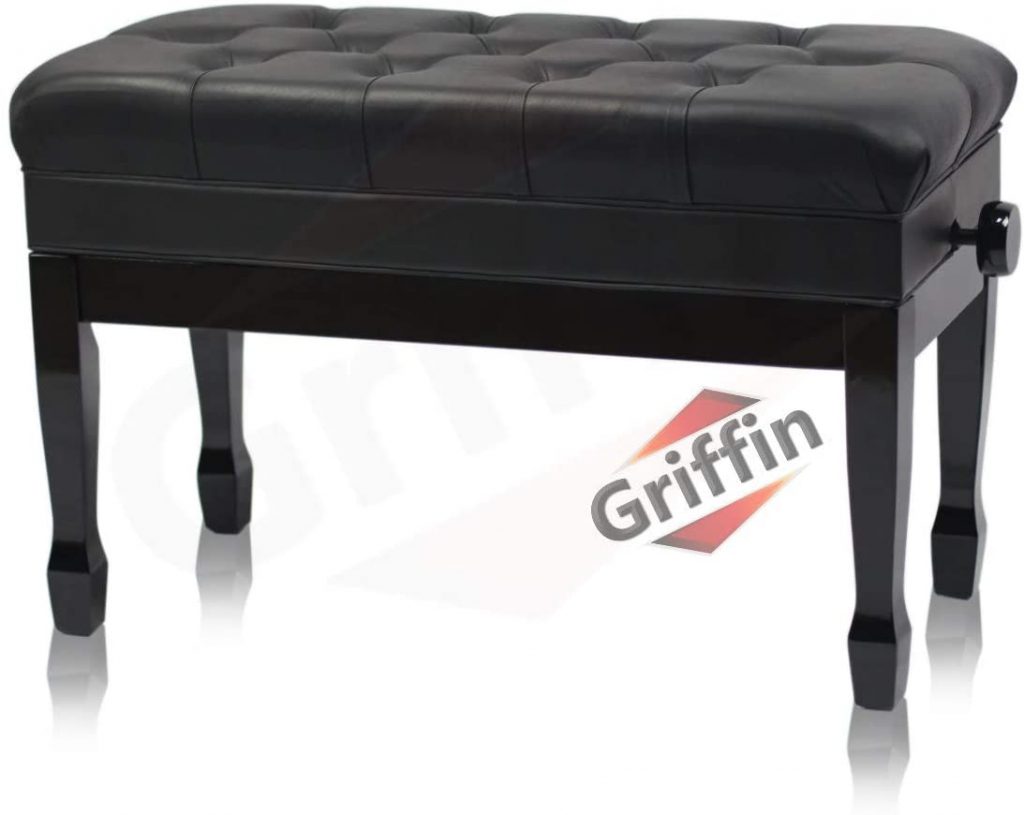 The ebony black leather piano bench by Griffin is among the top pro benches on the market. The bench is a perfect score for stage use.  It is a well-built keyboard bench capable of making your playtime more conducive and comfortable.
The bench hosts a black glossy finishing, with padded synthetic leather to give you maximum comfort. It has a very sharp design and is well able to accommodate more than one player.
When it comes to customization, this bench is easy to adjust. It contains a side dial to adjust the height from 19″ to about 22″. The bench has a very spacious compartment which you can use to store larger books and some musical equipment.
It is not advisable to use the bench in a studio with children because the height isn't capable of going that low. Overall, the ebony black leather piano bench is ideal for the stage for any setting as it offers professional service.
5. SONGMICS Padded Wooden Piano Bench
SONGMICS has designed a bench that has superb features. This padded wooden piano bench takes the look of a stool and can also accommodate the storage of books or other music equipment. The piano bench comprises of a black frame compressed wood, with a glossy leather padded finish.
It has a sturdy design which makes it capable of withstanding the weight of up to 300 pounds. Without a doubt, this piano bench is ready to offer you prolonged comfort and amazing stability.
To easily assemble it, the bench comes with an assembling kit that doesn't take more than 15 minutes to set up. Assembling using the bolts increases the stability of the bench with the included hardware being of really good quality.
The width of the bench is only capable of hosting one person with the height being fairly short. The padded wooden piano bench by SONGMICS is a good solution if you are on the market searching for a comfortable yet sturdy digital piano bench.
6. Adjustable Duet Size Genuine Leather Artist Concert Piano Bench
The adjustable duet genuine leather concert piano bench is convenient to have around. What you get from this bench transcends the amount of money it costs. The design is pretty classic with a very appealing look.
This is one of those eye-catching benches that don't require any announcements to get noticed. Like most top grade piano benches, it is also sturdy and wide enough to support at least two people.
Assembling this bench has to be the easiest part since you only require to connect the legs and you are good to go. The wrench to be used is supplied and comes with the package.
The top part is diamond tufted and encrusted with buttons for proper air supply, and the covering made of authentic leather. It also has a compartment where you can store some musical notes or sheets.
READ ALSO: 10 Best Moog Synthesizers to Consider Buying
7. Adjustable Artist Piano Bench in Ebony
Here you are looking at a heavy-duty piano bench which is made of hardwood. This Adjustable Artiste piano bench in ebony has an approximate height of 13.5 inches deep and measures about 22 inches long. It allows you to customize on the height in relation to the keyboard stand holding up your piano.
The height can be adjusted from 9 inches up to 21.5 inches. Therefore, this piano bench can be used by both adults and children. There is an external knob found beneath the seat to adjust the height.
It also has a storage compartment where you can store either a few books or keep other instruments close to you.
The top part is padded with soft leather and the cushioning is encrusted with buttons for extensive comfort. This top-quality bench weighs 25 pounds and is readily available in an ebony color.
The legs can be easily removed and attached back which makes the bench quite flexible and easy to move around. What's more, the bench comes with a 12-month warranty.
8. SONGMICS Wooden Duet Piano Bench with Padded Cushion
The SONGMICS Wooden Duet Piano Bench with padded cushion can fit two players. This digital piano bench is ideal for both live stage performances and practice sessions.
The bench has an easy to open flip-top for you to access the very spacious storage compartment for storing music notes or any other accessories.
It is highly padded with cushion to provide you with much comfort for extended hours with an easy to clean leather covering which adds beauty to any decor.
It is also easy to assemble the bench because it comes with guidelines on how to set it up.  The bench also has rubber soles made of strong wood.
9. Ebony Grand Piano Bench with Music Storage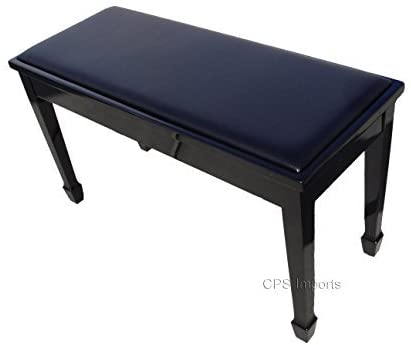 The ebony grand piano bench with music storage houses a lot of musical features. It has fine padded leather which allows you to sit right in front of your piano comfortably and play for as long as you want. The bench is very attractive with a glossy finishing to its legs.
Some of its features include a solid hardwood design, wood trim around the top and it can accommodate duets. This Ebony bench weighs 19 pounds and the dimensions are 19 "x 14" x 30".
The good thing about this bench is that it comes with a wrench to enable an easy setup. You can also easily detach the legs and put them right back without straining. It is a durable duet style bench that offers comfort when using your keyboard.
10. Walnut Grand Piano Bench
The Walnut grand piano bench with music storage differs from other benches. It has unique features with an additional music storage. Measurements of this bench meet the standard requirements.
The dimensions include the length of 30 inches, depth of 14 inches and a height of 19 inches. Made from high-quality hardwood, this bench guarantees durability It has a walnut brown color with a glossy finish which makes it really attractive.
The bench features a synthetic leather seat with good cushioning, which makes it naturally comfortable. A rare feature that this bench includes is the distinguished place for music storage.
Here, you can store lots of your music notes and songs without the worry of space limitation. Walnut grand piano bench gives you pro service at a very considerable price.
11. Reprize Accessories DKB-1 Adjustable Keyboard Bench
The Reprize Accessories DKB-1 Adjustable Keyboard Bench takes up a rectangular shape. It is a 24″ x 12″ rectangular keyboard bench with a padded seat for maximum comfort. The bench contains additional piping at the edge used to protect it from any wear and tear.
There are three different height adjustments in this piano bench to make it easier to use. The leg-stand is built with steel which provides guaranteed stability.
When not in use, you can easily store the bench with a quick release double deadbolt mechanism that comes with it. The bench is available at an affordable price and is designed with high-quality materials to positively enhance your piano playing experience.
12. Giantex Black Ebony Wood Leather Double Duet Piano Bench
Whether you are an instructor, musician or a student, the Giantex Black Ebony Wood Leather Double Duet piano bench is a convenient accessory that delivers proper comfort. It is made of long-lasting materials and also has a very sturdy structure.
The bench is capable of supporting a substantial amount of weight. On the cushion, there is the leather covering which provides extra comfort and makes it easier for you to clean.
The leather color is really attractive and adds beauty to your home décor. Built with a sturdy design, this bench is capable of serving you for several years. It is also an affordable bench to consider if you are on a budget.
13. Ohuhu X-style Adjustable Padded Keyboard Bench
The Ohuhu X-style Adjustable Padded Keyboard Bench is also one of the best digital piano benches. Not only is the bench simple, but it's also very comfortable.
It boasts of adjustable features that allow you to select your height preference. The bench is versatile and it is built with steel which makes it sturdy enough for heavy-duty.
The bench contains rubber caps on its ends to prevent scratching of the floor or slipping. It might look simple but the Ohuhu X-style bench is strong, durable and highly adjustable. Therefore, it meets all the standard requirements at an affordable price.
14. Greenpro Adjustable X Style Cushion Padded Piano Bench
Another one of the top digital piano benches is the X-style piano bench with a design that offers maximum durability and comfort in use. It features heavy-duty steel frames that can support the weight of up to 370 lbs.
The seat measures 12 x 16 inches and it features thick well-padded cushions to deliver satisfying comfort. The legs of this bench come with rubber end caps to prevent scratching of the floor when using it.
It is also adjustable to 3 different height positions and folds easily for convenient and secure storage.  
The Greenpro Adjustable X Style Cushion Padded Piano Bench is quite amazing and features a user-friendly design ideal to use with any digital piano.
15. Walnut Wood Top Grand Piano Bench with Music Storage
Lastly, on our list of the best digital piano bench is the Walnut Wood Top Grand Piano Bench. It comes with a music storage feature where you can store your music books and other equipment.
The bench weighs approximately 19 pounds and the dimensions measure 18.5″ high, 14″ deep and 30″ long. It has a gloss finish and is only available in black color. The look is appealing and is sturdy enough.
Setting this bench up is not a hard task as you can get the best alignment by simply tightening the screw. The Walnut wood top bench comes with a one year warranty against workmanship and material defects.
Conclusion
If you use your piano often, then you understand the importance of good posture. Comfort is key if you want to practice for long hours in order to be a well-skilled player.
Therefore, you should look for a bench to serves you well. When looking for the best digital piano bench, make sure you check for stability, durability and height adjustment.