The Kawai MP11 digital piano delivers one of the most authentic playability experiences you can find in a stage piano. This is all thanks to both the piano's Grand Feel keyboard and its impressive sound technology.
The piano offers super sound capabilities with a handpicked selection of premium voices to deliver the stage needs of all pianists. Kawai worked hard and was creative in designing this piano's voice.
This is because the MP11 features three important sound categories, which are organized into different sections. Additionally, the MP11 features more sample memory compared to other Kawai instruments that were released before it. From the authentic onboard sound, realistic feel, and responsive stage performance, this is an instrument worth your consideration.
With that in mind, let's get a deeper look at this Kawai MP11 digital piano review.
Kawai MP11 Features
Specifications
Grand Feel wooden key-action
Let-off, Triple Sensor key-action
Ivory-touch surfaces
Harmonic Imaging XL Sound Source
88-key piano sampling
Polyphony – 256 notes
40 Built-in voices
Vintage E piano sounds featuring amp simulations
129 Effects, 6 Reverb Effects (customizable)
Virtual Technician
User Memories – 208
USB Recorder – MP3 and WAV audio as well as MIDI
Triple Pedal System – Soft, Damper, Sostenuto
Weight – 32.5kg
Dimensions – 54" x 18" x 7" (W x D x H)
Kawai MP11 Digital Piano Design
Although it's no longer in production, the Kawai MP11 is a Kawai Legacy product. This means that the piano is one of the best instruments that Kawai has ever released. The MP11 was replaced by its award-winning successor the MP11SE professional stage piano.
That aside, this digital piano features a stage-worthy build with some of the hardest plastic designs you can find on the market. It's hard to find brands dedicating a lot of money to a piano's durability now. However, this was the case when the MP11 came out.
As for portability, this instrument doesn't offer much flexibility. It weighs about approximately 72 lbs. This is quite heavy but the dimensions of this instrument ensure that you have enough space to carry it for gigs or performances. With 88-key sampling, this full-size stage piano can fulfill all your stage performance needs.
ALSO READ: Kawai MP6 Digital Piano Review – Professional Stage Piano
Keyboard
A piano's keyboard determines a lot when it comes to playability. Fortunately, Kawai has a clear understanding of how important the keyboard of a digital piano is. Hence, the keyboard on the Kawai MP11 digital piano is designed to deliver authentic playability.
The keyboard action used here is one of the best ones you can find in any stage piano. This is because the MP11 makes use of Kawai's Grand Feel wooden-key action alongside 88-key sampling. The Grand Feel wooden-key action features over eight decades of acoustic piano craftsmanship to give you an authentic playing experience.
And to replicate a traditional piano's authenticity and look, all the 88 keys on the Kawai MP11 digital piano are made from long pieces of wood. These keys pivot on a central balance pin in a soft, seesaw-like motion. Thus, the MP11's Grand Feel keys are the longest than any other keyboard action on digital pianos.
Moreover, keys are graded, meaning the lower end register keys sound heavier than those at the higher register of the keyboard, which sounds lighter. And if that's not enough, Kawai added a feature that ensured this piano will deliver only the best authentic playability in stage pianos. The MP11 also comes with a 3-sensor system for each of the 88 keys available with subtle let-off simulation.
As a result, this piano has one of the best authentic touches you can find in stage pianos. The key surfaces also feature Ivory Touch to prevent your fingers from slipping and provide even more authenticity.
Sound Quality
Many professional pianists regard the Kawai EX concert grand piano as one of the finest instruments within its range. The sound is hand-built by Master Piano Artisans at the Shigeru Kawai Piano research lab. During creation, each EX instrument undergoes in-depth refinement and regulation inside a specific anechoic chamber.
The results are impressive high-quality sounds achieved from a lengthy crafting process period. On the MP11, you'll find the highly-acclaimed hand-built concert grand piano that we've just briefly talked about. To make it even better, this digital piano features 88 keys that are individually recorded and analyzed using Kawai's proprietary Harmonic Imaging XL sound technology.
E. Piano Section – Twin Effects, Vintage EPS, AMP Simulation
Still, on sound, the Kawai MP11 digital piano also features several selections of vintage electric piano sounds. All the different selections here feature their different characteristics.
Therefore, you can enjoy the sound's natural and organic nature before plugging in one of the available speaker cabinets and five classic amps.
Moving on, the MP11 comes with over 100 sound effects, which are sorted into different categories and a wide range of tweakable parameters. And you can apply the sound effects to each sound section independently.
Kawai MP11 Digital Piano Connectivity
Integration is key for any stage piano and the Kawai MP11 digital piano offers you optimal connectivity features. The following are some of the connectivity options that come with the MP11:
USB Connectors – These allow you to connect the MP11 to your PC or any computer for MIDI uses.
USB To Device – You can also save some of your compositions directly to a USB drive using this connection capability. Additionally, this feature also allows you to play WAV or MP3 or the SMF MIDI files. This allows performing musicians to play along with professional backing tracks.
Triple Pedal System – This feature allows you to connect the three-pedal functionality that is essential in stage performances. Here, you can connect the Soft, Sostenuto, and Damper pedals to improve the MP11's authentic playability.
Line IN jacks.
As you can see, the MP11 is a powerhouse when it comes to on-stage performance. Any performing musician would benefit a lot from owning this instrument.
Extra Features of the Kawai MP11 Digital Piano
MIDI Out Section – 4 Zone Master Keyboard Controller
This digital piano features a MIDI Out Section that comes with four independent zones to control external devices. You can also use this feature to integrate the MP11 into the studio as a master keyboard.
Large LCD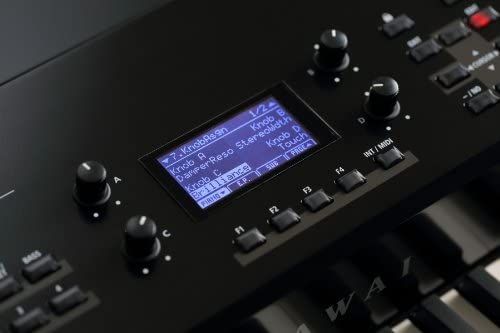 For intuitive operation, the MP11 comes with a large LCD. The control panel is also well arranged and easy to use with real-time assignable control knobs. These buttons give you a clear view for adjusting to different parameters whenever you need to do so.
Virtual Technician
The Virtual Technician feature allows you to customize virtually different elements of the MP11's playability. It's like having your technician always there by your side to tweak the parameters as per your preferences.
Other additional features available on the MP11 include:
a built-in Metronome
MIDI Zones with 62 different parameters
System Menu with 50 parameters
and a SETUP function with 208 Memories
Benefits of Owning the Kawai MP11 Digital Piano
If you are looking for an ultimate stage digital piano, then the Kawai MP11 can deliver on all fronts. With this instrument, you'll enjoy the following benefits:
Authentic touch
Natural and exceptional sounds
Comprehensive connection options
Flexible parameter customization, thanks to the Virtual Technician and other effects
Powerful stage performances
Why Should You Buy the Kawai MP11 Digital Piano?
First, this instrument's capabilities are worth every penny you decide to invest in it. From authentic touch, high-sound quality, to flexible sound customization options, the MP11 is an impressive instrument to own.
Moreover, this piano features a robust build so you will be taking home a durable instrument. If you are a performing musician who travels a lot, then the MP11 will be your perfect companion on the road.
Pros
Exceptional sounds
Realistic touch
256 Polyphony notes
Flexible customization
Intuitive interface
Powerful Sound Source
Durable
Cons
Final Verdict
Overall, the Kawai MP11 digital piano might be a Kawai Legacy Product and only a few stage pianos in the current market can match this instrument's capabilities.
With this digital piano, you can achieve all your stage performance dreams or imaginations profoundly. It's a great investment to have around and those who own an MP11 know exactly the meaning of a Kawai Legacy Product.