The Kawai VPC1 digital piano is an answered prayer for virtual piano musicians globally. This modern digital piano is not only unique but also packages an outstanding RM3 Grand II wooden-key action into an advanced MIDI controller. It is a one-of-a-kind digital piano that's worth looking into.
In our review, we'll go through all the details of this digital piano – to help you learn all about it, from features, benefits, pros & cons, among other things. Coming from a reputable brand that has been around for decades, the VPC1 is bound to offer you the best playing experience needed by pianists in these modern times.
Features of the Kawai VPC1 Digital Piano
The Kawai VPC1 digital piano packs a wide range of features that make it easier for you to use. Check out these features below.
Specifications
Keyboard:
88 wooden keys
Grade-weighted hammers
Ivory Touch white key surfaces
Let-off simulation
Counterweights
Triple sensor key detection
Pedal:
Soft
Damper
Sostenuto
Half-pedaling supported
Detachable music rest included
Basic functions:
Preload Touch Curves
Internal memories: 5 (adjustable via the VPC Editor)
VPC Editor Software
Touch Curve edit
Velocity edit
Accessories:
Power cable
AC adaptor
Owner's manual
USB cable
Total weight: 65 pounds
ALSO READ: Kawai CA58 Digital Piano Review
Kawai VPC1 Digital Piano Design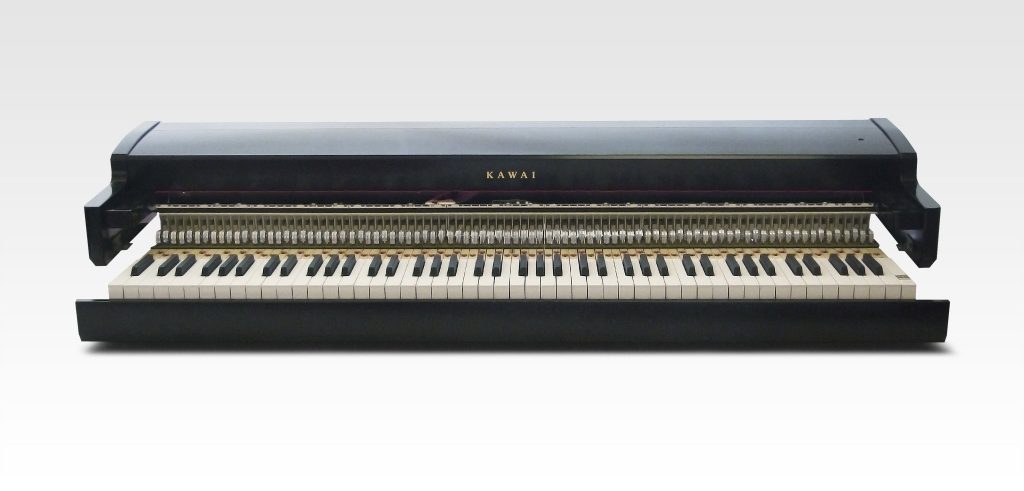 The Kawai VPC1 digital piano features a glossy black finish in a compact, yet elegant design. The dimensions of the piano are 54-1/3″W x 16-3/4″D x 7-1/3″H. With the raised fall-board and curved wooden sidearms, the VPC1 has a classic, grand piano-like appearance that is quite appealing. The good thing about the design of this piano is that it's simple, unobtrusive, yet professional and smart.
It doesn't have any wheels, knobs, or faders. Therefore, it's not a multi-purpose controller, which makes it perfect to help you focus. The main objective of the Kawai VPC1 is to deliver the best virtual piano playing experience. It features a premium build quality mostly considered as the hallmark of the Kawai Company.
The chassis of the piano is engineered from aluminum and the keyboard's base is reinforced to offer additional stability when you're laying down the big chords. What's more, the piano's top surface is clutter-free.
Keyboard
The most significant part of a controller is the keyboard action. Luckily, the Kawai VPC1 digital piano includes Kawai's RM3 Grand II action, which features trademark wooden keys and smooth, consistent movement.
Compared to other controllers, the VPC1 is way better, as it features additional grand piano keyboard characteristics like ivory-like key surfaces, bass note counterweights, graded hammer weighting, and let-off simulation.
The combination of these premium features results in the recreation of the exceptional touch of a perfect concert grand. Therefore, this allows you to properly feel your favorite virtual pianos.
Sound Quality
Many people ask, are Kawai pianos good? The VPC1 version makes a statement that ut the brand is good. When it comes to sound, Kawai has done a good job with the VPC1. The piano has a plotted graph that shows how key velocity corresponds to the volume and tonal character. This helps to influence your connection with the piano. It also features a similar responsive touch curve found in the famous MP10 stage piano, which ensures a superb playing experience.
The VPC1 also features preset touch curves where you can select popular virtual piano packages. Overall, the sound experience offered by the piano is top-notch and similar to that of an acoustic grand.
Connectivity
You can connect the Kawai VPC1 digital piano to your PC or Mac via a single USB cable. The piano can also draw power from the computer's USB bus, thereby helping to reduce cable clutter since you won't need an external AC adaptor. This digital piano is primarily designed to control software pianos.
But, it also comes with standard MIDI jacks to connect to hardware sound sources. Surprisingly, the VPC1 can also control separate sound sources simultaneously. You can also adjust IN/OUT routing for USB and the standard MIDI through the VPC Editor software.
Extra Features of the Kawai VPC1 Digital Piano
One notable extra feature of the Kawai VPC1 digital piano is the ability to take control of the grand piano pedals. You can take advantage of the virtual piano's unlooped sustain and stunning modeled resonances, along with the grand piano pedal controller included in the VPC1. The unit also supports half-pedaling and has the right configurations to send perfect messages for soft, damper, and sostenuto events.
Another additional feature is the VPC Editor that enables you to customize, adjust, and tweak key velocities. You can also manage MIDI routing with the Editor and all the changes are directly stored in one of the 5 onboard memories. This allows the recalling of configurations without the need for software, in case you're controlling standalone MIDI devices.
Benefits of the Kawai VPC1 Digital Piano
There are numerous benefits offered by the Kawai VPC1. The first benefit is that the piano offers a great keyboard action thanks to the latest RM3 Grand II action. The wooden keys also offer a smooth and consistent movement that comes in handy while playing the piano. Therefore, with this piano, you get an exceptional touch mostly offered by a fine concert grand.
The wide range of connectivity options also adds to the benefit of the Kawai VPC1 digital piano. You can easily connect the piano with your PC or Mac, or use standard MIDI jacks to connect to hardware sound sources.
Who Is the Piano For?
The Kawai VPC1 digital piano is for a skilled MIDI-based musician looking for a connoisseur of excellent piano touch. Therefore, the piano was mainly developed for virtual piano players. It offers a wooden-key keyboard with weighted hammer technology for the best playing experience.
Pros
The piano's keyboard is equipped with Kawai's latest RM3 Grand II action and wooden keys.
It is a portable, efficient, and user-friendly digital piano ideal for skilled MIDI-based musicians.
Flexible connectivity options included in the VPC1 make it ideal to use both at home or in the studio.
You can also take control of the grand piano pedal, which supports half-pedaling and is pre-configured to send the right CC messages for soft, damper, and sostenuto events.
Cons
It doesn't include LINE IN/LINE OUT.
Lacks USB to device feature.
It lacks piano sound, piano resonance, and piano adjustment.
It doesn't have common effects such as brilliance and reverb.
Conclusion
The Kawai VPC1 digital piano has a few disadvantages due to the lack of some features, but it's a good option for a MIDI-based musician. I wouldn't recommend it for a beginner player. But if you're an advanced pianist, the piano can serve you well.
Hopefully, this review has helped you learn about this digital piano but you can always do more research to find out other unique things about the instrument. You can reach out to us through email if you have any questions or feedback regarding this post.