The Yamaha P515 digital piano is the new flagship model of the renowned P-Series. Therefore, it's apparent to expect more than what the P-45 and P-125 brought to the table. Moreover, the P515 came only months after Yamaha had released their popular Yamaha P-255 model. This means that the P515 is the third in Yamaha's portable range and its release was highly anticipated.
And why not, anyone who values the art of playing a piano would love to get their hands on a flagship model. But with so much anticipation and praise poured on its release, did the P515 match up to the hype?
Let's find out in this Yamaha P515 review.
Yamaha P515 Digital Piano Overview
We'll start with this piano's highlights and one aspect that mesmerized us was how effective the P515 is in replicating the acoustic piano sounds. We haven't yet met an instrument that delivers the same quality of sound and feel as the Yamaha P515 in the same price range.
And unlike the previous flagships of the P-Series, the P515 features the Natural Wood X (NWX) keyboard action found in the Clavinova range. As you may know, Yamaha features this action on their prime digital pianos, meaning you are in for treat with this instrument.
Additionally, this instrument features two of Yamaha's best sampled pianos, which are the Bosendorfer Imperial Grand and the CFX Concert Grand. And for all the music composers, it's worth pointing out that the Yamaha P515 digital piano features a built-in 16-Track MIDI recorder. Those are just some of the P515's instruments. Now, let's have an in-depth review of the Yamaha P515.
Yamaha P515 Digital Piano Features
Yamaha P515 Specs
Keyboard – 88 Fully-weighted keys
Action – NWX (Natural Wood X) keyboard: wooden keys (white only), synthetic ebony and ivory keytops, escapement
Touch Sensitivity – 5 Types, Off
Display – Full Dots LCD (128 x 64 dots)
Sound Engine – Bosendorfer Imperial, Yamaha CFX, CFX Binaural Sampling
Tone Generation – Virtual Resonance Modeling (VRM), Key-off samples, Smooth Release
Maximum Polyphony – 256 notes
Preset Voices – 40 Voices + 18 Drum/SFX Kits + 480 XG Voices
Sound Effects – Reverb (6), Chorus (3), Intelligence Acoustic Control (IAC), Stereophonic Optimizer, Master EQ
Functions – Metronome, Transpose, Fine Tuning
16-Track MIDI Recorder
Rhythms – 40
Modes – Duo, Dual, Split
Sound System – Speakers (Oval (12 cm x 6 cm) + 2.5 cm (dome)) x 2, Amplifiers (15 W + 5 W) x 2
Connectivity – DC IN, Headphones (Standard stereo phone jack (x 2)), Sustain Pedal, Pedal Unit, MIDI In and Out, AUX IN (Stereo Mini jack), AUX OUT [L/L+R][R], USB TO DEVICE, USB TO HOST
Dimensions – (W x D x H), 52.3" x 14.5" x 5.5"
Weight – 48.5 lbs / 22 kg
Included Accessories – Music Rest, Pedal/Footswitch
READ ALSO: Korg B1 Digital Piano Review
Yamaha P515 Digital Piano Design
The Yamaha P515 digital piano comes in a big cardboard box that weighs around 60 lbs. Therefore, you'll need an extra hand to assist you when handling the package. The piano itself only weighs 48 lbs, meaning that it's portable enough to move around. However, this isn't the piano to take with you on trips whenever.
The piano features a smooth and modern design and Yamaha intended it to be used with an ordinary keyboard stand. But if you can also use it on a console stand if that's your preference. The P515 comes with a single pedal unit (Sustain pedal) that works just as fine as the one in acoustic pianos. But again, you can still go for the 3-pedal unit if that's what you'd want to do.
The user interface has 23 rectangular-shaped buttons that are applicable in switching between sounds and settings. There's also a blue screen LCD that shows you the current settings and sounds being used on the P515, and it measures 128 x 64 dots. And for more accurate selections, the 23 buttons also light up blue when pressed.
Yamaha P515 Keyboard
The Yamaha P515 keyboard features 88 keys made from top-grade wood, and the keytops have synthetic Ebony and Ivory finish. Moreover, the black keys are textured, which together with the Ebony and Ivory finish, you get a good grip on them while playing.
And for a more authentic playing experience, the Yamaha P515 digital piano features the fully weighted Natural Wood X (NWX) action. This action also comes with the Escapement feature that gives you a responsive touch when playing quietly. The keys of the P515 feel smooth and realistic to the touch, and this is the same across the whole keyboard register.
It doesn't matter if you are playing faster, slower, or complex pieces on this instrument because the keyboard capabilities allow you to effortlessly shift between your styles of play.
In total, there are 5 touch sensitivity settings to choose from, including:
Hard 1
Hard 2
Medium
Soft 1
Soft 2
Fixed/Off
You can use them to change the playing dynamics and achieve authentic playability based on your preferences.
Sound Quality
The Yamaha P515 digital piano features two of the world's finest and most prominent piano samples, which include the Yamaha CFX flagship grand piano and the Bosendorfer Imperial piano samples. Additionally, this instrument also comes with two advanced technology that enables you to enjoy natural and realistic sounds, even when listening through your headphones.
The two technologies are Binaural Sampling and the Stereophonic Optimizer. The former delivers a 3-dimensional sound, which is responsible for recreating the perspective of the player position via the headphones. On the other hand, the Stereophonic Optimizer enhances the overall distribution of sound in the listener's headphones, which creates a sensation that sound is coming directly from the speakers rather than the headphones.
And if you desire an instrument with a vast number of sounds, here you've certainly found it. Below is a list of the Yamaha P515 sounds:
11 pianos
7 electric pianos
7 strings
6 organs
4 basses
2 harpsichords
2 guitars
Vibraphone
Clavichord
18 drum kits
And 480 XG voices
To accommodate adequate playability of these sounds and complex music pieces, the Yamaha P515 digital piano has a maximum polyphony count of 256 notes.
Connectivity

Headphone jacks – The piano comes with two stereo standard headphone jacks (1/4"), which are useful when playing duets or during your private practice sessions.
USB to Device Port – This is a USB Type A port found on top of the control panel, within easy reach. As you may know, you can use this port to transfer files between a computer and the P515 by the use of a flash drive.
USB to Host – You can use this port to connect the Yamaha P515 directly to a computer or any other smart device.
USB Audio Interface – This built-in hookup option allows you to transfer audio data using USB connection.
MIDI IN/OUT Ports – These can be used as alternatives to the USB to Host port, and can be used to connect the P515 with an external audio interface, another keyboard, or a computer.
Aux Out – These are ¼" jacks (R, L/Mono) that you can use to plug in various sound equipments.
Aux In – With this hookup option, you can play any audio data on your computer or smart device via the P515's built-in speakers.
Bluetooth – Additionally, this piano also comes with the Bluetooth that you can use to connect it wirelessly with other devices and enhance playability.
Additional Features of the Yamaha P515 Digital Piano
Smart Pianist App
Smart Pianist helps you practice and perform your music by analyzing the songs in your music library and then displaying the chord symbols for you to play.
The app also allows you to use your iOS device to control the functions included in your Yamaha digital piano for easy and intuitive operation.
VRM – Virtual Resonance Modeling Technology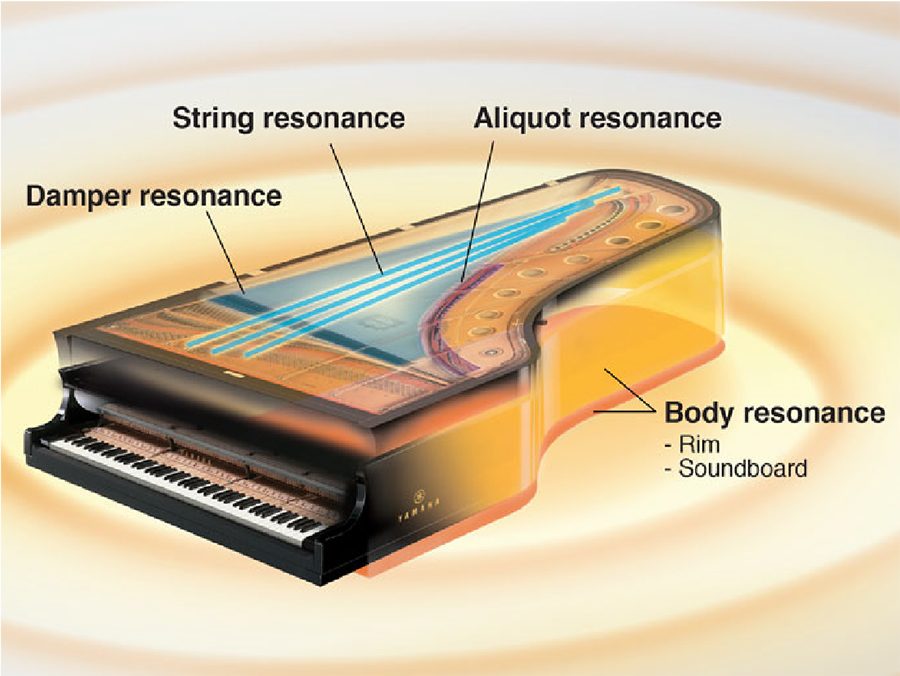 The P515 also features the Enhanced Virtual Modeling Technology, which is the distinctive reverberation generated by the concert grand piano. The VRM calculates the different states of the strings of each of the 88 keys – from the instant to the next as well as the timing and depth of the damper pedals pressed to replicate the acoustic piano sounds.
The Enhanced VRM also calculates aliquot resonance in the upper octaves, and the full resonance of the frame, rim, and soundboard. The results are bright, vivid, and richly varied expression that reflects the unlimited number of aspects inherent in piano performance.
If unaware, aliquot is a stringing method that enhances the tone by using extra un-struck strings in the upper octaves. The strings sympathetically vibrate with other strings and resonate with overtones to add brilliance, complex color, and richness to the sound. And because they lack a damper, you'll continue to hear sounds even after you release the keyboard.
Built-in Speaker System
The Yamaha P515 keyboard features 2 x 15W amplifiers and a two-way speaker system that delivers authentic, and immersive playing experience with utmost clarity.
Additionally, this built-in speaker system features Yamaha's Twisted Flare Port that offers precise and clear bass sound. Unlike other speaker shapes, this gently twisted shape diffuses the air flow through the port. This reduces the air turbulence noise, which results in accurate and clear low-frequency reproduction.
40 Rhythm Patterns
Onboard this digital piano are 40 different rhythm patterns, which include drums and bass accompaniments. The 40 patterns are adequately suited to many music types, which gives you the opportunity to enhance your performance.
Piano Room
This Function allows you to fully enjoy playing the P515 as a piano. Once on this mode, you can instantly call up the optimum piano performance settings regardless of the Voices you've made.
This can be done using the following effects:
Piano lid
Touch
Master Tune
Brightness
Additionally, the Piano Room also comes with 6 Reverb effects as classified below:
Concert Hall
Recital Hall
Chamber
Club
Cathedral
Plate
Recording and Playback
Another additional feature of the Yamaha P515 digital piano is the 16-Track MIDI recorder. This feature allows you to create and store up to 250 MIDI songs in the internal memory.
Furthermore, the P-515 is capable of recording audio data, meaning you can record your performance in audio WAV format (44.1 kHz, 16-bit, Stereo) and save your compositions to a USB flash drive.
Other features of this instrument include the built-in Metronome, Transpose, and Tuning Functions.
Benefits of Owning the Yamaha P515 Digital Piano
There is more than enough to enjoy when playing this instrument and many advanced players can attest to this. The following are some of the benefits to enjoy with the P515:
Professionally designed Natural Wood keys with synthetic Ebony and Ivory
Two of the world's finest sampled piano sounds, which are the Incredible sounding Yamaha CFX and Bösendorfer Concert Grand Pianos
Exceptional Binaural Samples
Over 500 Preset Tones to choose from when performing
A very powerful onboard sound generation system
You also get a comprehensive 16-Track Sequencer on the P515
A wide array of connectivity options to enhance playability
Compatible with the Smart Pianist App that allows you to unlock further tones and features to enjoy your performances
Why Should You Buy the Yamaha P515 Keyboard?
The elegant, yet compact and portable design makes the P-515 an attractive addition to your music-making space at home, and a reliable, eye-catching instrument to bring to the stage.
Therefore, there's absolutely every reason to own this instrument regardless of where you desire to use it. It's proven to be effective as an on stage instrument and can as well sit at home, or in the studio for composing music. So, if you are an advanced player seeking an instrument that can comprehensively and accurately replicate acoustic piano sounds and feel, the P515 matches your criteria.
Included Yamaha P515 Digital Piano Accessories
Music Rest
Sustain Pedal (Yamaha FC4A, no half-pedaling support)
AC Power Adapter
Owner's Manual
Pros
Natural NWX Keyboard action
Yamaha CFX and Bösendorfer Concert Grand Pianos
500+ Preset Tones
Powerful sound system
CFX Binaural Piano Samples
16-Track MIDI Recorder
Vast hookup options
Piano Room
VRM – Virtual Resonance Modeling
Cons
Bulky
Bluetooth isn't compatible with MIDI
Lacks a Mic In port
Final Thoughts
Overall, the Yamaha P515 digital piano is an exceptional flagship model. And according to us, there isn't any other instrument that has managed to adequately and accurately replicate the acoustic piano sounds better at its price range.
The only major drawback we noted about this piano is its heavy nature. Other than that, we think Yamaha made an impressive instrument.