Similar to the 73BK model, the Korg SV-1 88BK digital piano is an instrument of stature, housed in a sleek and curvy body. It's an elegant stage vintage piano with a design to captivate the user and the audience.
As a stage piano, the SV-1 comes with retro-style controls packed in a matte black finish. The looks of this piano enhance its desirability and playability as well.
This Korg SV-1 88BK review looks at this model to see how it stacks up as a full-size digital piano. Read on for a more in-depth discovery of this vintage digital piano from Korg.
Korg SV-1 88BK General Overview
The first thing you'll notice about this piano is its gorgeous and uniquely shaped design. The piano is housed in a sleek and curvaceous body just like its smaller brother, and offers an attractive on-stage appearance.
At a glance, the interface of this instrument seems a bit intimidating. But once you get a chance to digest the functions, the experience becomes more intuitive.
And before going any further, it's important to note that this isn't a beginners' keyboard. You can easily ascertain this from the piano's features, sounds, playability, and overall design, which we'll discuss more about in the review.
Another similar feature available here as well as in the SV-1 73BK digital piano is the RH3 keyboard action. When reviewing the 73BK model of the Korg SV-1, we were amazed at this keyboard action's authenticity. Moreover, the RH3 is in its third generation, meaning the keyboard action here is worth looking into.
Other features worth looking into include the 36 in-built voices, sound generation, tuning functions, and connectivity options, among many more. Let's now have an in-depth assessment of the Korg SV-1 88BK digital piano's capabilities.
Key Features of the Korg SV-1 88BK Digital Piano
Korg SV-1 Specs
88 Keys with Velocity Sensitive Korg RH3 Action
Touch Selection type – Eight Curves
Tuning Functions – Transpose, Tuning Curves, Fine Tuning
Enhance Definition Synthesis Sound Generation
Max. Polyphony – 80 notes
36 in-built Sounds
36 Demo Songs
8 Favorite switches on the control panel
Sound Effects – 4 Insert Effects and 2 Master Effects
More Controls – Local Off, Touch, Function, Demo, Master Volume Knob
Connectivity – MIDI IN/OUT, Headphones jack, Audio Inputs and Outputs, Damper pedal, USB Type B connector
Dimensions – (W x D x H), 53.3 × 13.66 × 6.1 inches, excluding music stand
Weight – 45.3 lbs (20.55 kg) also excluding the music stand
Accessories – Power cable, User Guide, Accessory Disk, music stand, damper pedal (Korg DS-2H)
Design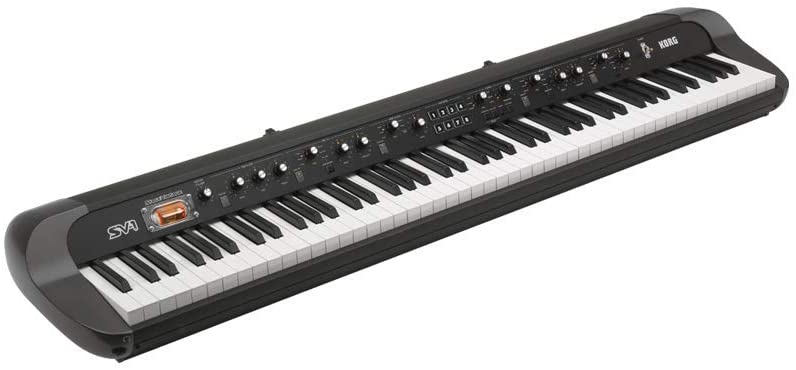 The Korg SV-1 88BK digital piano isn't a lightweight instrument, since it weighs about 45lbs. However, musicians who frequently perform in gigs can benefit from this piano's stage playability features.
The interface of this piano is both intuitive and straightforward, offering advanced functions in the most precise way. You can quickly access every important function on the piano's front panel. There are Rotary knobs that feature illuminated LED's always to show you where they are located. Therefore, you can play this instrument is a semi-dark room without any confusion.
Because it was built with performance in mind, the SV-1 88BK digital piano has eight buttons for calling up your Favorites sounds and settings immediately. You only have to adjust the controls to your preferred settings, then press and hold one of the Favorites buttons; when the button flashes, press it again and the settings are now stored. This enhances a faster and more accurate on-stage experience.
Keyboard
As mentioned earlier, the Korg SV-1 88BK digital piano comes with the brand's graded hammer (RH3) keyboard action. The keyboard also has a FUNCTION button that gives you access to eight different turning curves as classified below:
Equal
Grand piano stretch
Electric piano stretch
Electric grand
Upright stretch
Detuned
And two user-definable types (configurable using the editor/librarian software)
With such tuning abilities and the RH3 keyboard action, the SV-1 88BK confidently brings vintage on-stage performance to life. However, there are some complaints about the action being too spongy, especially on the rebound.
But after playing it, this instrument rightly compensates on this area with the above mentioned turning curves. Overall, this is an impressive and responsive enough keyboard for on-stage performance.
ALSO READ: Williams Rhapsody 2 Digital Piano Review
Korg SV-1 88BK Digital Piano Sound
The Korg SV-1 88BK digital piano has 36 built-in sounds classified as follows:
Acoustic pianos
Electric pianos
Organs
Synth
And strings
With each instrument, you'll first experience the essential classics as you progress to more sounds' capabilities.
For instance, the electric piano sound starts with a seven-way velocity switched "tine" version, and then moves to the classic "reed" model and a vintage analog "electra" instrument.
The present acoustic sounds are three-way versions of the renowned Japanese and German grand pianos. When it comes to the Organs, they include three variations of the classic tonewheel model and British and Italian most famous combo organs.
And if that's not enough, the Clavs on this digital piano come in four variations, making the SV-1 88BK piano a worthwhile versatile instrument when it comes to sound capabilities. Korg used their RX Experience technology to sample the piano cabinet resonances to enhance the SV-1's sound accuracy.
Connectivity Options
The SV-1 88BK digital piano comes with the following connectivity options:
Balanced XLR and ¼" outputs
Left and Right audio inputs
MIDI In and MIDI out jacks
USB MIDI Port
And 3 pedal connections, including Damper, Pedal 1, and Pedal 2.
The Damper pedal is included, and responds to half-pedaling for authentic piano response. You can use the Pedal 1 as a switch type pedal, and it can operate as a piano Sostenuto pedal, or as a Fast/Slow switch when the Rotary Speaker effect is on.
On the other hand, Pedal 2 can either be used as a sweep-type pedal, which makes it great for authentic Wah effects – or an additional switch pedal, providing advanced players with access to all three piano pedal functions by adding the Una Corda (soft) pedal function.
Extra Features of the Korg SV-1 88BK Digital Piano
Korg SV-1 88BK Digital Piano Reverb
You get four types of Reverberation effects on this piano, including Hall, Plate, Room, and Spring. The piano also comes with a classic tape-echo and a stereo delay, all complete with a tap tempo switch, taking this piano's sound enhancement to a different dimension.
Amp Model
The Amp Modeling, cabinet simulation, and noise reduction of this piano add drive, edge, and color to the sound when you play. Additionally, Korg also added their exclusive Valve circuitry. This circuitry adds snarl or warmth, effects only provided by a real tube.
Editor/Librarian Software
In this modern age, almost every electronic appliance is becoming digitized to enhance its usability. The case isn't different from this piano as it features editor/librarian software implemented by Korg to diversify the SV-1's playability.
The Korg SV-1 editor provides impressive graphic-based programming, which has additional parameters not found on the piano's front panel. With this feature, you can program and save all the 36 built-in sounds, including the 8 Favorites.
Retro-Styling
Like the SV-1 73BK, this 88BK model also comes with retro-style controls in a captivating metallic black and red finish. Such controls are essential for enhancing playability with the in-built sounds, creating a better outcome when performing on this vintage digital piano.
Other additional features of the Korg SV-1 88BK digital piano include:
The PRE FX
Modulation FX
Limiter
And the Equalizer
Benefits of Owning the Korg SV-1 88BK Digital Piano
Decent Key Action – This piano comes with Korg's finest keyboard action that's usually used on the brand's high end models. Moreover, it features full-size 88 keys, a sign of a truly authentic keyboard.
Intuitive and Simple Interface – With a straightforward control panel, you can easily access some of the needed functions on the SV-1 without breaking a sweat.
High-Quality Sounds – Built with performance in mind, this piano has authentic sounds with each one being natural and distinctive. You can also find vintage electric sounds backed with indispensable sound effects. Any performer would enjoy the level of diversity this piano offers in its sounds and effects.
Adequate Connectivity Options – Thanks to ample connection abilities, you can us the Korg SV-1 as an MIDI controller, hook it up with your PC or any other external audio device.
Reasons You Should Buy the Korg SV-1 88-Key Digital Piano
If you are in the market for a stage vintage digital piano, the SV-1 88BK can fulfill your needs.
Overall, It's straightforward, stage-ready and manages to deliver high-quality and desirable performance in a sturdy and elegant design. It stands out profoundly as one of the most versatile performance keyboards on the market.
Pros
Beautiful design
Authentic and expressive piano sounds
High-quality sound effects
Comprehensive connections
 Cons
Key action a bit spongy
Lacks Organs
Conclusion
Like the 73BK model, the Korg SV-1 88BK digital piano delivers according to its purposes. Moreover, it can even dare to compete with other prime keyboards on the market and still gain some points.
And like many other options, this also can't fit in everyone's preferences. But if it does rest with yours, rest assured that it will excel at its capabilities.