When searching for a digital piano, price always plays a significant factor in the choice you make. Luckily, this post will discuss the best digital piano under $150 to consider buying. If you are strapped on budget and looking for a budget-friendly digital piano to buy, this is the right post for you.
Often we are faced with the dilemma of choosing an ideal piano for our needs. However, you don't have to worry anymore because we've conducted in-depth research to bring some excellent digital pianos in the market you can buy for under 150 dollars.
Top 5 Best Digital Pianos Under $150 to Consider Buying Today
Here are the top 5 best options we recommend.
1.      Alesis Melody 61-Key Keyboard Piano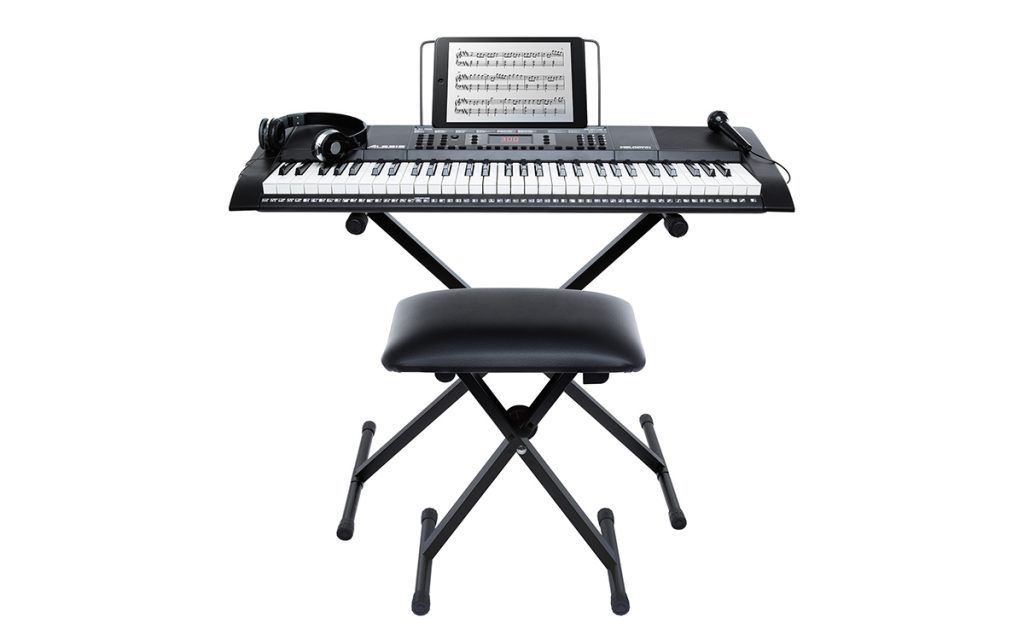 Pros
The piano is packed with excellent features ideal for beginner players.
It has 300 voices, which makes it suitable for practicing
Powerful educational features have been included to make it easier to use.
Easy to assemble and offers value for your money
While the piano has 300 voices, its sounds are not that convenient. The keyboard sounds like someone recorded it out of tune.
Unfortunately, the keyboard doesn't have MIDI or USB connectivity options.
Durability is a bit questionable.
Cons
The Alesis Melody 61-Key Keyboard Piano is the best digital piano under $150 to consider buying because of its ease of usability and features. It combines 61 piano-style keys, 300 built-in sounds with layering and split modes, and 300 built-in rhythms to sing along to.
It is a portable electric keyboard piano that is suitable for beginner pianists. If you want a piano for your practice sessions, look no further! The Alesis Melody 61-Key Keyboard Piano comes with powerful educational features. This includes Skoove's 3-month premium subscription for interactive online lessons. It also comes with 2 months of live video lessons from Takelessons. Simply put, this digital piano comes with everything you need. It features an easy-to-assemble stand, bench with 3 adjustable settings, music rest, and many others.
Therefore, the days of working with limited, boring sound banks are long gone! This piano allows you to layer multiple sounds together in "Dual Mode" or even split two sounds across the keyboard through the "Split Mode."
2.      Casio Casiotone 61-Key Portable Keyboard
Pros
There's a built-in carry handle that comes with the piano to make it easier for you to carry it anywhere.
Piano keys feature touch response, which makes it excellent to practice or play live sessions.
400 tones, 77 rhythms, and 60 songs to make it worthwhile
Added accessories such as the power supply and music rest to make it ideal to use for any player.
Cons
The USB port might encounter issues after using the piano for a while.
The keyboard is not durable enough.
The Casio Casiotone 61-key Portable Keyboard features an ultra-compact design that lets you make music wherever and whenever. If you want to travel with it and play anywhere, all you need are just 6 AAA batteries and the built-in carry handle. It has 400 sounding tones and 77 accompaniment rhythms with 61 full-size touch response keys. There's also a pitch bend wheel and 10 types of reverb that add expression to your playing.
This digital piano is not only easy but also fun to play. This is all thanks to its LCD display and intuitive controls like the "My Setup" button. This button quickly recalls your favorite settings and sounds. Another unique feature you'll find in the Casio Casiotone 61-key Portable Keyboard is the "Dance Music Mode." This mode enables you to easily create and remix EDM tracks. All you need to do is select a style and use the keys to trigger drum loops, synth parts, transitions, effects, and bassline, among many others.
You can also use the built-in speakers to share with friends or simply plug in your headphones for a quiet playing experience. The piano also allows you to freely connect it with the Chordana Play iOS and Android app and take or share your music further. Additionally, the piano comes with a power supply and music rest.
3.      Best Choice Products 61-Key Beginners Electronic Keyboard Piano
Pros
Includes 3 teachings modes to help novice beginners learn by mimicking with one key, follow, and ensemble modes.
Customizable sounds such as 50 demo and 255 timbre options to create different sounds and 255 rhythms to accompany your melody along with 32 percussion sounds.
A microphone is also available which allows you to plug in and play along to songs stored on a USB. It also lets you get creative.
The piano is easy to assemble, offers high-quality sound, and provides value for your money.
Cons
The sound quality is inaccurate and not that good.
The piano may encounter issues after using it for a while, especially the sound,
Unreliable in terms of durability.
Best Choice is a reputable store popular for selling high-quality products. Although the Best Choice Products 61-Key Beginners Electronic Keyboard Piano comes with a few drawbacks, it's still the best digital piano under $150 to consider buying in the market. That's mainly because it is ideal for beginners and can help you grow.
The piano comes with 3 teaching modes that can significantly help novice beginners learn by mimicking with one key, follow, and ensemble modes. With this piano, you can perform a recital with built-in speakers, headphones, a rhythm programmer, and a music player function. These features help you find the perfect sound and recreate classic music pieces.
ALSO READ: The Best Digital Piano Brands – Top 5 Best Brands to Keep an Eye On
4.      Hamzer 61-Key Electronic Keyboard
Pros
You get a flawless and authentic range of sound.
There is an integrated learning system that is specifically designed for beginners to intermediate players.
Deluxe effects and features suitable for mastering finger control.
Easy to set up with stand and stool.
Cons
The piano is extremely cheaply made
Speakers have a lot of feedback noise and popping sounds
The Hamzer 61-Key Electronic Keyboard is an ideal digital piano under $150 designed for both beginners and intermediate players. It features a flawless and authentic range of sounds, thanks to the built-in speakers. It comes with 255 timbres, 255 rhythms, 61 keyboard percussions, and 24 demonstration songs.
What's more, the piano has stereo outputs and a headphone jack that you can use to listen through external speakers or with the headphones. The integrated learning system found in this digital piano provides a traditional piano or organ feel for versatile learning. It also adds an exciting acoustic experience.
The deluxe effects and features are well suited for mastering finger control and allows for the playing of single-fingered and fingered auto-bass chords. They also can select chord timbre, program/edit rhythm, and utilize a wide range of effects. These effects include rhythm sync and fill-in, accompanying volume, master volume control, and tempo adjustment. You can also record and playback with a microphone and headphones.
5.      Costzon BX-II 61-Key Portable Digital Piano
Pros
Multiple connections and functions make the piano easier to use.
Sustain pedal and external speakers have been included to meet your different requirements of notes.
The piano features a space-saving design and a portable carrying case. This makes it ideal to use in your home without sacrificing space.
Cons
The keyboard has zero touch sensitivity when you use it as a keyboard controller for a DAW.
You might also encounter issues with the sustain and a rattle inside.
Not ideal for the demanding and professional player.
The Costzon BX-II 61-Key Portable Digital Piano is the final recommendation of this list of the best digital piano under $150. It features real keys that enable you to experience a great playing feeling. The piano keys are easy to press and feel a bit softer. The speaker power of the piano is also great and offers high-quality sound production. The multiple connections and functions enable you to connect the piano with computers and intelligent devices to have a better playing experience.
The sustain and vibration function meets different needs of notes since it allows you to control notes quite easily. Additionally, the piano includes two external speakers which create a stereo sound with higher volume. Thanks to its space-saving design and carrying case, you can store or carry the piano anywhere.
The Costzon BX-II 61-Key Portable Digital Piano is designed with safe material and offers longer playing time. The material used is a premium alloy which ensures a reliable structure for long-term service time. This digital piano combines excellent portability and space-saving design, which are perfect for beginners and all kinds of players.
FAQs
Do You Need Weighted Keys to Learn Piano?
Pianos come in different styles, and many of these options influence the price tag that you are going to pay. You can find digital pianos with or without weighted keys, depending on which type you prefer. Some students may tell you they need a piano with heavy keys so they can play more complex pieces at faster speeds.
However, if your main priority is learning how to read sheet music notes correctly before advancing into fast-paced songs then there shouldn't be any difference between playing one kind of acoustic piano over another for this purpose. It's only when someone has mastered reading treble clef notes that he/she will notice it easier to start playing melodies using heavier weighted keys. This is because the touch weighting becomes much closer together as opposed to a lighter touch.
In the earlier learning stages, it's best to play an instrument with light keys. This allows you to focus more energy on getting your hands and fingers used to how different combinations of playing notes feel when hitting each key with accuracy.
Learning this way will make transitioning between keyboards easier. That's because there won't be any surprises in terms of what kind of weights you need for certain styles or songs you want to learn later down the road.
Do Digital Pianos Feel Like Real Pianos?
While digital pianos usually have weighted keys, they do feel slightly heavier than real pianos. However, the difference isn't obvious. Unfortunately, digital pianos don't feel like real pianos because there is no sound or touch of an actual hammer hitting strings.
Digital pianos are similar to keyboards but with extra features that make them unique.
Commonly found on these instruments are drum patterns and metronomes which can help improve your rhythm by practicing different beats at different speeds.
Not only are they great for beginners who want to learn how to play music but also advanced players looking for new challenges every day!
What is the Difference Between an Electric and a Digital Piano?
An electric piano is an actual, physical model of a standard acoustic piano. The keys are weighted and feel just like the traditional instrument. It uses pickups to amplify sound that has already been converted into electrical impulses by the keyboard itself.
A digital piano does not produce real sound; it creates synthesized sounds with various samples taken from other instruments or even voices to mimic what an acoustic pianist would hear in their normal playing environment. This also applies to the best digital piano under $150.
Digital pianos can be further broken down into two categories:
Stage models – They do not have built-in speakers (meaning you'll need to hook them up to external amplification)
Home models – These include small but powerful internal speakers for self-contained operation.
Can Digital Pianos Play Themselves?
Digital pianos can mimic the sound of an acoustic piano, but they cannot play themselves. Because digital pianos are not self-playing instruments like some other keyboards that have prerecorded songs or melodies programmed into them, it takes human input to create music on a digital piano.
Conclusion
As you've seen from this post, you can find the best digital piano under $150 in the market, provided you conduct in-depth research. The advantage of researching the kind of product you want is that it will help you avoid buying a low-quality piano.
Our post has recommended top-notch options to consider. We are also certain that these pianos can serve you better regardless of their price point.
If you have any questions, feel free to reach out to us through email and we'll be happy to help.