The Williams Symphony Grand digital piano is an affordable, elegant, and unique instrument. The piano features 88 keys with a graded hammer action to deliver an authentic response and feel when playing.
Actually, this is the brand's higher-end digital piano, call it flagship if you may. Because of that, Williams put an extra thought when designing this piano's body and features. Like the name, it resembles a traditional Grand piano and even better, sounds like it as well. This review takes an in-depth look at the instrument's capabilities.
Williams Symphony Grand Digital Piano Overview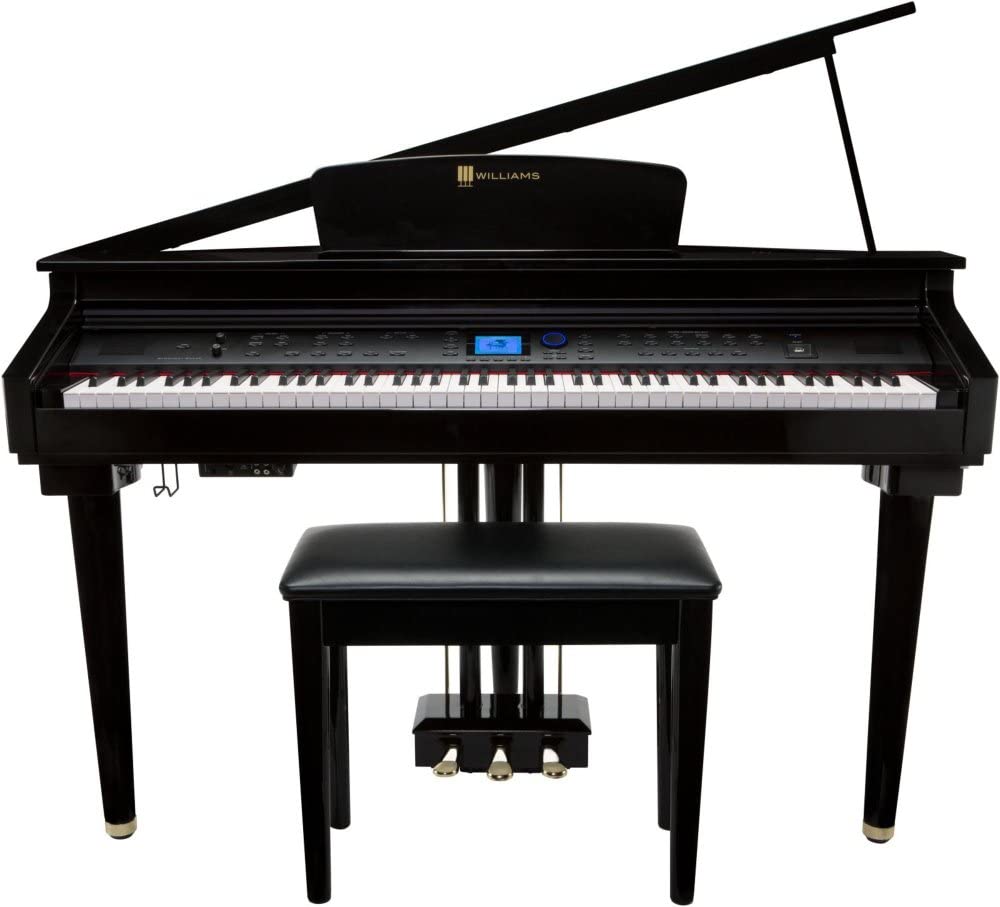 Right off, this digital piano features a newly-designed keybed that offers standard and authentic response. The in-built sounds are hosted by Williams Custom Sound Library that produces unique and expressive tones.
Also, the sounds found here come from a vast collection of high-resolution instruments. You can rest assured of the quality of these sounds because they are samples from a renowned Italian Grand piano and a Vintage electric piano as well.
As a result, you get simple playability accompanied by natural-sounding tones. Aside from sounds, this piano also has a wide array of connectivity options to work with. From Bluetooth connectivity, USB, and MIDI ports. You can alsdo integrate this digital piano with multiple musical devices, and enhance your playability.
That said; let's get right into this Williams Symphony Grand digital piano review.
Features of the Williams Symphony Grand Digital Piano
Specifications
Micro-grand piano style
Elegant Ebony or Red Mahogany gloss finish
Intuitive control panel with blue LCD display
88 graded, hammer-action weighted keys
174 sounds including 46 from the Williams Custom Sound Library, featuring high-definition grand & electric pianos, organs and more on 192Mbyte sample ROM
Extensive 128 General MIDI sounds
Mod/FX control
Bluetooth connectivity
Bluetooth® bi-directional MIDI connectivity
120 Style Arranger songs for real-time performance
Pedal unit – Sustain, Soft and Sostenuto pedals
6-speaker stereo sound system
128-voice polyphony
Connectivity – USB host port, Standard USB/MIDI computer connectivity, Audio input, Stereo outputs with ¼" and RCA jacks, and Two headphone outputs
Accessories – matching piano bench, and Music rest
Williams Symphony Grand Digital Piano Design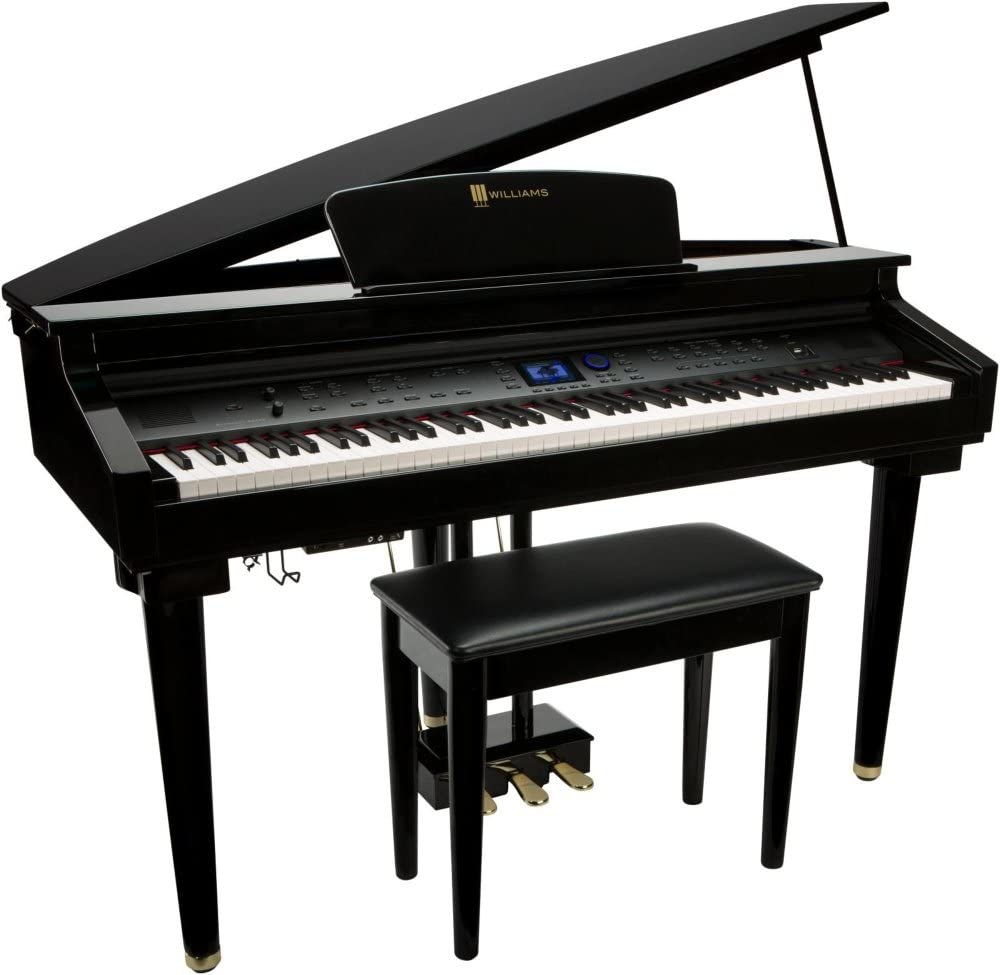 The design of this digital piano will add complement to any home. It features an elegantly built and captivating design, finished with a touch of traditional shape. On top, this digital piano has an enclosable lead that resembles the one in acoustic grand pianos. Moreover, it comes in a luxurious Ebony or Mahogany gloss finish, an indication of a pure Grand.
It also has expressive controls for rotary and vibrato effects on select instruments, and this piano features an intuitive control panel with a blue LCD display. The Williams Symphony Grand digital piano dimensions measure 54" in Width, 34.5" in Depth, and 36" in Height. And because it was designed with a Grand in mind, this piano weighs a significant 162.8lbs.
But because it's a micro-grand style piano, this instrument doesn't require a substantial amount of space for hosting it.
Keyboard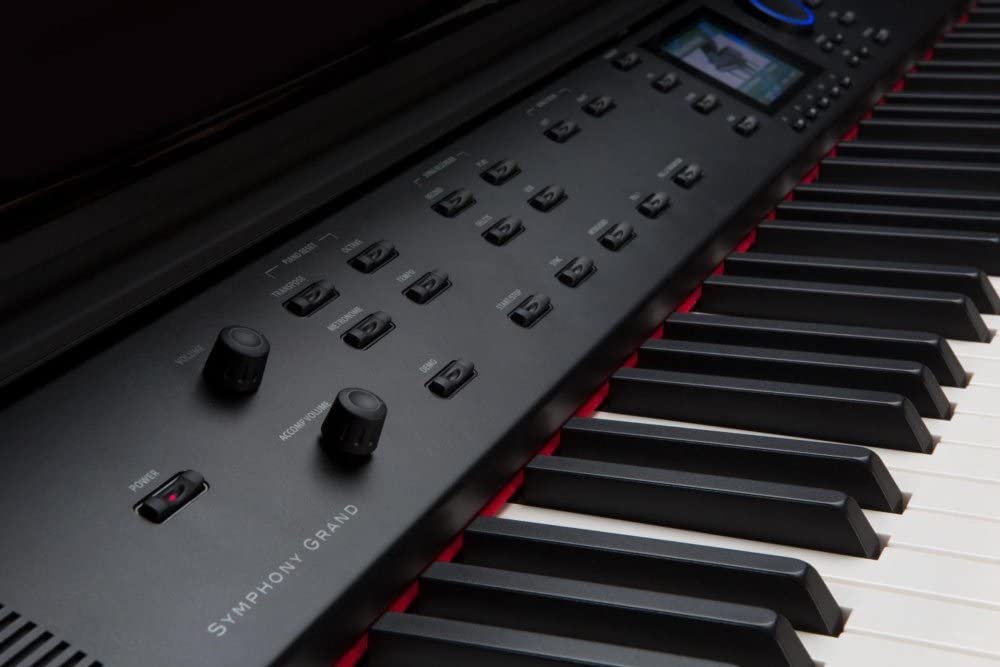 The keyboard features 88 keys with graded hammer action for accurate response and natural feel. Playing on the Symphony Grand felt pretty natural and the graded action could be felt throughout the register. And because it comes with a matching bench, the experience is more like playing on a real Grand piano.
And because this is a newly designed key-bed, the Williams Symphony Grand digital piano features an expressive control of rotary and vibrato effects on select instruments. Therefore, you can easily reach your presets and favorite functions.
Overall, Williams did an impressive job with this model's keyboard, taking it close as possible to a pure Grand's feel and response.
ALSO READ: Korg LP-180 Digital Piano Review
Williams Symphony Grand Digital Piano Sound
When it comes to sound capabilities, this instrument also manages to live up to its name. The sounds here are sampled from a famed Italian Grand piano, vintage electric pianos, and organs, among other instruments. In total you'll find 147 built-in voices, which are 192 ROM samples and also including 128 General MIDI sounds.
And from Williams' high-definition Custom Sound Library, you get an additional 46 voices. Moreover, these sounds are easily and adequately playable with credits going to this piano's 128 polyphony voices.
In our opinion, this number is perfect considering the heftiness of this piano's sound library. And if that isn't enough, you can enhance how you play the sounds with the Sustain, Soft, and Sostenuto pedals.
As for sound generation, the Williams Symphony Grand digital piano comes with 6 built-in stereo speakers capable of being heard across a large hall.
Connectivity
Bluetooth – This can be used for connecting the Symphony Grand to a computer and portable audio devices (mobile phones and computer tablets).
Bluetooth® bi-directional MIDI – You can use this connectivity option for computers and tablets, which saves you money from buying cables and adapters.
USB host port – This hook up is found on the front panel and it's applicable for direct MIDI playback.
Standard USB/MIDI – Like the Bluetooth, you can also use this for computer connectivity.
Audio input – Good for MP3 players.
Other connectivity options of the Symphony Grand digital piano include a Stereo outputs with ¼" and RCA jacks, and two Headphone outputs.
Extra Features of the Williams Symphony Grand 88-Key Digital Piano
Mod/FX
This feature offers natural rotary effects on the organs and vibrato in the electric piano sounds. It enhances their expressiveness to deliver more immersive and rich sounds.
Song Tutor
The piano also comes with Williams' proprietary digital piano instructor. The Song Tutor offers 50 different play-along songs that any novice player would enjoy playing.
4 Track Recorder
This one was a plus for us, and should also convince you in a way. Not many digital pianos, especially within this price range offer a decent track recorder and some even don't have the feature in the first place. We found it very effective and it can help you achieve that level of playability by playing, saving, and monitoring your compositions.
Other additional features include the Transpose, Split/Layer, and a built-in Metronome.
Benefits of Owning the Williams Symphony Grand Digital Piano
Comprehensive Features
From its build, keyboard capabilities, and sound library, this instrument hosts a vast number of features. You can easily tell that Williams had planned to go all out when launching this Grand digital piano. And each feature is necessarily designed to enhance playability in the most authentic way possible.
Elegant Design
While it's a micro-grand digital piano, this instrument bears a look dangerously close to the real thing. You'd have to get close to the Symphony Grand to really understand that it's only a digital piano. It comes in two designs, including an Ebony and Mahogany gloss finish, which all look ravishing in their way.
Connectivity Galore
Where do we even start when it comes to the Symphony Grand's integration options? It comes with Bluetooth, USB, and Headphone hookups just to name a few. If you are looking for an all-round piano capable of multiple hookup options, this might be your jackpot.
Powerful Sound Generation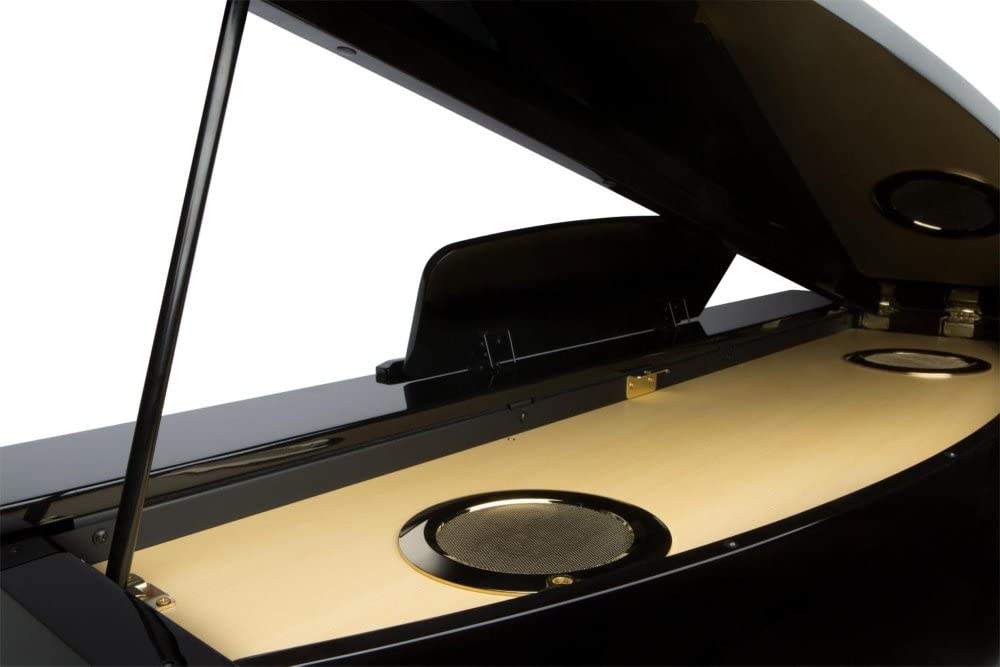 The piano has a powerful stereo speaker system. The system features 6 speakers with 4 of them offering high frequency, while the other 2 give out low frequencies. They are all rated 40 watts giving the ability to generate sounds almost like the real thing.
Why Should You Buy the Williams Symphony Grand Digital Piano?
Frankly speaking, there isn't a reason to overlook owning this instrument. But remember, this decision solely relies on your preferences and budget as well. Besides that, you ought to know that every piano has a target audience and specific features it's promoting.
With this piano, you can rest assured that you are getting an instrument capable of matching its worth.
Included Accessories
Matching piano bench
Music rest
Pros
Great keyboard action
Elegant design
Prime sound library
Comprehensive features
Vast connectivity options
Powerful sound generation system
Cons
Expensive
Heavy and assembling takes time
Difficult to Transpose, especially if you are a novice
Conclusion
So, there you have it! Review of the Williams Symphony Grand digital piano. We have put in the work to give you non-biased and truthful information concerning this instrument. Now comes your part, making your decision.
You only have to ascertain your preferences, and you'll realize that this digital piano is indeed worth its price tag.