Yamaha has been a leading manufacturer of musical instruments for many years. Their digital pianos are known to have some of the best sound quality available. The Yamaha YDP-S34 digital piano is no exception, as it offers a great number of features as well. In this article, we will take an in depth look at this Yamaha piano model and see if it still deserves your attention or not!
Features of the Yamaha YDP-S34 Digital Piano
When it comes to features, the Yamaha YDP-S34 brings out the best to offer players a unique experience. Let's explore some of the features that this keyboard has to offer.
Specifications
Dimensions: 53 ¼" W x 31-3/16" H x 11-5/8" D
Weight: 83 pounds
GHS keyboard with matte black keytops
Touch sensitivity: hard/medium/soft/fixed
3 pedals
Yamaha CFX tone generation
Reverb: 4 types
Intelligent Acoustic Control (IAC)
10 voice demo songs and 50 piano preset songs
Yamaha YDP-S34 Digital Piano Design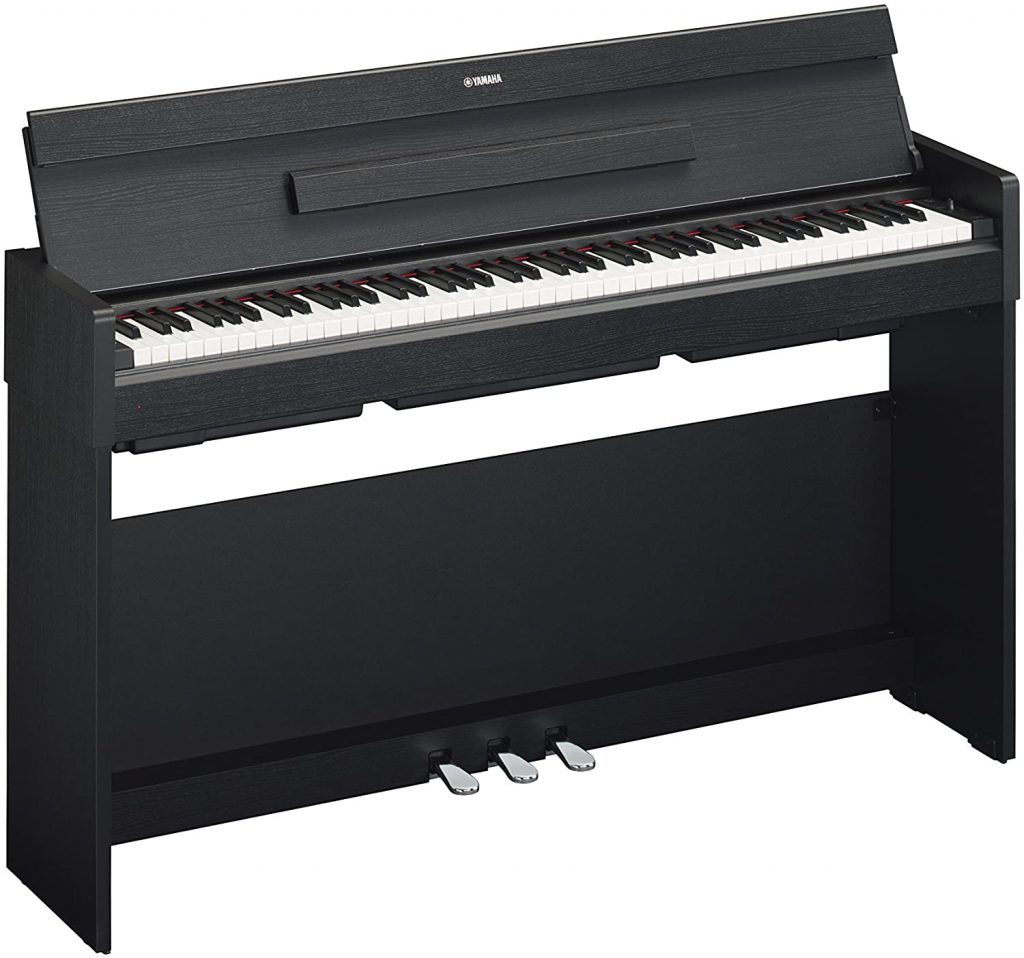 In modern spaces, we have small rooms. But that doesn't mean we can't be creative! The Arius YDP-S34 digital piano features a stylish and compact design that will help you express your creativity in your home (all while giving it amazing sound quality!). While the YDP-S34 boasts a modern, stylish look, it offers a traditional acoustic piano playing experience. Yamaha's design team paid close attention to the detail of Yamaha YDP-S34 digital piano.
The Yamaha designers put lots of care into making sure this instrument is easy for anyone to play. Yamaha offers an innovative key cover system with the goal of providing traditional acoustic piano playing experience without taking up too much space (all at an incredible value!).
There are many Yamaha piano models available but only one really provides everything you need in a home digital piano: the Yamaha YDP-S34 Digital Piano. It combines both a minimalistic and contemporary design.
ALSO READ: Yamaha P121 Digital Piano Review
Sound Quality
The YDP-S34 is like a grand piano. It has 88 Graded Hammer Standard keys that are like the ones on grand pianos. You can have an authentic experience with this piano, just like you would with a real one. It includes the Yamaha 9' CFX concert grand piano, which is loud and can be heard throughout any large room. The sound is excellent since lacks scratches or noise in it.
Different sounds are made when you take your fingers off the key. The sound is different if you play staccato and legato. When you strike a string, it makes the other strings vibrate. This is similar to what happens on a grand piano and it normally happens when you turn on String Resonance in the Yamaha YDP-S34 digital piano.
Keyboard
The keyboard of the YDP-S34 has more of a heavy touch in the low end and lighter touch in the high end. This is due to the Graded Hammer Standard (GHS) action. New speakers can deliver a powerful sound from low to high notes, which is closer to an acoustic piano. The YDP-S34 can also make the grand piano sound more realistic since it uses Yamaha's acclaimed sound technology.
Connectivity
Some of the connectivity options offered by the Yamaha YDP-S34 include Bluetooth, MIDI IN/OUT, headphones, and AC power adapter. You can also connect the piano to your phone, tablet, or PC. Yamaha also offers Yamaha Connect and Yamaha Education Suite.
When you use headphones, you can hear the sound clearly. This is good for listening to music from a CD player. You might not feel comfortable wearing headphones all the time, but they are great when you need to hear something close up. When the sound is coming from an acoustic piano it sounds like it is coming from inside the piano instead of outside like on loudspeakers. This makes it more comfortable and natural to wear headphones with this technology than without.
Benefits of the Yamaha YDP-S34 Digital Piano
In life, it can be hard to find time for the things you love. But you don't need to worry. There is a way for you to bring music into your life and have lots of fun. With the Arius YDP-S34 digital piano, you get a high-quality instrument that also looks great in your space!
Also, the 88 Graded Hammer Standard keys replicate the touch of a grand piano, giving you an authentic acoustic piano experience.
Should You Buy the Yamaha YDP-S34 Digital Piano?
Yes, buying this piano is still worth it even today. This is because the Yamaha YDP-S34 digital piano has some amazing features for the price. It has an excellent full size keyboard, and the frame is made of plywood and covered in Yamaha's traditional black finish. This makes it durable, sturdy, and heavy duty as well as aesthetically pleasing to the eye.
Who Is the Piano For?
This Yamaha digital piano is designed for Yamaha pianos players, Yamaha piano enthusiasts, and general piano players – both beginners and advanced pianists. It offers a lot of features that will be beneficial to every player out there.
Pros
The piano helps you express creativity through a stylish and compact design.
It comes with the flagship's CFX concert grand piano and GHS keyboard action
The string resonance recreates the sympathetic sounds
It also features an Acoustic Optimizer that physically adjusts the acoustic flow by using a special design and position within the instrument to control resonance and enrich the overall sound.
Cons
Unfortunately, some buyers have reported the piano refusing to work after using for a year.
Lack of smooth release and virtual resonance modeling.
The keyboard lacks effects such as chorus, brilliance, and master effect.
It doesn't have metronome, tempo range, transpose, and tuning.
Conclusion
In conclusion, I believe the Yamaha YDP-S34 digital piano is still worth it. Yamaha has made a few changes to the YDP-S34, although they didn't impact its quality. Therefore, this digital piano is still an excellent choice for those looking to purchase a high-quality keyboard at a lower cost and who want features such as built-in speakers, Bluetooth connectivity, USB ports, and pedal support.
This concludes our blog post about the Yamaha YDP-S34 digital piano! Thank you so much for reading – we hope we were able to answer some questions or provide helpful information! Please do let us know if there's anything else you're wondering about by reaching out to us through email.