The Korg G1 Air digital piano is an affordable, quality keyboard for pianists and musicians. The instrument has a sleek design that will look great in any home or studio. It features 88 keys with the full range of sound from low to high octaves.
The 12 different voices are perfect for playing classical music or jazz standards. For those looking to do more than just play traditional songs, the G1 Air offers 16 built-in rhythms and styles as well as over 200 sounds and 100 demo songs!
In this review, we'll have an in-depth look at this piano to help you appropriately understand what it offers both beginners and advanced pianists.
Features of the Korg G1 Air Digital Piano
The good thing about the Korg G1 Air digital piano is that it packs a wide range of features to make your playing experience unique and efficient. Let's have a look at some of the features that this modern digital piano incorporates.
Specifications
Keyboard:
88-key Real Weighted Hammer Action 3 (RH3) keyboard
5 touch sensitivity options
Pitch: Transpose, Master Tuning
Temperament: 9 types
Sound Generation:
Stereo PCM
120 maximum polyphony
29 sounds plus 3 bass sounds
Effects:
Brilliance
Reverb
Chorus
Demo songs: 10 sound demos, 40 piano songs
Pedals:
Damper
Soft
Sostenuto
Half-pedaling supported
Accessories:
AC adaptor
Dedicated stand
PC 300-BK/WH, PC 110-BK/WH adjustable height benches
Total weight: 92.59 pounds (42 kg)
Korg G1 Air Digital Piano Design
The Korg G1 Air measures approximately 52.99"W x 15.12"D x 32.36"H. It features an impeccable design. The tasteful texture of the piano naturally blends with other furniture, and lights up your entire room to offer an appealing look. Since the G1 Air is Korg's flagship digital piano, it's also currently available in a new "White Ash" color with a welcoming woodgrain finish.
The new design philosophy elevates this digital piano above the bland, rectangular appearance of most digital pianos on the market. The back panel added in the latest model enhances its quality and entire rigidity of the piano. The contemporary design of the Korg G1 Air digital piano includes distinctive softly curved legs, which essentially accentuate the overall design of the instrument. The piano is available in black, white, and brown colors to match any décor you have in your home or studio.
Keyboard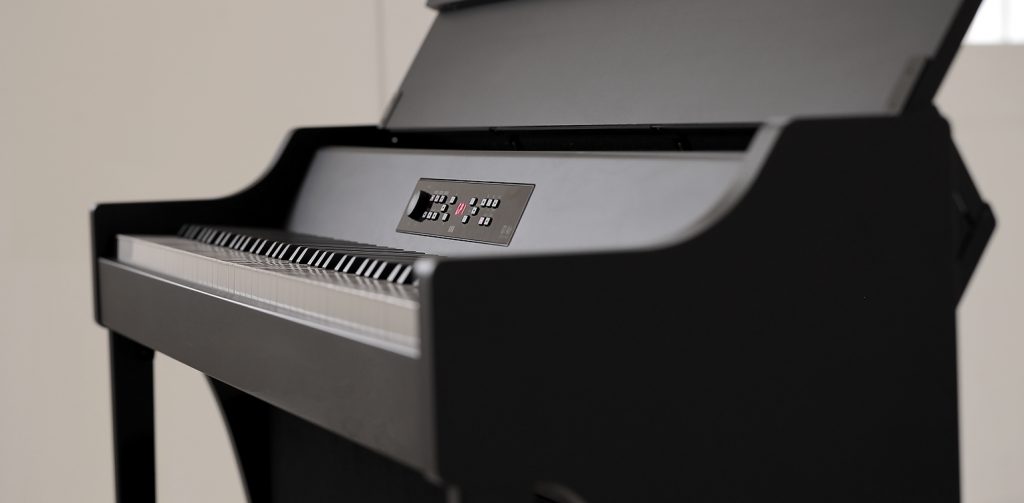 The Korg G1 Air features a Real Weighted Hammer Action 3 (RH3) keyboard that accurately simulates the playing experience of a real grand. This RH3 keyboard has a heavier playing feel in the lower register, which becomes lighter as you move up. The keyboard is extremely responsive even when you repeat notes quickly. The performer's expressive dynamics are faithfully interpreted even when handling complex passages.
The keyboard also provides key touch control and gives you 5 sensitivity levels which include; light, normal, heavy, stable, and fixed. These five sensitivity levels help to specify the reflection of your playing dynamics through the production of sound. The keyboard also includes a variety of layout options. When you press one button, you can apply a bass sound to the lower register of the keyboard. Therefore, this enables the teacher and student to play duets or copy and practice during training lessons.
ALSO READ: Korg C1 Air Digital Piano Review
Sound Quality
The Korg G1 Air digital piano also comes with a custom-designed speaker system that recreates an incredibly realistic sound of acoustic pianos and other instrument voices. The piano features two large-diameter speakers right below its keyboard, which helps to convey a full dynamic range of sound to the player. There are also a pair of speakers right above the keyboard, whose main objective is to present high frequency tones.
Resonances from the cabinet combined with this speaker system help to offer a rich piano tone, which reflects off the key cover and delivers indirect acoustics similar to the ones you'll find in a traditional instrument. The G1 Air also has an amplifier section that provides 20W of output power for the four speakers, which delivers up to 80W of high-quality sound.
Therefore, with the Korg G1 Air digital piano, you'll not only experience rich bass and brilliant highs, but also nuanced, expressive power of a grand piano. Additionally, you'll enjoy 32 high-quality instruments sounds and studio effects.
Connectivity
One connectivity option offered by the Korg G1 Air digital piano is Bluetooth. The Bluetooth audio support feature allows you to connect a Bluetooth device like your smartphone to the G1 Air and enjoy playing along with your favorite music. Also, you have the option of using this digital piano as a powerful Bluetooth speaker system when you're not playing it.
Other connectivity options included in this piano are LINE OUT, MIDI (IN, OUT), USB, Headphones x 2, pedal, speakers, and DC 24 V. You can use headphones to play privately or listen to music from the piano without disturbing others.
Extra Features of the Korg G1 Air Digital Piano
The Korg G1 Air also incorporates 3 world-famous concert pianos, with each having a unique character. This offers you the experience of 3 different grand pianos in your own home. Therefore, you can select the one you prefer for the type of music you want to play.
These three world-famous concert pianos include:
The German Piano – This is characterized by exceptional highs and rounded bass, thereby offering richness and power.
The Austrian Piano – This is an instrument with rich heritage and offers a warm, but brilliantly colorful sound.
The Japanese Piano – This concert piano is characterized by dynamic sound and is mostly utilized by many music genres such as classical, jazz, and pop.
Who Is the Piano For?
The Korg G1 Air digital piano is for pianists who want a quality instrument without the hefty price tag. The piano offers 88 keys, 12 different voices and over 200 sounds for those looking to learn new songs or try their hand at improvisation.
The G-Series Digital Pianos are great instruments for most pianists of all levels! They have everything you need in one affordable package.
Pros
The RH3 keyboard accurately helps you simulate acoustic piano touch and response.
It features a contemporary design with a cabinet available in three color options.
Convenient connectivity options, thanks to the Bluetooth, LINE OUT, USB, and headphone jacks.
Multiple layer samples which offer ultimate realism.
The G1 Air also comes with 3 world-famous concert grand pianos to offer you the best playing experience.
Cons
The piano is heavy as it weighs approximately 92.59 pounds.
Conclusion
Overall, the Korg G1 Air digital piano is an excellent choice. The keyboard is affordable and easy to use, while also offering a range of features for both musicians and pianists alike!
It's also a good option if you are looking to play traditional songs or more complex pieces that require 12 different voices with 16 built in rhythms and styles.