The Williams Overture 2 digital piano is an addition to the brand's high-end piano models. It comes in a console cabinet and has gained popularity based on its looks and playability. If you are looking for an elegant console digital piano, then this Williams Overture 2 review should see you through.
As you may know, Williams has a niche target with every instrument release. And most of the target audience is usually beginners or intermediate piano players on a budget.
However, being an improvement from the first model, the Williams Overture, the Williams Overture 2 88-key console digital piano brings something different to the table.
Williams Overture 2 88-Key Digital Piano Overview
The Williams Overture 2 completely revolutionizes digital piano elegance. It comes with a classic, Red Mahogany gloss or luxurious Ebony finish. Moreover, you'll get a broad sound palette and authentic feel.
The sound library of this piano features 15 easily accessible high-quality sounds, among other in-built instruments. Additionally, you get unique and immersive tones sampled from the brand's Grand pianos and a collection of organs and many vintage electric pianos.
The Williams Overture 2 electric piano also comes with comprehensive connectivity options and a 2-track recorder, among other significant playability features. If you are looking to make your décor fancier while playing a high-end digital piano, the Williams Overture 2 might fulfill that desire.
Features of the Williams Overture 2 Digital Piano
Specifications
Ebony or Red Mahogany gloss finish
88 Full-Size Keys
Hammer Action Keyboard
Aftertouch/Velocity Sensitive Keys
Piano Style Keys
147 Built-in Voices
55 Preset Songs
Polyphony count – 64 notes
Layer and Split  Modes
Sound Effects – Reverb, Chorus, Arpeggio, among others
Connectivity options – Aux In, Line Output, USB, MIDI over USB, 2 x Headphone jacks, 3 x Pedal Inputs, and a USB flash port.
Built-in speakers
Backlight LCD
Dimensions – (W x D x H), 54" x 34" x 20"
Weight – 132 lbs
Williams Overture 2 Digital Piano Design
The Williams Overture 2 88-key console digital piano is an elegantly looking instrument. It comes in both a Red Mahogany gloss finish and a beautiful ebony finish as well. This is the digital piano to have if you want to improve the aesthetics of your décor.
However, looking the part isn't necessarily all there is to this instrument. You can feel the keyboard's authenticity once you sit and start playing on the Williams Overture 2.
The Overture 2 comes with a sliding cover that glides in and out to cover the keys. The piano looks traverse to its sounds sampled from Williams' grand piano tones and organs.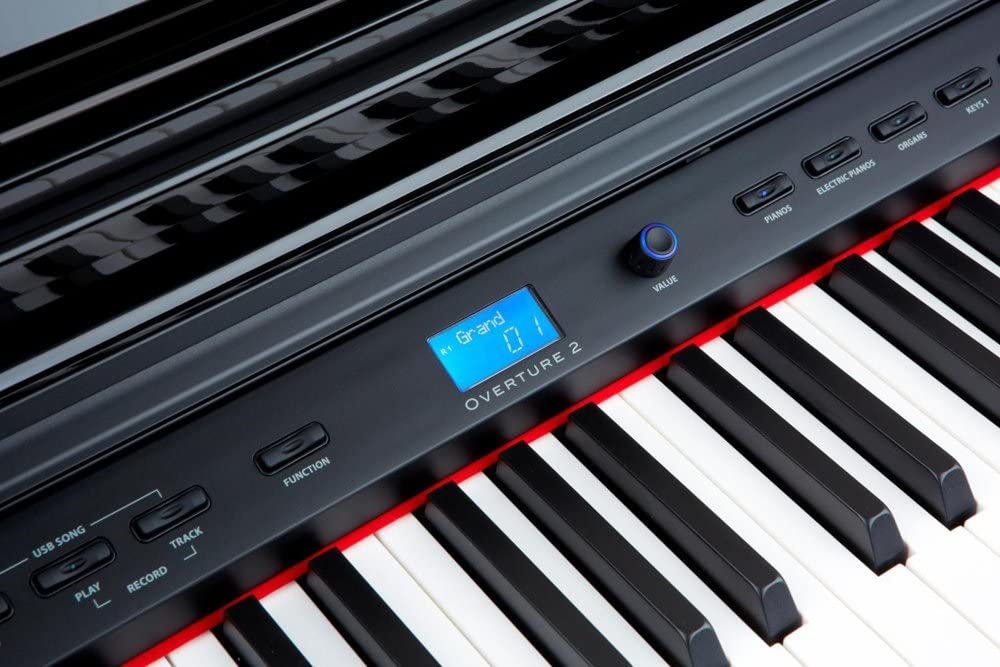 You can easily access these sounds thanks to the backlight LCD present on the Williams Overture 2's interface. Beginners will have an easy time with the user-friendly and intuitive interface with one-touch buttons for accessing quick functions and settings.
Because it comes in a cabinet, this isn't the go-to instrument if you are looking for a portable digital piano. It weighs around 132 lbs, which is far from the standard weight of a portable keyboard. However, if you are looking for a full-size console digital piano that can fit in small spaces, here is your piece.
Keyboard
When considering many things, the Williams Overture 2 keyboard capabilities aren't quite premium, but you still get a good deal here. This is mostly because the brand built this model with beginners and intermediate players in mind. The Overture 2 comes with 88 full-size piano-style keys.
For advanced players, this is the ultimate keyboard layout they expect any high-end model to have. Therefore, the Williams Overture 2 offers a significant bargain for a sub $1000 digital piano. The keys on this piano only have the Hammer Action, which doesn't provide the same authenticity compared to the Graded Hammer Action.
But surprisingly, the Hammer Action feels quite pleasant and has a responsive enough feel. However, deciding your purchase based on the keyboard action solely depends on your preferences. On the other hand, Williams did justice to this piano's keyboard and added the Split/Layer Modes. Therefore, you can play duets, learn together, and layer sounds on the Williams Overture 2 digital piano.
We gave the keyboard so much credit because it faithfully delivers on its purpose, no additives, or takeaways at all.
ALSO READ: Williams Legato Plus Digital Piano Review
Sound Quality
Most digital pianos meant for beginners and intermediate level players usually come with a less appealing sound engine and library. But the Williams Overture 2 88-key console digital piano exceeds such stereotypes and doesn't sacrifice playability for the budget. With nearly 150 built-in sounds, including the acoustic piano sound, this instrument boasts an in-depth sound library.
And although the sounds vary in authenticity, you can still achieve natural compositions with this instrument. Among the sound library, you get 15 high-definition custom sounds and 64Mbyte sample ROM for higher-sampled sounds.
The following is what to expect from the Williams Overture 2 sound library:
Grand Piano
Electric Pianos
5 Organs
Pipe Organ
Clavinet
Harpsichord
Upright Bass
Electric Bass
Strings
The piano can also facilitate deep, layered orchestrations made possible by the 64-voice polyphony count. It might not be the best for performing intricate pieces, but the polyphony count here is more than enough for beginners.
As for sound projection, the Williams Overture 2 has 4 built-in stereo speakers that deliver rich and immersive sounds.
Williams Overture 2 digital piano Connectivity
This piano simplifies integrating a digital piano with other musical devices, thanks to its wide array of connectivity options. You can listen or practice your samples privately with the two Headphone jacks available. They can also play a significant part when learning with an instructor or during duet sessions.
You can also connect the piano with your PC by using the USB port. This port can also act as a MIDI port, though the piano also comes with a USB Host port that you can still use to play MIDI files from your flash drive.
Additionally, this piano also features 3 pedal inputs, Aux-In, and Line Output for connecting the piano with an external system. So, if you search for an instrument that takes integration to a whole new level to enhance playability, look no further.
Extra Features of the Williams Overture 2 Digital Piano
2 Track Recording Function
This function gives you the ability to be creative with sequencing and recording. You can use the 2-track recorder to record and translate your compositions to general MIDI. Afterward, you can transfer your creations to a DAW for further refining and production.
Modulation/FX
The Modulation/FX control provides authentic vibrato and rotary on selected instruments.
Song Tutor
Another additional feature of this piano is the Song Tutor that comes with 50 play-along songs. This feature mostly targets the beginners, giving them the confidence to leverage their learning process fully.
Benefits of Owning the Williams Overture 2 Digital Piano
Elegant Addition to Your Décor
While this might not be the primary reason for owning this instrument, we just felt the need to point it out as a benefit. The Overture 2's Ebony or Red Mahogany finish in a console cabinet adds beauty to any space. It looks more like a traditional piano but with a modern touch to it, and this work of art is irresistible to many.
Decent Keyboard Action
Considering that it was targeted for the beginners, the Overture 2's Hammer Action keyboard is decent enough for this level of players. It isn't too complicated and offers the needed feel for players just joining the piano world.
Comprehensive Sound Library
As you've seen, this piano comes with 147 built-in sounds. The sounds vary from acoustic piano sounds, organs, electric pianos, and strings, among other sounds. These sounds are different in many aspects, but they do fulfill their intent to playability.
Vast Connectivity Options
With the Williams Overture 2 88-key console digital piano, you get wide hook up options. This enables you to enhance the piano's playability by integrating it with various musical interfaces.
Why Should You Buy the Piano?
A lot goes into thought before purchasing a piano. And buying the Williams Overture 2 applies to this case. You first have to factor in your preferences, you know, what you are looking for.
The good news is that the piano is meant for beginners and intermediate level piano players. However, it can still offer significance to advanced players as a practicing piano.
Besides that, this piano provides good value for your money. For a modern instrument to offer such a sound library, connectivity options, and elegant look at a fair price, there has to be a catch.
Well, luckily enough, there isn't. It is simply a magnificent and affordable musical instrument.
Pros
Affordable
Full-size, Piano Style Keys
Elegant finishes
Comprehensive sound library
Vast connectivity options
2 Track MIDI Recorder
Song Tutor with 50 Play-along songs
Cons
Non-graded keys
Heavy
Fewer polyphony notes
Conclusion
The Williams Overture 2 digital piano is an impressive addition to Williams' niche-beloved digital pianos. If you choose to look at this piano based on its capabilities and the intent of its release, you'll realize that it's a high-end entry-level keyboard.
Purchasing this piano will not only add beauty to your home, but also a rich sound for every single keystroke. Affordable and elegant, this is one of the ultimate at-home digital pianos to have.