Kawai is a well-known brand that produces top-quality digital pianos, and this top 5 best Kawai digital pianos review shows the brand's top productions. Obviously, the brand has more to offer than just 5 keyboards.
However, this review focuses more on specific essential features and also the best value for your money.
Which Kawai Digital Piano Suits You Best?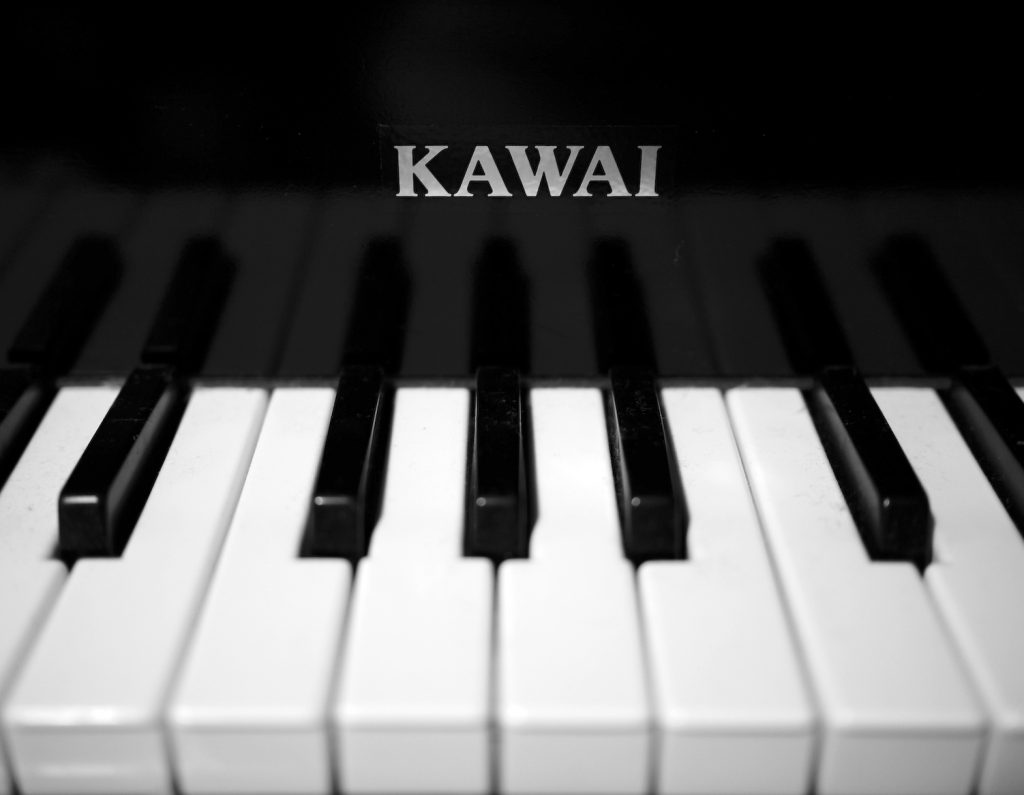 Frankly speaking, the answer to that question completely depends on your preferences. Therefore, you should know of the different variations of a digital piano to understand what you really need.
Kawai, like other top brands releases different types of digital pianos for serving different playability purposes. There are those dedicated to stage performances, studio purposes, and also the beginner.
Hence, the best way to understand which Kawai digital piano best suits you is to first understand what you want. With that said, let's have a look at the top 5 best Kawai digital pianos to consider buying.
1. Kawai ES110 Portable Digital Piano

The Kawai ES110 portable digital piano is our first pick of the top 5 best Kawai digital pianos. It features authentic playability and only weighs 26 lbs, which enhances its flexibility and portability. Even if it's your first time playing on a Kawai digital piano, this instrument will deliver top-quality action and sound.
The piano has Kawai's Responsive Hammer Action (RHC) keyboard that provides a realistic feel of playing on an authentic piano. With the Kawai ES110, you get a slim, compact, and an affordable digital piano.
There are also 19 instrument sounds on this model, which are further accompanied by a maximum polyphony count of 192 notes. Additionally, you also get the Dual and Split Modes that allow you to layer two different sounds together simultaneously.
For connectivity, the Kawai ES110 portable digital piano includes the MIDI IN and OUT ports, Bluetooth MIDI for wireless connection, and Headphone jacks. You also get an in-built song recorder that can save up to 3 songs with a maximum note count of 15,000 notes.
The Kawai ES110 digital piano also features a decent sound projection system that comprises of two 12 cm oval speakers alongside 7-Watt amps. Overall, this is the best portable digital piano from Kawai and it has brilliant features to offer you the best in playability.
Its authentic key action and high-quality resonant sound makes the ES110 a great instrument for both serious beginners and professional pianists. The only thing we didn't like about this instrument is that the key action is a bit noisy.
2. Kawai MP11 Digital Piano
If you are looking for a professional stage piano, the Kawai MP11 digital piano can certainly match your needs. It gives you the feel of a real grand piano with a high-quality keyboard action that features touch-sensitive keys.
On the keyboard, the MP11 features an 88-note full-size keyboard with a whopping polyphony count of 256-notes.
Other than its Harmonic Imaging Sound Technology, the Kawai MP11's sounds are partitioned into 3 different sections, which include the:
Piano
E-Piano
And the Sub
In each of the three sections, you get a separate volume fader, reverb controls, and sound effects. You also get 4 voice categories that feature variation in tones for all the three different sections. As a result, the Kawai MP11 stage digital piano features diverse and high-quality sounds that enhance playability.
That's not all, you can also adjust and play each of the three sections independently. Such a unique setting makes the splits, layers, and key ranges simpler and more flexible. The same capability also ensures that changes made in one section don't interfere with the other sections.
 Additional specifications of the Kawai MP11 stage digital piano are the sound library, which features 40 built-in voices, 6 Reverb effects, and 129 customizable effects. The piano further features 4 keyboard modes, which include:
Lower Split
Upper Split
Full Keyboard
And Zone
Overall, the Kawai MP11 88-key digital piano is a praiseworthy stage digital piano. It has adequate and responsive features that make it stand out among other competitors.
ALSO READ: How Much Is an Ideal Digital Piano Cost?
3. Kawai ES8 88-Key Digital Piano

The Kawai ES8 portable digital piano is one of the brand's most popular digital piano productions. It features the Responsive Hammer Keyboard Action III with Ebony and Ivory simulated key surfaces. This instrument also comes with the Virtual Technician feature that allows you to adjust the following:
Key release noises
String resonance
Damper resonance
Touch weight
And Hammer
For sound capabilities, the ES8 comes featuring two of the brand's instruments – the Midsize SK-5 studio grand and the EX concert grand piano. You also get a larger sample memory with the ES8, thanks to its Harmonic Imaging XL Standard sound technology.
In total, there are 34 built-in instruments on the Kawai ES8 digital piano and are classified as follows:
Strings
Choir
Mallet Percussion
Electric Bass
Vintage Pianos
Piano Sounds
Electric Piano Sounds
And Synthesizer Pads
Better yet, the rhythms section available on this piano gives you 100 accompaniment patterns in different styles. And to help you stimulate different performance environments, the ES8 comes with 6 Reverberation sound effects.
Additional features of this piano include the Split, Duo, and Four Hands Modes. You also get an internal 2-Track Recorder that allows you to compose and save up to 10 songs.
Based on its connectivity options, the Kawai ES8 certainly deserves to be on our list of top 5 best Kawai digital pianos. Below is all the connectivity options that this model comes with:
USB to Host
USB to Device
2 headphone jacks
MIDI In/Out
Line Out
Sustain/Soft jack
Sustain jack
The only notable negative about this instrument is its small LCD display interface. Otherwise, the keyboard action and sound quality of the Kawai ES8 digital piano make it a worthwhile instrument.
4. Kawai KDP-70 Digital Piano
Almost capping off our list of the top 5 best Kawai digital pianos is the Kawai KDP-70 88-key digital piano. It features the Harmonic Imaging Sound Technology and a maximum polyphony count of 192 notes.
Additionally, the keyboard on this instrument incorporates Kawai's Responsive Hammer Action keyboard that delivers high-quality acoustic piano simulation. The sound samples available on the KDP-70 are made possible by Kawai's EX-Grand Piano. Therefore, this instrument hosts high-quality tones.
For piano students and instructors, this model also comes with the Four Hands Mode, which is an essential feature for learning to play the piano.
In conclusion, the Kawai KDP-70 88-key digital piano is an all-round excellent performer. It features a responsive keyboard action alongside a top-quality sound engine. And although it may lack a Line Output, the KDP-70 offers you adequate value for the price.
If you want an upgraded version, you can check out the Kawai KDP-90. 
5. Kawai ES100 88-Key Digital Piano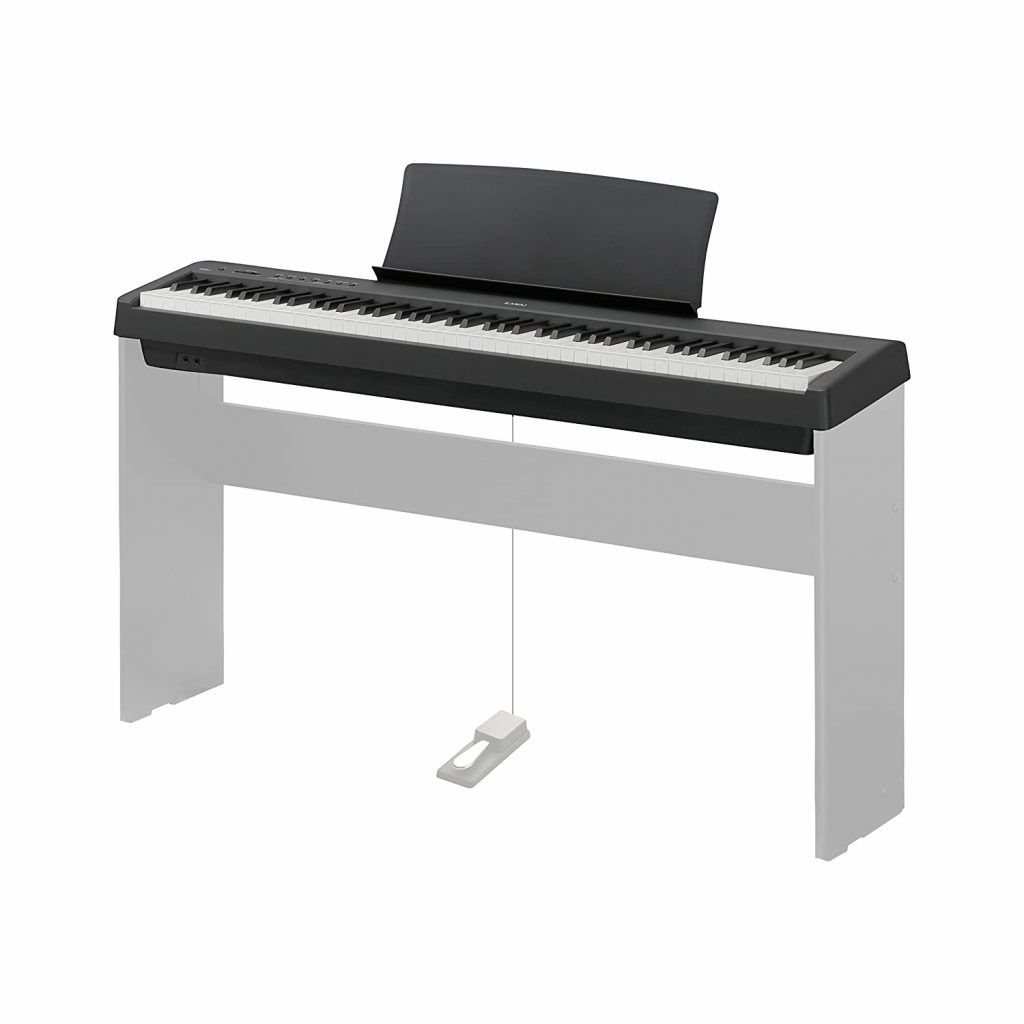 It might be the last on our list, but the Kawai ES100 digital piano is certainly not the least in performance. This piano comes with the following specifications:
88 keys
Damper pedal (F10H piano style)
3 metal paddles
19 beautiful sounds
Power switch
Volume slider and
Graded hammer action
As for sound, the ES100 incorporates Kawai's Harmonic Imaging Sound Technology that offers optimal customization flexibility. The ES100 hosts 12 Preset Songs and a built-in Metronome that allow you to further enhance your playability.
For integrating the piano with different musical interfaces, the ES100 comes with the following connectivity options:
Damper pedal
Headphone jacks and
MIDI Input and Output ports
The Kawai ES100 88-key digital piano is also another top performing digital piano produced by Kawai. With this model, you get a realistic keyboard action, impressive sound quality, and optimal connectivity options.
As a result, we found this instrument highly beneficial, making it deserve a spot on our top 5 best Kawai digital piano reviews.
Final Verdict
There you have it – our top 5 best Kawai digital piano reviews. The instruments discussed above are some of the brand's most popular and best-selling also.
And if you observe closely, they feature almost similar keyboard actions and sound technology. Therefore, rest assured that the models discussed above offer the best value for your money. So, consider them if you are looking for the best Kawai digital pianos on the market to consider buying.
You can also check out the Kawai CA49 and the Kawai MP11.