This article gives an in-depth analysis of the Roland RD500. Although the Roland RD500 was a production of the early 1990s, it still enjoys very good attention from many pianists and lovers of good music. This is because it comes with some cool features such as Organ, Piano, and its Rhodes sound which is still considered unmatch even by later productions till today.
The Roland RD500 was a leading choice for its natural live performance production. However, it also comes with its pros and cons but all of this will be discussed in detail in this article.
Specifications
For a piano made in the early 90s, the Roland RD500 never stopped getting attention from pianists. Notable among these reasons was the advancement of the digital keyboard sound production that comes with 121 musical instrument sound variations.
This sound variation includes the piano, percussion, different strings, synthesizers, and many others that give it the feel of a real piano.
Furthermore, it has other parts that add to its selection such as the weighted counter-lever key mechanism that controls the 88 piano keys. The weighted counter-lever mechanism makes playing faster with sound delivery of almost no delay and canceled distortion during play. Other major specifications from the user guide are
Maximum Polyphony
28voices
Tone Groups
GRANDI, GRAND2, E.GRAND, MKS-20, RHODES, E PIANO, CLAV/HARPSI, ORGAN, SYNTH, STRINGS, BASS, PERCUSSION Total 121 variations (including 1 Rhythm set) Setup
Memory
Preset: 1
Maximum User: 31
Effects
Chorus, Reverb, Equalizer
Connectors
Fixed Output Jacks(L/R) Output Jacks (L (MONO)/R) Pedal Jacks (DAMPER/INT+TX, TX) MIDI Connectors (In, Out, Thru) Headphone Jack (Stereo) Power Supply AC117V, AC230V or AC240V
Power Consumption
16W(AC117V), 17W (AC230V, AC240V)
Dimensions
1419(W) x 391 (D) x 141(H)mm 55-7/8(W) x 15-7/16(D) x 5-9/16(H)inches
Weight
25kg/55lbs 2oz
Features
In total, there are 121 high-quality Tones in the RD-500, including a few piano sounds. Many other sounds can be used, such as organs, strings, and synthesizers among others. Sound effects such as bass and percussion, as well as Grand and Electric piano, can all be used to create music.
RD-500 also comes with a unique "hammer-action" keyboard, which simulates the experience of playing an acoustic piano. L MONO and R outputs, for example, allow you to mix inputs while also processing them and keeping an eye on what's going on. Some of the other standard features of the RD500 from the user guides are
It's easier to use since it comes with both a digital reverb and chorus and an analog reverb and chorus.
Three-band equalizers provide flexibility and variety.
Simple tone-changing tools allow for the creation of very unique sounds.
The Control of Internal Sounds and the Control of TX (Transmit) are two distinct control zones. The Internal Sounds Section is responsible for internal sounds, whereas the TX Control Section is responsible for external MIDI devices.
Split and layer key modes are available. With these features, creating keyboard splits and layered sounds is a breeze.
Due to the RD-500's extensive MIDI capabilities, it is suited for use as a master keyboard controller.
The RD-500's 32 Setup Memories allow for the retention of original settings (memory locations).
In Multi Timbral mode, the RD-500 can be utilized as an eight-part multi-timbral sound module.
Design/Portability
The Roland RD500 comes with specificity to live performance use. Even with the RD-500 121-musical instruments and 88 keys, it is designed for stage use.
This means that its lightweight makes it easy to transport. Hence, there are a few features that were built into it to enhance the stage use. One of these features is the Transmit, which is also called the TX.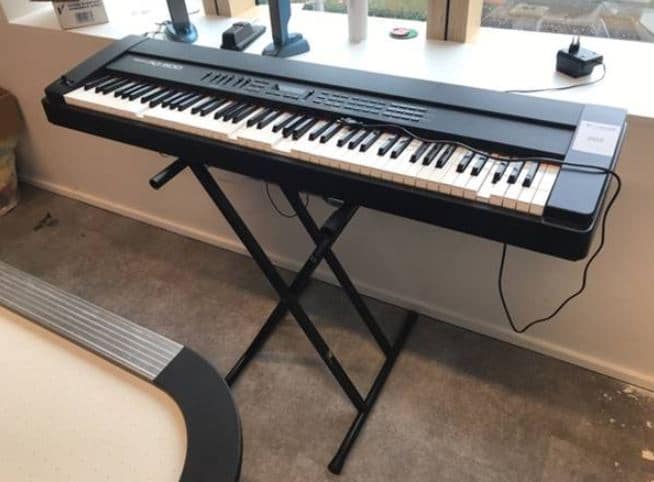 The TX allowed pianists to efficiently create a bank of settings to transmit via MIDI. Another cool fact about this is that the transmission functions independently of the sound production setting of the internal sound.
With the ability to be able to TX parts with the instrument's internal sounds, pianists now have the opportunity to be able to control four different voices with different keyboard ranges. Also, users can transpose MIDI values all at once.
Thus pianists can use the RD-500 as a master keyboard in a way that allows them the ability to effectively take control of complex parts and performances.
Pricing and Budget
When the cost of the RD-500 is compared to its functions, it can be generally assumed to be cost-effective. Although the RD-500 at first production in the 90s cost around two thousand dollars, these days you can easily bet it for roughly 500 to 700 dollars.
However, this significant price change is not an indication of bad production. An RD-500 gotten at this price will still perform as quality as it did in 1995 which makes it a cost-effective selection.
Keyboard
Roland RD-500 keyboard is a professional live performance piano that comes in a weighted counter-lever 88-notes piano key.
These keyboards are designed to produce high-quality instrumental performance. Another cool fact in the Roland RD-500 is that the keyboards can also be split into different zone with settings for each zone.
Sound quality and Speakers
It produces a sound that is very realistic and perfect. Even though it doesn't come with built-in speakers, the digital instrument produces sound just as professional as a real piano.
It is easy to depend on the RD-500 as a master keyboard as it is efficient with producing realistic sound with perfect velocity and after-touch.
Connectivity
The connectivity of the RD-500 is pretty straight forward with different options available
Output Jacks ( L(Mono)/R)
MIDI connector (in, Out, and through)
Fixed Output Jack (L/R)
Pedal Jacks (Damper /INT + TX, TX)
Headphone jack (Stereo)
Space Considerations
This Piano comes with special consideration for space and hence comes in a size that fits in perfectly without taking too much space.
Hence can be used easily either in the corner of your room, in a small studio, or even on a packed stage.
Pros/Cons
Pros of Roland RD-500
it is cost-effective.
It works perfectly as digital piano just the way a real piano will work.
It is pretty straightforward to use
Cons of Roland RD-500
No new production. The production of the RD-500 has been discontinued since the production of the RD-600.
This means that you might only get the RD-500 as an aftermarket product which might be hard to get.
It is heavyweight. The RD-500 comes in a 25kg weight which might be considered heavy for some pianists.
Conclusion
The RD-500 is a considerably good keyboard of the 90s which is still very much nice to use this period. If you are considering getting a master keyboard for your project, studio, or even as personal equipment for gigs, the RD-500 is a very good choice. It is quite affordable and a perfect selection! If you like the Roland brand, you can check out the Roland F-140R and the Roland DP603 Digital Piano as well.